Fatal Identity by Jodie Bailey is a fascinating suspense story.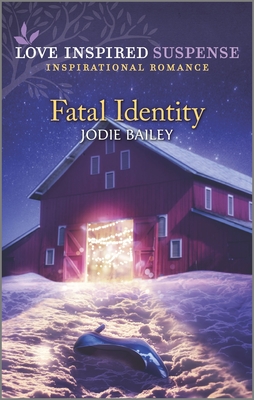 Dana Santiago is a deputy US Marshal stationed in Atlanta. She has spent some time in the field but was now working the cyber side. Being in Mountain Springs, NC for her partner's wedding has left her a bit at loose ends. She's a workaholic and these days spent here instead of at work don't feel right.
During the wedding reception Dana decides to skip outside to avoid the traditional bouquet toss to the single women present. She notices someone by her rental car, maybe leaving something underneath it. As she goes to investigate she is grabbed from behind, incapacitated and taken to the assailant's car. Fortunately Alex "Rich" Richardson walked outside and noticed the struggle. Saved! Dana has no idea why anyone would want to kidnap her. Since the men trying to abduct her got away Rich named himself her bodyguard. Good thing since there were other attempts. But why?
Alex "Rich" Richardson is a police officer in Mountain Springs, NC but he is also ex-special forces. He was injured in an op gone wrong and he left the military. After that he lost his fiancee to violence. He failed to save her. Rich vowed to never fail to protect again. When he saw Dana Santiago being taken toward an open trunk of a car he knew he had to save her. Spending time with Dana during the pre-wedding festivities had been pleasant. She seemed closed off though. Not that he wasn't rather closed off himself. Taking on the responsibility of guarding Dana felt right. As he spent more time with her the ice around his heart started to melt. They just needed to close out this dangerous situation to see where things could go.
The two main characters, Dana and Rich, are super dedicated to their jobs and can't seem to find much time to socialize. I liked how they both finally realized that there's room for more than work in their lives. Rich opens his heart and trusts that God does have a plan for him and Dana. Dana is floored by the truth of who she really is. She comes to realize also God's plan is right. This was an enjoyable read and I look forward to more stories by Jodie Bailey.
Book Info:

Publication: November 1st 2020 | Love Inspired Suspense |
Secrets from her family's past
thrust her into the crosshairs
At her partner's Christmas wedding in the mountains, deputy US marshal Dana Santiago's almost abducted—and only the quick actions of Alex "Rich" Richardson save her. Now Dana and Rich must work together to figure out why the kidnappers seem willing to go to any lengths to capture her. But to find the truth they must first dig up her family's long-buried past…
From Harlequin Love Inspired Suspense: Courage. Danger. Faith.