Wife in Name Only by Hayson Manning: After her marriage turned cold and lonely, Zoe is now living the dream. She left her husband and L.A. behind,using her inheratance to purchase land on a beautiful, isolated island in Tonga. There, she built a resort for honeymooners. No one actually knows that she's separated from her husband, Rory. He's a cut throat, high profile businessman in L.A., known for always putting his business first, at the expense of everything and everyone else. Because the clients at the resort are constantly changing, no one realizes he's not really on the next boat and has actually never set foot on the island. Zoe doesn't even keep in touch with him.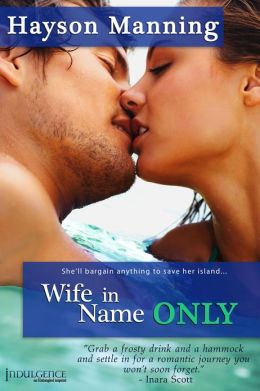 When a honeymoon magazine wants to feature the resort along with her and Rory, which will be a huge publicity win for Zoe, Zoe does what she knows she has to do. Zoe convinces Rory to come to the island and pose as her happily ever after for the magazine. Rory agrees for a couple of reasons…he feels it will be a huge benefit for his public businessman image, and he feels Zoe has had enough time on her own, and it's time for her to 'come home'. Zoe is very happy where she is though, in her own paradise and has no intention of leaving it to go back to a place where she was miserable. She didn't like LA, and the Rory she marrried changed into someone she was not happy with.
Rory is determined to get the publicity stunt done and head back to LA as soon as possible. His paradise is the noise, lights, people, and his business. But between minimal transportation available on the island and storm threats, Rory ends up staying longer than he'd planned to in Zoe's paradise. The guests have all moved on, so it's just the 2 of them. Even the magazine people can't get there. Rory is 'stuck' for 10 days with Zoe and little communication with the outside world. Soon the little sparks still smoldering between them start to flare up, despite Zoe's attempts to keep her heart locked up. As the days go by and Rory relaxes more, Zoe starts to see glimpses of the Rory she married and feels herself falling for him all over again. They are at a stalemate though…Rory can't imagine not living how he does in LA, and Zoe will never leave her 'fantasy land' as Rory calls the island.
Rory will need to decide what is important to him…being with his wife who he still loves, or going back to his life as he knows it. Zoe will need to find the strength to pick up the pieces again and move on with her life after Rory leaves for good…or can they somehow make it work? Is their marriage worth it to both of them, or will Zoe be alone in her tropical paradise?
Zoe and Rory both have issues with their pasts that have brought them to where they are today. We get a bit of Rory's story and why he is so driven, but even though Zoe mentioned her 'past' I was never really sure exactly what it was. What happened in her life after her mother died when Zoe was only 5? This was a mystery for me, and I felt a bit more background on the main characters would have enhanced the story. Rory is clearly driven in his business, but did something happen to make him change so much from the man Zoe married?
Over all Hayson Manning gives us a romance in a perfect setting with Wife in Name Only. I could feel myself there, in the sun with the sand between my toes! Despite feeling the need to know the characters more indepthly, I really liked both Zoe and Rory. Zoe was funny at times and driven in her own way. Rory was trying not to care, but he showed us in various ways that he does! There are no strong secondary characters in Wife in Name Only, but there is interaction with a some of the locals that fit well with the story line. The added bit of suspense you'll find in Wife in Name Only was a great twist to the story!
Wife in Name Only was easy to get absorbed into, had a great plot and sexy heat! Recommended to anyone looking for a unique romance in paradise!
Book Info
Publisher:
 Entangled: Indulgence (April 1, 2013)
Trapped in a loveless marriage, Zoe Hughes escaped to make a new life for herself on the tiny island of Tonga. Now she runs a successful boutique honeymoon resort. Selling true love is easy. No one needs to know she's married in name only. At least until America's premier honeymoon magazine wants to publish a feature on her perfect marriage. Now she must convince her estranged husband to rip himself away from plotting corporate takeovers in LA to save her island paradise.
Rory agrees to come for forty-eight hours, but only because he needs the positive PR. To his surprise, the wife he finds in Tonga isn't the same woman he married. Now she's so much more…
When a storm strands Rory in Tonga, will he win back his wife or leave paradise empty-handed?