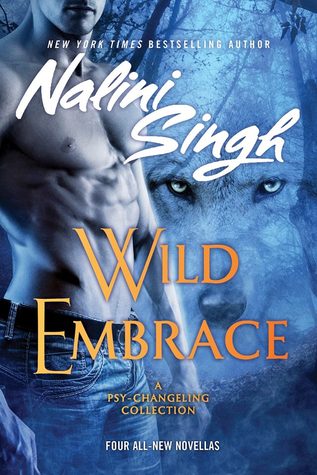 Wild Embrace by Nalini Singh was an exciting new anthology in Nalini Singh's super popular Psy-Changeling series. The four short stories we were presented with feature secondary characters we've met along the way but never really got to truly know well. But don't worry. Even if you're not already well-versed in the ways of the Psys and Changelings, I think paranormal fans in general will love the world Singh has created as well as the touching relationships we got to watch grow here.
First up was Echo of Silence, which was about Tk Psy station commander Stefan and human Tazia, who was an engineer, both of whom were stationed undersea on Alaris. Theirs was a bit of a forbidden romance given that Stefan was still part of the Silence and should not have been able to show any emotion, yet he had a strong connection with Tazia. I loved watching these two team up to help out a community devastated by a strong earthquake and how compassionate they were. They shared a sense of grief in regard to their family as well so I got rather misty-eyed when we learned of Stefan's childhood and the loss he suffered. But it was wonderful to see Tazia being so gentle and caring with him, which was something he got to return to her by the end of this lovely novella.
'A person could weather anything so long as she had the strength of her family at her back. To be without family was to be a ghost, lost in the wilderness.'
The second story was titled Dorian and it was the shortest of the bunch. But that didn't make it any less emotional or captivating. This was written in sequences where we first watched as Dorian, a leopard-shifter, found out as a child that he was not able to shift. It was an issue that plagued him into adulthood so he had to learn to use his other senses and train more than the other pack members in order to be the best soldier and sniper. I loved watching the progression as Dorian grew up, seeing how smart and talented he was, watching him fall for his mate Shaya and seeing her help him embrace his inner leopard. When he was able to shift for the first time, I couldn't help my tears of joy. Especially with the way Singh wrote that scene and the inclusion of the rest of the pack in his elation. (Still gives me goosebumps to think of it!)
'Finally, he had the ability to live in both his skins, to be cat and to be human. But whatever shape he took, he thought as he returned home, he would always be DarkRiver…and he would always love Shaya and the little boy who was now his own.'
The third–and probably my favorite–novella of the bunch was Partners in Persuasion. This was another shifter romance but it wasn't done in a typical fashion with the male being the dominant and the female being the submissive. Nope. This time the dominant was Dezi, a senior soldier female leopard, and the submissive was horticulturist and wolf-shifter Felix. I ended up thoroughly enjoying their relationship, which started off quite rocky and awkward. The subtle differences between wolves and leopards were difficult enough for them to overcome, but pair with that a guy who'd already been treated very poorly by a dominant female and you have a predicament, for sure. I loved that once Felix and Dezi just gave in to their feelings and let things happen they were the sweetest, most loving couple ever. I especially got a kick out of the little surprises and gifts Felix hid for Dezi while they were courting and how appreciated and cared for it made her feel. *happy sigh*
"Submissives do no pick fights with dominants."
"Is that what we are? Dominant and submissive?" Shoulders tightening, his skin smooth and healthy over rippling muscle. "I thought we could be more."
Courage, she thought again, he had so much courage.
The final story was a reunion romance, one of my favorite tropes. Flirtation of Fate found Kenji and Garnet, both wolf-changelings but in separate territories, having to deal with their past while also solving a murder mystery. The whodunit aspect of the story kept me on my toes as I thought I had it figured out, but Singh made me doubt myself a few times. (Love that!) But it was Garnet and Kenji's playful attraction and their longtime friendship that really pulled me into their story. He was her big brother's close friend and they all grew up together, with Garnet and Kenji becoming more interested in each other as the years passed. Then seven years ago, something happened for Kenji to push Garnet away and that's where the bickering and comical stunts came into play. I loved that tension between them because even though there was some anger, especially on Garnet's part, there was so much love and loyalty underneath it all. This one definitely left me with a smile on my face and was a great way to end the anthology.
'She wanted to bite him. And pet him. And kick him for breaking her twenty-one-year-old heart. He sure as hell had better have a good explanation for his behavior, or she would take her long overdue revenge.'
Overall, this was a stellar collection of stories and a terrific group of characters to learn about. Just like in her full-length novels, Singh's overlying themes of family, love, loyalty and compassion came shining through in each of these relationships and situations. Whether you read all of these novellas in one sitting or pick at them one by one, I hope you will adore them just as much as I did.
Book Info:

 Expected publication: August 23rd 2016 | by Berkley | Psy-Changeling #15.5
The "alpha author of paranormal romance"* presents a stunningly sensual collection of four all-new Psy-Changeling novellas, in which taboos are broken, boundaries are crossed, and instincts prove irresistible…
Echo of Silence
In a deep-sea station, Tazia Nerif has found her life's work as an engineer, keeping things running smoothly. But she wants nothing more than to break down the barrier of silence between her and her telekinetic Psy station commander…
Dorian
A changeling who can never shift lives a life of quiet frustration—until he learns how to let his leopard come out and play…
Partners in Persuasion
Still raw from being burned by a dominant female, wolf changeling Felix will never again risk being a plaything. But for dominant leopard Dezi, he's the most fascinating man she's ever met. She just has to convince this gun-shy wolf that he can trust the dangerous cat who wants to take a slow, sexy bite out of him…
Flirtation of Fate
Seven years ago, Kenji broke Garnet's heart. Now the wolf packmates have to investigate the shocking murder of one of their own. And the more Kenji sees of the woman Garnet has become, the deeper he begins to fall once more. But even his primal instincts are no match for the dark secret he carries…
*Booklist, starred review