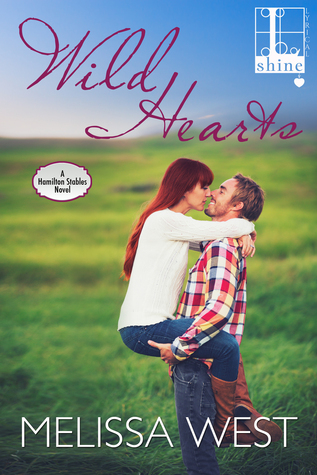 In Wild Hearts (Hamilton Stables #2) by Melissa West, when it comes to sex – is going cold turkey really the answer? Apparently, Alex Hamilton thinks so, if he's to prove to his family that he's got what it takes to manage the family's horse breeding operation. An operation where there's little room for error, and needs all his focus, if he's to make it successful. However, there's just one problem — Kate Littleton. She's a distraction he doesn't need, yet, one that proves difficult to stay away from.
"I've got it! What about one of Trip's brothers?"
"Yes, what about one of Trip's brothers?" a rough voice said from behind Kate, and she knew without turning who had stepped into their conversation.
Annie held her hands out to Alex. "Exactly. Look at him. Cute as a button, and I bet he knows what to do with his parts."
Kate Littleton knows all too well just how good Alex's skills in the bedroom are after he worked his magic on her more than a year ago. Yet, while she wants a long-term relationship, it is clear a man with Alex's reputation does not. Still, she can't seem to resist his panty-melting smile and southern charm. But just when she's decided to keep their relationship to some serious flirting and stolen kisses, an unexpected loss brings them closer together to give them a chance at forever love.
Having been completely enamored by the Hamilton brothers in the first book of this series, I couldn't wait to read how Ms. West would go about achieving happy ever after for Alex. As the youngest brother, he's always been a tad reckless and restless. Always felt like he wasn't good enough compared to his brothers. Yet, Ms. West delivered a fast-paced, compelling read where Alex grows a lot throughout the story; proving to his family – most especially his oldest brother, Trip – that he can be responsible and has what it takes to succeed.
As for the dialogue, it was well-written, and a perfect blend of moments that made me smile or made me cry. Alex suffers both a personal and professional loss that just made my heart break for him. While the teasing banter between Kate and Alex increases the sexual tension between them to the point where I was wondering when their intense chemistry would spill over onto the pages. However, the intimacy between them was well worth the wait, because it was completely hot and in a moment when Alex needed Kate most. He shows her just how good they are together, and how much she's come to mean to him.
"Thank you. Now all of the farm will think the Hamilton brothers are into some freaky s***."
Kate beamed back at him. "You're not? Then maybe I could help you with that. Show you a few things. I am a teacher after all."
"Like I said: You're going to be the death of me, woman."
I really liked both Kate and Alex. The way Ms. West depicted the hero from the heroine's point-of-view was really nice. Kate sees him for the good man he is, and doesn't judge him on his past the way others do. Then there's how passionate Kate is for her work as a teacher. She's kind, caring and has a real gift with her students. However, she isn't afraid to speak her mind when she feels the situation warrants it, which seems to be when she's dealing with Alex once he learns news that upsets him. Because she's willing to fight for their future together, instead of allowing him to give up on them so easily. Clearly, she's a hopeless romantic. Not willing to settle, for anything less than the kind of love her best friend, Emery, has with her man.
While Alex, he's driven to succeed and Kate really helps him at times when he's feeling pressured by his brothers to make a decision. He's also very charming, and I loved him when he's helping Kate. The scene where the heroine is thanking him for his contribution to her school production was just delightful, as the heroine isn't the only female wanting attention from Alex.
"We wanted to see your boyfriend again. Hi, Mr. Alex," Maggie said, her cheeks rosy red from embarrassment.
"Hi, Maggie," he said.
"Are you Ms. Littleton's Romeo?"
"Suzy!" Kate went to cover Suzy's mouth with her hand and shoo the girls away when Alex grinned over at her.
"Yeah, I think I am." He kissed Kate's cheek, which resulted in a surge of long sighs from the girls.
Although this book didn't delve into the racing industry as much as the first book did, it still kept me captivated due to the remarkable attention-to-detail with the horse breeding operation, and everything the hero and heroine go through to reach their happy ending. The story ended wonderfully and will surely melt reader's hearts the way Alex wins Kate back with the help of her students. I was also pleased to see that the hero finally earned his brother's respect. He certainly deserved it.
In the end, this stand-alone story really has me looking forward to the next book, Silent Hearts, featuring the last Hamilton brother, Nick, as the hero. I would definitely recommend Wild Hearts by Melissa West, especially if you've read the first book in this series; or if you enjoy feisty heroines and heroes with loads of southern charm.
Book Info:

February 16th, 2016 | Lyrical Shine | Hamilton Stables #2
In the lush heart of Kentucky, horse racing is king, and the Hamilton family is royalty, born to produce champions. Maybe that's because they understand wildness better than most…
Charming, reckless, and restless, youngest brother Alex Hamilton has a reputation for sweet talking his way into any woman's arms—and failing at anything to do with the family business. So when he commits to managing their new breeding operation, it's under one condition: he'll focus on work and nothing else—no distractions, no fun…no women. But just when Alex has promised to keep his hands to himself, sweet, sexy Kate Littleton gallops away with his heart…
Kate knows Alex isn't the long-term type—he proved that in a lot of delicious ways when they first met more than a year ago. But seeing him blazing with new dedication to Hamilton Stables, she can't deny that he's miles ahead of any other man who interests her. The attraction between them is electric right out of the gate, but it will take an unexpected loss to put them back in the race and headed for a passionate future together…
This book is a standalone novel in a series of standalones.