Wish Upon a Cowboy (Cowboys of Creedence #4): Author Jennie Marts never disappoints. Her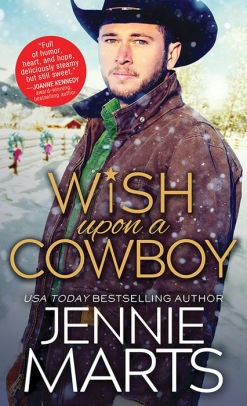 readers will love this small town romance with lots of sass, humor, poignancy and some fun Christmas activities to delight the reader.
After the death of her grandmother Harper Evans had no one to watch her son Floyd while she worked. Harper lost her job and was down on her luck when her shady mother, Brandy walked back into her life and offered her an accounting job she could do from home. Too bad Brandy was cooking the books after Harper was done with them. Before Harper could go to the company president once she discovered what her mother was doing they were arrested and charged with embezzlement. Harper's mother ended up in the federal penitentiary while Harper's charges were reduced to accessory which earned her two months in the county jail. She had no recourse than to call her deceased husband's mother to come and take Floyd while she was serving her two months. Now Harper is in Creedence, CO where her mother-in-law lives. She is desperate and broke but determined to get her son back. Harper ends up as a temporary housekeeper at Logan Rivers' ranch, Rivers Gulch. Neither Harper nor Logan are looking for a relationship but as things turn out it was "attraction-at-first-sight." Harper not only charmed Logan but she also charmed a lot of the townsfolk. The one person she can't charm is her mother-in-law who is keeping her son away from her.
Wish Upon a Cowboy by Jennie Marts is the fourth book in her Creedence, Co series. There's still some hockey involved as hero Logan Rivers is helping to coach the local youth hockey team. The reader gets glimpses of some of the characters from the earlier books in the series.
Heroine Harper Evans gets in trouble with Logan for not disclosing the real reason she is in town but that's part of the conflict and resolution in this story. The author introduces the central characters realistically and the dialogue adds greatly to the story. Logan's cheesy one-liners will make readers smile. I liked how strong Harper is in this book. I also liked how she came to trust Logan and the journey to their HEA.
Book Info:

Publication: November 26th 2019 | Sourcebooks Casablanca | Cowboys of Creedence #4
Hot on the ice and tall in the saddle…
Rancher and hockey coach Logan Rivers' attempts to hire a housekeeper are hindered by women more interested in marriage than meal-planning. So when snarky Harper Evans arrives with zero romantic interest in him, he couldn't be happier. But as he gets to know her, he finds himself hungering for more than her cooking.
Down-on-her-luck single mom Harper Evans came to Colorado with one goal: to find her son and bring him home. Temporary work for a local rancher seems perfect, but to keep the job she has to deny her feelings for the hot cowboy who's heating up her kitchen.
Logan's secret learning disability has caused a financial mistake that could cost him everything. With the holidays approaching and a storm closing in, he and Harper have to save his ranch and fight for her son. But can Harper trust the cowboy who is offering her both a home–and his heart?
Cowboys of Creedence series:
Caught Up in a Cowboy (Book 1)
You Had Me at Cowboy (Book 2)
It Started With a Cowboy (Book 3)
Wish Upon a Cowboy (Book 4)
Praise for Jennie Marts:
"Readers will cherish the scorching sex, snappy dialogue, well-paced plot, and small Colorado town setting." –Publishers Weekly for You Had Me at Cowboy
"Funny, complicated, and irresistible." –JODI THOMAS, New York Times bestselling author for Caught Up in a Cowboy
"Full of exquisite heat and passion…wonderful." –Harlequin Junkie for Caught Up in a Cowboy