With Every Breath by Lia Riley: Needing to prove herself for her new job,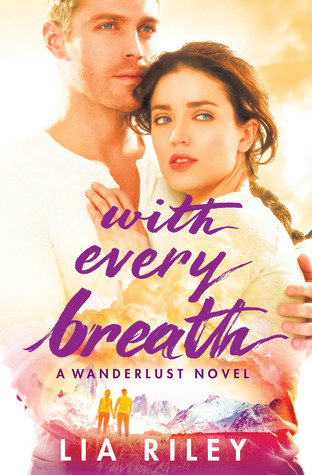 Auden finds herself traveling to La Aguja. But this play it safe girl finds herself in more trouble than she expected when a bad storm and missing supplies causes her to join up with brooding, Scottish mountaineer Rhys.
Dealing with guilt from a mountaineering accident with his brother, Rhys is traveling to the top of La Aguja by himself for atonement, also a bit of a death wish. But when he finds himself taking care of near-hypothermic Auden, it appears life might have other plans for Rhys.
Falling in to bed soon after, Auden and Rhys spend the next few days together as they work their way to basecamp. As they travel, truths are revealed and an intensity they never expected grows between the pair.
"Are we fighting or flirting?"
"Maybe a bit of both." He stares at my mouth with scorching eyes. Holy shit. That's an "I'm going to kiss you" look.
My entire body flashes hot. Do it. The urge hits me with something approaching violence. Do it. Do it. Do it. A shaft of light breaks from the clouds, hits my face, and I sneeze.
Definitely an enjoyable read, I loved both Auden and Rhys, especially when they were together, which thankfully is most of the story. Rhys is totally strong, troubled, alpha male, and Auden is adorable and definitely impressive as she works hard to achieve her own success without compromising herself.
The overarching story of La Aguja is really interesting, too, as they hike the trail to the mountain providing an awesome background to the romance. I was almost more interested in going up the mountain than following the romance, admittedly.
It is an insta-ish sort of love, but that didn't particularly bother me as the characters and story are still well-developed. With Every Breath is a fun, enjoyable, slightly angsty read that I highly recommend especially if you're interested in an at-home trip to South America.
Book Info:

Publication: December 29, 2015 | Forever |
BREATHE DEEP . . . AND JUMP IN
At the ends of the earth, Patagonia is a land where ambition trumps reason and the savage summit of La Aguja lures the most determined climbers. It's also the last spot a "play-it-safe girl" like Auden Woods expects to find herself. But she'll lace up her brand-new hiking boots and do whatever it takes to secure a dream job at an adventure magazine . . . even if it kills her. And it just might. When disaster strikes, her only chance at survival comes in the form of the surliest, sexiest mountaineer ever to come out of Scotland.
After a climbing accident cost him his brother, professional mountaineer Rhys MacAskill is at the end of his rope. Redemption is not in his future. That is, until a terrifying storm blows a budding journalist into his tent and it's up to him to make sure they both survive until morning. Despite the demons weighing on him, Rhys can't resist the temptation of the charming American and one wild night just isn't enough.
Auden and Rhys soon learn there are no shortcuts as they navigate their way between life, death, and atonement, and discover something they never expected—love.