In Woman at Willagong Creek by Jessica Hart, Olivia goes to Australia to bring back and raise her best friend's orphaned son,David to her home in London but things do not go as planned when Cattle rancher Guy , who's been looking after David since his parents death is not willing to let him go. The only option Olivia has now to stay at Willagong creek (Guy's home) and raise David and to stay she has to marry Guy to extend her visa.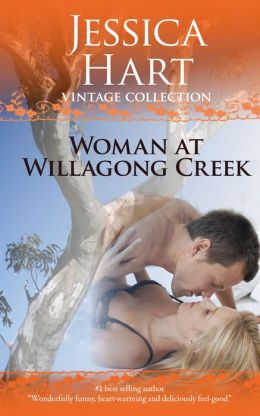 A marriage of convenience soon becomes something more deeper and meaningful as the days pass and with sparks flying everywhere,Guy is not ready to seduce Olivia until she asks-Now its up to Olivia to give their relationship a new meaning.
Will two people completely unsuited for each other resolve their differences and become true soul mates..??
' I can tell when a woman is enjoying being kissed or not! You just didn't like the fact that you enjoyed the … what was it you
called it? … the cowboy technique.' Shifting abruptly to pin her beneath him, he held her
wrists in a hard grip away from her body. 'Too unsophisticated for you, was it, Olivia?'
Olivia was trembling with a mixture of anger, panic and treacherous arousal. 'Yes!' she
said bravely, knowing even as he lowered his head that it was too late.
His mouth was warmer, more persuasive than before. His hands held her arms still, and
there was only the heat of their bodies and the touch of their lips. Expecting him to be rough
and angry, Olivia was unprepared for the gentleness which crept insidiously beneath her
defences, leaving her open and vulnerable to the glow of excitement that began to flicker and
then flame.
She hardly noticed when he released her wrists, and ran his hands over the slender lines of
her body, slipping beneath the T-shirt to burn against her skin. His lips explored the sensitive
hollow below her ear, whispered down her throat, and she murmured low with indistinct
pleasure, arching her body instinctively to his touch, arms sliding of their own volition about
his neck.
Guy was drawing away. Olivia lifted languid eyelids to encounter a blaze of expression in
his eyes, but, before she had time to decipher it, they shuttered and she was left staring into
opaque depths.
'You might get used to the cowboy technique, Olivia,' he said, the coolness of his voice as
shocking as a slap in the face. 'You might even find you get to like it.'
'That wasn't fair,' she whispered.
'It wasn't gentlemanly, was it? But then I'm a cowboy, not a gentleman, and I don't think
you're quite such a lady as you like to think. Comfort yourself with the memory of your
precious Tim if that's what you want, Olivia, but if you need … what shall I say to avoid
hurting those sophisticated feelings of yours? … a physical relationship, then you only have
to ask.'
Jessica Hart has written a good romance with great anticipation moments and I was hooked on the story from the beginning.The pace was fast with almost no unnecessary dragging and the romance was interesting enough with great chemistry and jealousy moments for the book to be a page turner .The characters took a lot of time for me to understand and perhaps that was because this was a vintage romance with characters having a completely different outlook and thinking than what I have.
Olivia was difficult for me to understand most of the times in the story because the choices she made or the way she reacted in certain situations but overall she was a likable character. If Olivia was difficult then Guy was impossible to understand because he was a very closed off character and as the story is written in Olivia's POV, I could never get what Guy was thinking or why was he reacting in a certain way.
Overall Woman at Willagong Creek is a good vintage romance. The chemistry between the characters is great and the story keeps you hooked throughout. If you like Classic Harlequin romances you will definitely enjoy this book.
Book Info:

Published April 17th 2013 by Coleman Hart
Cool, chic, city girl Olivia flies out to Australia to bring her best friend's orphaned son, David, home to London. Cattle rancher Guy, who's been looking after David, wants to keep the little boy with him at Willagong Creek – no place for a woman like Olivia. The only way she can stay and care for David is a marriage of convenience to Guy. Against the wildness and heat of the outback, Olivia's feelings grow for her strong, masterful husband – but Guy won't lay a finger on her … until she asks. Will Olivia dare to seduce her own husband?