In Zero Hour (Wired and Dangerous #1) by Megan Erickson, all Roarke Brennan wants is revenge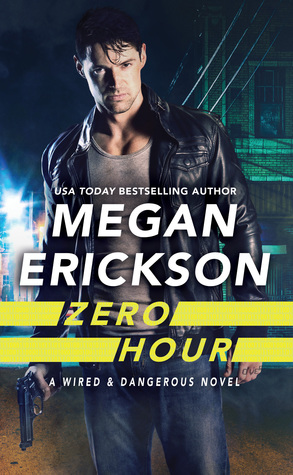 against the person responsible for killing his brother, but the only way he figures he's going to get it is to accept help from the one person he's always done his best to protect – Wren Lee, his best friend's sister. However, the more invested they get into the operation, the more Roarke finds himself falling for a woman that should be off-limits to him. Yet, both know there are no guarantees in life. Will they take a chance on each other, or will the bad guys threaten their chance of happy ever after?
="Everyone just shut up, for f***'s sake," Roarke growled. "Swear to God, this is like herding cats."
Well," Erick pointed out, "we're your cats. That you handpicked from the shelter. So that's on you. I prefer wet food by the way."
"My catnip is for medicinal purposes," Marisol piped up.
Roarke breathed in through his nose and out through his mouth before he committed multiple homicide. "All right, enough. I got you all together. Some of you know the basics, and some of you know next to nothing." He glanced at Dade who stared back impassively. "So listen the f*** up, okay?"=
This first book launches a fantastic start to Ms. Erickson's Wired and Dangerous series where the hero and heroine are determined to get revenge for what happened to the hero's brother; the main characters were very engaging and had me reading quickly, determined to discover how much danger they'd find themselves in when the time came, as the heroine has her own reasons for going after the person responsible for killing the hero's brother; and the dialogue had me on the edge-of-my-seat, especially towards the end. Will the team come out on top against the bad guys? Will the hero and heroine be able to overcome the tough obstacles they face to be together?
The way this story started had me sympathizing with the hero and I could understand his need for revenge and the fact that he doesn't want to involve his best friend's sister in their plans. Will Wren get her way? Moreover, both the hero and heroine were enjoyable characters that have been through tough times in their past and need each other to heal and I liked that the hero took a chance on Wren by finally giving into the intense chemistry that exists between them. I also liked how resilient and courageous the heroine was and that she didn't crack under pressure. Really, she's quite good at what she does, which is proven by her skills as a hacker and her ability to do undercover work.
="Your brother and Marisol are the best social engineers on the team although, I have to admit, you're better than I thought you'd be."
"That's called a backhanded compliment, Roarke."=
While the hero, being the one in charge of the group isn't easy at times, but he definitely knows how to make the tough decisions, especially when things don't go according to plan. Furthermore, he's confident in his skills and I liked how protective he was of the heroine, especially because of everything she's already been through in her life that he wasn't able to protect her from. Yet, there were times where I could sympathize with the heroine because the hero feels conflicted in believing he should be loyal to the fact that Wren is his best friend's sister, and yet, he wants her so much. Will he realize how much he wants Wren in his life before it's too late? Will Roarke be able to keep her safe?
Overall, Ms. Erickson has delivered a really good read in this book that kept me entertained from start to finish because of the risks the heroine was willing to take to help the hero and because of her need to right the wrongs of her past; the secondary characters have me looking forward to more of this series; and the ending had me on the edge-of-my-seat, as the danger closes in for the main characters. Will Roarke be able to keep Wren safe? Yet, what I liked most of all about the ending is that Roarke and Wren achieved their happy ever after because love and happiness is too precious to let slip away and no one knows that better than these two after what happened to the hero's brother. However, it was the epilogue that wrapped this story up brilliantly, because of how the warning they receive will make things interesting for the next book. Will they be able to keep everyone safe? I would recommend Zero Hour by Megan Erickson, if you enjoy romantic suspense, the brother's best friend trope, or books by authors Laura Kaye, Tessa Bailey, Catherine Anderson and Jennifer L. Armentrout.

Book Info:

Publication: January 30th, 2018 | Forever | Wired and Dangerous #1
The Fast and the Furious meets Mr. Robot in USA Today bestselling author Megan Erickson's thrilling new romantic suspense series.
Hacker extraordinaire Roarke Brennan lives each hour – each breath – to avenge his brother's murder. His first move: put together a team of the best coders he knows. They're all brilliant, specialized, and every one an epic pain in his ass. Only now Wren Lee wants in too, threatening to upset their delicate balance. The girl Roarke never allowed himself to want is all grown up with sexy confidence and a dark past … and she's the wild card he can't control.
Roarke might still think she's a kid, but Wren's been to hell and back. Nothing and nobody can stop her – especially the tatted-up, cocky-as-all-hell hacker. But when years of longing and chemistry collide, Wren and Roarke discover that revenge may be a dish best served blazing hot.