No Dukes Allowed by Grace Burrowes, Kelly Bowen and Anna Harrington is a delightful collection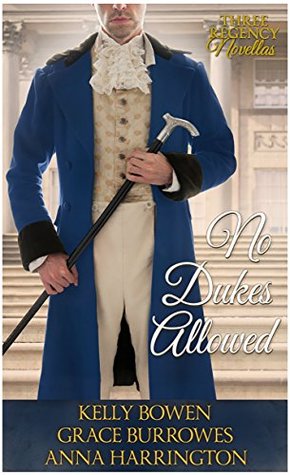 of novellas set on the seaside in Brighton, with a trio of widowed female friends – Genie, Diana and Belinda- residing together who are fed up with Dukes and find love with other much more worthy gentlemen instead!
Architect of My Dreams by Grace Burrowes is the story of Genie, the widowed Dowager Duchess of Tindale who is at her wit's end with the noise of construction on her street. Genie meets the man in charge, an architect by the name of Adam Morecombe who is in the process of building a gentleman's club. They come to an agreement to give her some respite from the noise, but then soon find themselves both in Brighton, where Genie is having a bit of a holiday while Adam is looking to purchase a seaside house to be a getaway for club members. Genie is also beset with a problem – a Duke who is blackmailing her based on flimsy but hard to fight evidence of impropriety with the ultimate goal of getting Genie to marry him. Lucky for her she finds a champion of her own in Mr. Morecombe.
This was my first experience reading Ms. Burrowes and definitely won't be my last! I really enjoyed her writing style and her subtle humor. Adam would normally want nothing to do with a Duchess, but Genie's forthrightness and plain style make her seem much more approachable and they quickly develop a friendship and more. Since she's widowed, she has no qualms about enjoying sexual satisfaction when she wants, and she definitely wants it with Adam. Her marriage had been less than she'd hoped for, a lonely existence and she'd been unable to bear children. Adam endeavors to make up for her past experiences. She and Adam quickly develop feelings for each other but must deal with her blackmail problem before they can get to their happy ending. There are some sweet gestures and subtle love scenes, as well as a very satisfactory ending and lovely epilogue.

Pursuit of Honor by Kelly Bowen is a sweet and sexy friends to lovers novella. Mrs. Diana Thompson, widowed now for a few years is being pursued by the Duke of Riddington who wants to win a bet that he can bed her. Loathsome man! Holidaying in Brighton, she finds her longtime friend Hannah trying to avoid her betrothed, Oliver Graham, who has returned from overseas. Diana and Oliver have also been friends since childhood, and she wrote to him regularly for the ten years he was away. Now that he's back, they are both thrilled to resume their friendship – except it gets complicated pretty fast when they discover they have very inconvenient feelings for each other. With a Duke in pursuit on one hand and a betrothal on the other, it will take the hand of fate to give everyone the ending they deserve.
This is a lovely story of friendship and true love. Hannah and Oliver's fate had been sealed as children when their parents made a marriage arrangement, but Hannah has been going out of her way to avoid seeing Oliver since he returned, which puzzles Diana but also makes her feel guilty for enjoying spending time with Oliver. Several years earlier, Oliver's sister had been estranged from her family without Oliver's knowledge and Diana had helped her escape from London. She and Oliver work together now to find his sister and in doing so, find themselves feeling more than just friendship. Oliver has no qualms about sticking up for her in the presence of the Duke, but won't go against his betrothal. Fortunately, Hannah has her own plans up her sleeve for how to get out of the their conundrum. Oliver also finds a novel way to deal with the Duke of Riddington. There are some sexy love scenes and a delightful happy ending for the couple.

The Double Duchess by Anna Harrington is an emotional second chance romance for a pair of lovers who were split apart ten years earlier and now have the chance to reconnect. Lieutenant Maxwell Thorpe knew he wouldn't be able to provide the funds his fiancee Belinda would need to help her family so he broke off their engagement and stayed on active duty and away from her for years while she married another. Now widowed, Belinda, the Duchess of Winchester is fighting to keep an old army pensioner's hospital from being taken over as a training academy – by none other than her first love Maxwell who has returned to Brighton. He broke her heart and while she'd been a faithful wife, she'd never loved her husband the way she'd loved Maxwell. Maxwell never told her his true reasons for breaking things off and he knows he hurt Belinda terribly. Can he convince her that this time his intentions are true?
Yet another new to me author, Anna Harrington is definitely going on my must read list! She manages to convey a sensual and emotional story in a novella, one that brought me to tears and laughter. Maxwell is a hero in pursuit now that he and Belinda are in the same place and free to be together. While they are at odds over what to do about the hospital as they both have significant and personal reasons to pursue their interests, it's not hard to fall into each others arms again in some steamy love scenes. In keeping with the theme, there is a Duke after Belinda who wants her to marry him, putting tips in gossip rags such that people refer to her as the Double Duchess as if she's already planning to marry her second Duke. For a time it seems he might have the upper hand by making Belinda doubt Maxwell's sincerity, but in the end the lovers get their rightful place back in each others arms. It's a delightful reunion romance.

With unique writing styles and varied plots, these three novellas are heartwarming stories of women who've experienced marriage and loss and get their second chances at love with three gentleman who show that you don't have to be a Duke to end up with the woman of your dreams.
Book Info:

Publication: May 15, 2018 | Grace Burrowes Publishing |
Who doesn't love a duke?
Find out in this Regency novella trio by Kelly Bowen, Grace Burrowes, and Anna Harrington…
Three ladies share a temporary seaside residence in Brighton to escape the London season's gossip and matchmaking. These women are most assuredly not looking for flirtation–much less love–and they would all agree that dukes are a perishing lot of bother anyway. Fortunately for our heroines, three fellows who are not dukes come waltzing by with much more than casual flirtation in mind…