Today, HJ is pleased to share with you

Caitlin McKenna's

new release: 

Colorado Christmas Magic

A heartwarming romance about what it takes to bring a little holiday spirit to the grinchiest of skeptics—and how one small town with an abundance of Christmas magic can bring two people together.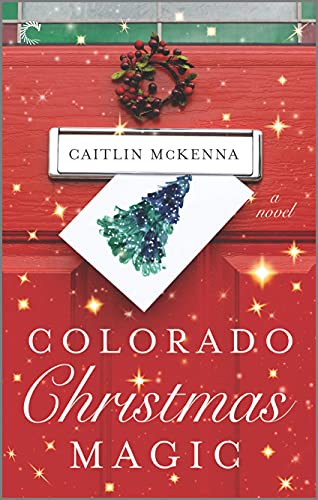 Bah, humbug.
Christmas is not the most wonderful time of the year for Charley Dawson. After writing a column suggesting readers cancel Christmas, she's sent on assignment to St. Nicholas, Colorado, home of the Scrooge Legend. The legend says that any "Scrooge" who enters the town will end up loving Christmas as much as Santa does. She'll go, she'll prove the myth wrong, she'll have a fantastic new column. Easy as mincemeat pie.
Detective Jack Brody assumed the Scrooge Legend was just that—a legend. A free stay in the picturesque town seems too good to be true, so he heads to St. Nicholas to investigate. Once there, he finds a winter wonderland, a group of kind but suspiciously closemouthed townspeople…and his high school sweetheart, Charley. He's more than happy to team up with her, especially when it might mean a second chance with the only woman he's ever loved.
As Charley and Jack go dashing through the snow to find the truth, they rediscover all the reasons they were a great couple. Of course, in the town of St. Nicholas, Colorado, there are plenty of someone's little helpers to bring people together with comfort and joy when they need it most…


Enjoy an exclusive excerpt from Colorado Christmas Magic 
When [Charley] opened the inn's front door and entered the foyer, she was happy to see several couples hanging out in the living room.
"Charley!" Mary came out of the kitchen with two trays of appetizers. "Come meet our other guests."
She followed her host into the living room where Mary set down the trays to make the introductions.
"Charley, I'd like you to meet Rebecca and Tom Byrnes. They've been coming to St. Nicholas for the past eight years. Selena and Dominic are here for their third year, and this is Kim and Matt Foster, who are celebrating their anniversary with us."
"Congratulations," Charley said to Kim and Matt be¬fore greeting the whole group. "It's very nice to meet all of you. This is my first time here."
"Hot cider?" Mary offered, holding a heavy tray of filled mugs as the group eagerly helped themselves.
"Oh, and here's our latest guest." Mary gestured to a man descending the stairs. "His name is Jack Brody."
Charley gasped, whipping around, and when she saw him, she was frozen from shock. Her heart was drum¬ming so loudly, she couldn't hear anything else. She couldn't fathom how she was actually staring at Jack Brody, the Jack Brody—the one who stole her heart and locked it away. The Jack Brody she swore she'd get over but never did. The Jack Brody who was no longer a cute, lanky, sixteen-year-old with boyish charm, but a gor¬geous thirty-year-old man who was approaching her that very moment.
Her eyes drank him in. His thick black hair was cut short which only accentuated his high cheekbones and rugged square jaw. His toned, muscular body nicely filled out his button-down shirt and dark denim jeans, and the way he carried himself down the stairs told Charley he was confident and in control of any situation.
Jack's gaze locked on to her with instant recognition, and she swore time stood still.
"Do you know Jack?" Mary asked.
"Yes," Charley heard herself say breathlessly, but she wasn't sure if she had answered Mary or some unspoken question Jack was asking her from afar.
"Well, isn't that nice?"
"How is he here?" Her mouth barely worked as she grappled at the plausibility of a mailbox bringing a person to town. "I put his name in the box only a few hours ago."
"What was that?" Mary turned an ear toward Charley. "Did you say something?"
Charley couldn't tear her eyes away. She unexpectedly gasped for air, not realizing she'd been holding her breath.
"Are you all right, dear?" Mary asked with concern.
No, she was not. She had spent years fortifying thick, impenetrable walls that she put up against Jack Brody, and in an instant, they had crumbled to dust. All of those explosive, damning words she swore she'd throw at him one day had suddenly left her brain. She had a whole speech prepared, an abridged version of it, and even a four-word sentence—depending on the time she would have to deliver it. But the second she laid eyes on him, for the life of her, she couldn't remember one negative thing to say.
"Charley, are you okay?" Mary asked again.
"Simply placing a name inside a mailbox works?" she uttered faintly.
Mary furrowed her brows, tilting her head to one side.
"Mailbox?" And then she nodded with understanding. "Not any mailbox, dear. But to answer your question, yes, it does work."
"No." Charley swiftly cast a glance at Mary. "That was impossibly fast."
"Well, Santa can deliver toys all over the world in one night, so one little name in a mailbox…" Mary shrugged. "Looks like you have some catching up to do." She nudged Charley toward Jack before she attended to her other guests.
Charley gulped, still hearing her heart hammering.
"Charley Dawson." Jack shook his head in disbelief. "How the heck have you been?"
A rush of heat flooded her cheeks. She couldn't get over how Jack's sixteen-year-old round baby face had matured into strong, chiseled angles. And though his blue-gray eyes were framed with laugh lines, they were still very distinct and intense. "Good. Uh…"
Her mind was spinning. Pushing aside how gorgeous her ex-boyfriend was, she couldn't figure out how he was standing in front of her. The Scrooge Legend wasn't real. Challenging Santa to find him for her couldn't be real, either. She was a grown woman. She knew that. It had to be something else. It was too much of a coincidence for both of them to be staying at the same bed-and-breakfast in the middle of nowhere. Another tiny gasp escaped her lips as she suddenly remembered the fortune cookie saying YOU WILL REUNITE WITH THE ONE THAT GOT AWAY. No. Not possible. Was it?
Nerves took control of her. Not knowing what to do with herself, she grabbed two mugs of hot cider off the table and thrust one at Jack. "Have some cider." She tried to take a gulp but discovered it was still very hot. "Oh! It's hot. Be careful."
"I figured it would be." He looked at her curiously be¬fore blowing on the cider. He took a tiny taste, not taking his eyes off her. "I can't believe we're both staying here."
"I was thinking the same thing." She flashed him an insecure smile. "What are the odds?"
"Seventy-six million, two hundred thirty thousand, eighty-nine to one."
Charley gawked at him.
"Kidding!" He grinned. "I have no idea, but I'd bet it's a high number, especially since I was booked at another B&B until they had a flood."
"A flood?"
"A mischievous kid left the water running."
"Oh!" She immediately took a drink of cider, covering the fact that she had absolutely no idea what to say to him.
He jammed his hand in the front pocket of his jeans. "Do you still live in LA?" he asked, checking out a plate of appetizers.
She hated how he appeared to be so incredibly re¬laxed, and she was ready to jump out of her skin. He was acting like he'd seen her a few weeks ago. Calm down. Just breathe.
"Yeah." She forced herself to sound casual. "I work at the magazine Authentic Lifestyles. I'm sure you've heard of it."
The crease between his brows deepened. "I don't know that one," he said, and she wondered if he was happy to see her or if he was just making conversation. "Not much time to read magazines with my job."
Play it cool. "What do you do?" she asked noncha¬lantly.
"I'm a police detective in Denver."
"A detective? That must be exciting," she replied en¬thusiastically, attempting to hide her surprise. She always thought he'd be an attorney like his dad.
"It's not as glamorous as Hollywood portrays it to be. There's a lot of paperwork and hours digging for an¬swers. I probably spend seventy percent of my day doing research on anyone and everyone connected to a case."
Did you ever think of doing research on me? She felt herself blushing at the thought. Change the subject. "So, do you come here often?"
Jack laughed and she instantly closed her eyes in dread, totally embarrassed by her stupid question.
"What I meant was why are you in St. Nicholas?"
He took a slow sip of cider, then spoke in a warm, buttery tone. "I'm here on a case."
She shut the sound of his sexy voice from her mind, determined to stay on topic. "Really?" She raised her brows. "Ya got trouble, right here in St. Nick's City?" she joked.
"With a capital T."
She blasted him with a big grin. "You remember."
"How could I forget? Our school put on the worst pro¬duction of The Music Man ever." He cringed. "And you made me sit through it."
"Our friends were in it. We had to support them."
"Yeah, I'll never forget what you told them when they asked your opinion. You said their performances were 'so incredibly original.'"
"I said that?" Charley laughed. "I can't believe you remembered that." She couldn't stop smiling, thinking back. She and Jack had been considered the perfect cou¬ple. They had so many of the same interests. They loved baseball, volleyball, and surfing. They spent hours at the beach together. They rarely disagreed with one another because they thought alike, often sharing the same view¬points. Their taste in music was even the same. Their favorite bands were Coldplay and Green Day. All of their friends told them they would end up married to each other, and Charley believed them. She thought Jack had believed them too. Maybe he did at one time, but that was long ago.
They fell into an awkward silence. It felt like they could simply pick up where they left off, but she knew that sort of thing only happened in movies. He had crushed her years ago and she needed to keep that in mind. "You were saying you were on a case?"
"A potential one," Jack answered vaguely.
"Can you give me a hint?"
"Yes." He leaned into her, lowering his voice. "But later."
It was then that Charley understood magnetic attraction. Without warning, she felt her body being pulled to his, and he must have felt it, too, because he pinned her with his gaze. Her pulse raced and her cheeks flushed as he brushed his arm against hers.
Excerpt. ©Caitlin McKenna. Posted by arrangement with the publisher. All rights reserved.


Giveaway:

One (1) mass market paperback copy of COLORADO CHRISTMAS MAGIC by Caitlin McKenna (Shipping is limited to continental US and Canadian mailing addresses).
To enter Giveaway: Please complete the Rafflecopter form and post a comment to this Q:

What did you think of the excerpt spotlighted here? Leave a comment with your thoughts on the book…
Meet the Author:
Ever since she can remember, Caitlin McKenna has always loved a good story. Naturally, she landed Hollywood where she embarked on an acting and screenwriting career. Now she enjoys writing any story where love drives the narrative. Caitlin lives with her husband and two spoiled dachshunds in Southern California, and is working on her next novel.
Amazon |  Barnes & Noble | Apple | Google Play | Kobo |