Today, HJ is pleased to share with you

Willow Aster's

new release: 

Downfall

Hi, Readers! I'm so excited to be here and to share an excerpt from my new release Downfall!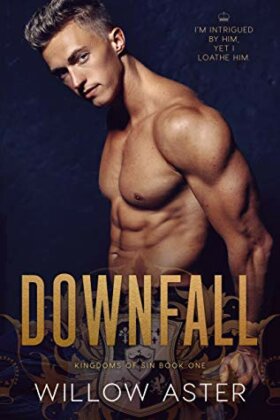 I was naïve to think my marriage to Luka Catano might work.
I was infatuated with him from afar…
Until I met him.
He loved the challenge of his next conquest, anyone would do…
Except me.
A wife was never something he wanted.
Torturous was not a strong enough word to describe how I felt when I was in a room with Luka. Besides hating nearly every word that came out of his mouth, I also drowned with lust every time I looked at him.
At times I thought he might feel the same.
But nothing prepared me for what his family would make me become.
*There will be four books in the Kingdoms of Sin series. Each book can be read as a standalone though there are interconnecting characters.*

Enjoy an exclusive excerpt from Downfall 
"Why are you ignoring me?"
"It's easier to not hate you if I don't have to talk to you," I tell him.
His head tilts to the side. "You don't hate me."
I bite my lip and open the door. "Pretty sure I do."
"It's all the sexual tension between us," he says, smirking. "You don't know what to do with that." He runs his fingers through his hair and I watch the way his bicep bulges with the lift. He gives me a deadpan expression and I turn around, frustrated that he caught me looking. He puts his hand on my arm and I look at him over my shoulder. His fingers run up and down my arm and I wonder if he's aware of my whole body tensing with his touch.
"You know nothing about me." I walk away from him, setting my bag down and go out to the balcony.
Excerpt. ©Willow Aster. Posted by arrangement with the publisher. All rights reserved.


Giveaway:

A signed copy of Downfall open international
To enter Giveaway: Please complete the Rafflecopter form and post a comment to this Q:

What did you think of the excerpt spotlighted here? Leave a comment with your thoughts on the book…
Meet the Author:
Willow Aster is a USA Today Bestselling author and host of Living in the Pages podcast. She lives in St. Paul, MN with her husband, kids, and rescue dog.
Connect:
Website: www.willowaster.com
Facebook Author Page: https://www.facebook.com/willowasterauthor/
Twitter: https://twitter.com/WillowAster
Instagram: https://www.instagram.com/willowaster1/

BUY LINKS
Amazon
http://bit.ly/Downfall-US
http://bit.ly/Downfall-UK
http://bit.ly/Downfall-CA
http://bit.ly/Downfall-AU