In Sweet Talker (American Royalty #2) by Robin Bielman, Ethan Auprince never thought he'd see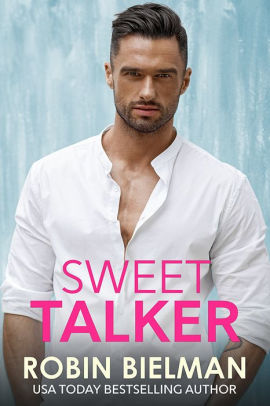 Pascale Nichols again. However, when Ethan discovers she's the new manager of his restaurant, he's not only surprised but determined to find out why she left all those years ago. Yet, Pascale has her own reasons for being back in Ethan's life and keeping her distance is a must. Will she be able to do her job without the attraction that still burns between them getting in the way or will she lose her heart all over again?
"Do you listen?"
"Who do you think told Paige about it?"
"So, you've moved on from protecting her from the bully on her soccer team to keeping her safe from psychopaths."
"I hate that you remember everything I've ever said to you."
"It's your fault."
"Why is it my fault?" she argues.
"Because you're interesting. Intelligent. Honest."
Ms. Bielman is such a fabulous writer and I've got to say that I've come to love the Auprince family, most especially Ethan and his brothers with their loving ways of teasing each other and their grandmother who loves to say things that her grandsons wish she wouldn't. However, it was the way this story started that had me instantly hooked, as Ethan is one determined man. Yet, is discovering the answer to what he asks a good thing or a bad thing?
"You pictured my new manager?" Ethan asks, arriving in time to pull out his grandmother's chair. He helps scoot her in before choosing to sit beside me.
"I picture everyone. Mental imagery helps keep my mind sharp. Just the other day I pictured Chris Hemsworth in nothing but—"
"Stop right there," Ethan interrupts, holding up his hand. "We don't need to know—"
"That he's Thor-oly packing?" I press my lips together to keep from laughing. Rosemary is a spitfire. I like her. "See what I did there?" she says, looking directly at me. I nod. "At least in my dirty mind he is."
As for the dialogue, it was a wonderful combination of intense moments due to the main characters back stories and teasing banter that had me enjoying the growing relationship between Ethan and Pascale and had me loving the closeness of the Auprince family and how they're there for each other in tough times. Certainly, Ethan needs the advice of his brothers, especially when it seems things could go either way with Pascale after everything she's been through in her past and things that happen throughout this story that change the course of her life. Will she take a chance on happy ever after?
With the main characters, Pascale's back story messed with my emotions a little and made me understand why she decided to go into the type of work she does. Really, what happened to someone important in her life has made her the resilient and courageous woman she is and it's no wonder she's a little protective of those that she believes need to be protected. While Ethan, he was a wonderful hero. He's charming and I loved how determined he was to win Pascale over because he's never gotten over her. Although, there were moments where I thought Ethan wouldn't win the battle for Pascale's heart because she's stubborn. But I'm so glad he did.
Overall, Ms. Bielman has delivered a marvellous and entertaining read in this book where the chemistry between this couple was intense right from the moment they come face-to-face again for the first time in years; the romance was passionate and shows how neither have ever gotten over the other, even though Pascale knows getting involved with Ethan again may be a bad idea; and the ending was delightful and completely satisfying because there's no way Ethan is willing to give up on Pascale and I enjoyed the way he shows her that she'll always be his number one priority. I would recommend Sweet Talker by Robin Bielman, if you enjoy stories encompassing tight-knit families with plenty of wonderful banter between them; second chance romances or books by authors Cindi Madsen, Jennie Marts, Avery Flynn and Stefanie London.
Book Info:
Publication: September 5th, 2019 | Tule Publishing | American Royalty #2

He likes to be in control…
It's like this: I'm the hottest restauranteur on the west coast. I work hard, play hard, and love my family. I'm also the guy on the receiving end of some unwelcome threats and fixation. Then Pascale Nichols walks back into my life, and I forget about everything but her. They say lightening never strikes twice, but she's the one that got away. She's also, I soon discover, the one my family *secretly* hired to protect me. Am I mad? Hell, yes. Am I game to play along? You bet.
She's in over her head…
Everyone knows and loves Ethan Auprince. With his sexy-as-sin dimples and crazy likeability, he's always the center of attention. I've been tasked with protecting celebrities, bigwigs, and high-ranking officials, but when I come face-to-face with the man I spent one incredible summer with, I'm in trouble. A careless mistake on my last assignment cost me, and now Ethan is looking at me like he wants to devour me, not cooperate with my subtle instructions while I work under the guise of his restaurant manager.
My reputation is at risk. His safety is on the line. But worse, were falling in love again.