Today it is my pleasure to Welcome romance author
Sawyer North
to HJ!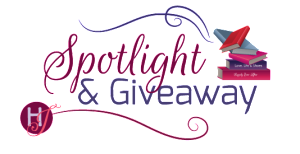 Hi Sawyer and welcome to HJ! We're so excited to chat with you about your new release, Fair Weather Enemies!

Dear Reader – I know you have a sea of options when it comes to your reading. Thank you for taking a moment to consider my new Regency romance novel!

Please summarize the book a la Twitter style for the readers here: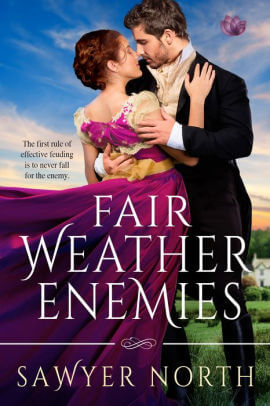 Impending financial calamity thrusts Jane and Adam, inheritors of a generations long feud, together on a road trip in search of a horde of lost gold. However, the winner-take-all terms become complicated in the face of budding romance.

Please share the opening lines of this book:
"I fear the worst, Auntie." Miss Jane Hancock pulled her pelisse protectively tighter to ward off the chill of an unnaturally brisk September morning. "Mr. Rutley never calls a meeting unless he wishes to torment children or beat small animals."
Mrs. Hester Byrd squeezed Jane's arm with reassurance. "Chin up, my dear. You have weathered vicious storms before. What further menace could he offer?"
Jane regarded her father's younger sister with a sigh. "I do not know. However, given our dismal financial obligations, I entertain some dire notions."
Please share a few Fun facts about this book…
The story takes place during The Year Without a Summer (1816). That summer was cold and wet likely due to the eruption of Mount Tambora the previous year. It produced three consecutive failed crops that brought lower class Britons to the brink of starvation. This event proves critical in setting the story into motion.
The story features scenes with two actual poets of the era. I spent considerable time trying to understand their personalities as described by others so I could guess accurately at how they might have spoken and behaved.
Jane and Adam's road trip follows the trail of the Jacobite rebellion of 1745, an event portrayed by the Outlander series. The Jacobites invaded England and penetrated to within 120 miles of London before turning back.
The road trip features a stop at Carlisle Castle where Mary Queen of Scots was briefly imprisoned over two centuries earlier. After much research, I eventually dug up castle floor plans from about that time period. Those plans were critical describing the interior correctly.
The path of the treasure hunt is described in a series of 22 rhyming clues. I wrote the rhymes before I developed the rest of the story.
What first attracts your Hero to the Heroine and vice versa?
Adam's first sign of attraction toward Jane is when she takes down her hair. He notices its dark, luscious luster, and laments that she is his sworn enemy.
Jane's first sign of attraction is when Adam arrives at the perilous boat docks wearing uncharacteristically rustic clothing – a long rider's coat, tall boots, and tricorne hat. Despite her animosity toward him, his appearance makes her feel safe.

Using just 5 words, how would you describe Hero and Heroine's love affair?
Old barriers fall, love ascends.

The First Kiss…
The first kiss comes just before the story's darkest moment. It is a desperation kiss with all passion poured into a moment that anticipates loss to come. Adam initiates the kiss, which is told from Jane's point of view.

Without revealing too much, what is your favorite scene in the book?
[Jane and Adam's banter carries the story. One of my favorite scenes is when Jane feels her first pangs of interest in Adam as something other than an enemy as they meet at the ship docks at early morning. She quickly recovers him by engaging in banter.]
"Miss Hancock. I should have suspected you would arrive early and appear well-rested, despite the circumstances. This only reinforces my suspicion that you are a witch."
Jane huffed. To cover her relief, she resorted to what she did best in his presence. Insult him. "What did you say, sir? I could not hear you over the incessant braying."
He dropped his bag and clapped twice in mock applause. "Very good. I see you visited the blacksmith recently to sharpen that tongue. Did he also fashion for you a pitchfork?"
"If I have need for a pitchfork, sir, I will simply borrow yours. Although, I do admit surprise."
He cocked his head. "Surprise? Over what?"
"Your attire. I did not believe you capable of owning clothing so common."
He shook his head. "What you do not know of me could fill libraries."
"I see. Then I am doubly surprised."
His eyes narrowed. "Dare I ask?"
"I am surprised you know about libraries."
If your book was optioned for a movie, what scene would be absolutely crucial to include?
From the beginning of the story, the reader is aware that Jane and Adam have a complicated backstory with regard to their relationship. As they travel together, Jane and Adam begin unpacking that history which consists of a series of encounters from most recent to oldest. Near the end of the journey, they reminisce about the day they first met as children, a meeting that left them both scarred. The unpacking of this event proves necessary for a happily-ever-after to become possible.
Readers should read this book …
Readers should read this book if they like witty banter, the enemies to lovers trope, road trips, plot puzzles, and a twist at the end. And of course, happily ever after.
What are you currently working on? What other releases do you have planned?
I have a second Regency manuscript in the hands of my editor. Henry, a gentleman without means who is desperate to re-enter society, is hired by a dowager duchess to prepare her long-lost granddaughter, Lucy, for a high stakes entrance into society. Due to her coarse upbringing, Lucy resists the transformation by systematically exposing the rules of society for what they are: misogynistic. However, Lucy and Henry's adversarial relationship begins to give way to mutual attraction, despite the fact that Henry is ineligible to pursue romance with Lucy.
I have a third Regency manuscript in the hands of a potential agent. When Hannah, a blind lighthouse keeper, rescues a baron, Arthur, from the sea, affinity blooms in the darkness of a seaside grotto. The meeting sets in motion events that threaten Hannah's lighthouse and Arthur's family reputation. More importantly, it challenges the long-established barriers each has erected against love.
Finally, I have just begun writing the first of a four-part series about four young women of the ton from a lesser neighborhood of haute London who strive to rise in society without surrendering their character.
Thanks for blogging at HJ!
Giveaway:

Three $10 Amazon gift cards.
To enter Giveaway: Please complete the Rafflecopter form and Post a comment to this Q:

What sort of baggage do we inherit from our parents and families that present barriers to romantic relationships?
Excerpt from Fair Weather Enemies:
[This scene occurs as Jane, Adam, Aunt Hester, and Mr. Barlow are hitching a ride in a wagon transporting a brood sow and a mob of piglets.]

Like virtuous knights of old, Adam and Barlow stood guard between the moody brood sow and the ladies. Fortunately, the large pig seemed content to remain motionless while emitting periodic grunts. As the wagon bumped along toward evening, Adam shoved aside the snuffling nose of an inquisitive piglet to better view Jane. She sat near the front of the wagon engaged in low conversation with Hester. Sleeping piglets sprawled around her, and one lay nestled beneath her hand. He did not know what might be considered proper attire for traveling with swine, but Jane's appearance transcended her situation. A well-worn riding habit of faded blue covered most of a sturdy cotton walking dress, illuminating the blue of her eyes. Her prominent cheekbones, narrow nose, and dimpled chin seemed appropriate to a miller's daughter—delicately bold. Not unlike her general demeanor, he decided. He did not notice Jane's gaze until she spoke to him.
"Do you wish to say something, sir?"
He cut his eyes away quickly to hide the fact that he had been staring. Her gentle laugh informed him that she already knew. He looked her way again. "Would you find my presence overly odious if I joined you for a bit of conversation? I have exhausted my discussion points with Mr. Barlow and the brood sow."
He motioned toward the solicitor and the massive pig, both of whom were sleeping soundly. Jane blinked three times in rapid succession but retained the smile. Her hand patted the wagon bed next to her. He moved to her side and sat, with the blissful piglet as a buffer between them.
"Thank you," he said.
"I believe I will rest now," said Hester overly loudly. She rolled away to feign sleep. Jane peeked at her aunt and shook her head. She turned to regard Adam with a steady confident gaze that he found lacking in many women her age. He reluctantly commended her for that.
"So…what might we discuss?"
He glanced down at the sleeping piglet. "I suppose we should begin with your new friend. He seems a bit young for you."
"Sir," she said with mock umbrage. "I must begin by offering offense on behalf of the pig, as 'he' is a 'she'."
"My apologies to the pig, then. Perhaps the odor has dulled my powers of observation."
She nodded. "On behalf of Lily, I accept."
"Lily?"
"She has taken a particular liking to me, it seems. I cannot very well continue calling her 'piglet' as if her regard meant nothing."
He laughed unexpectedly. "Of course. Very sensible. One should not slight a pig unnecessarily. Unfortunately for me, the sow seems rather disinterested in my friendship."
"And this disappoints you?"
"Immensely. I crave nothing more than the sentimental regard of those in my company."
She cocked her head and frowned. "Even those predisposed to despising the very ground on which you walk?"
"Especially those."
"Why, may I ask? Is it not natural for opponents to maintain a healthy disdain for one another?"
Adam looked away, uncomfortable with the directness of her questions. "I suppose it is." Then he cut his eyes toward her. "After all, how could we remain enemies if we ceased hating each other?"
His comment appeared to startle her. "We? I was speaking of piglets. Now, you talk of us. This all seems rather unexpected."
Excerpts. © Reprinted by permission. All rights reserved.


Book Info:
The Hancocks and Ashfords have had a long-standing feud between their families long before Miss Jane Hancock couldn't stand the sight of gentleman farmer Adam Ashford. But after both families fall on hard times and an unscrupulous creditor forces Jane and Adam to sign a devil's bargain, they'll finally understand the true meaning of keeping your enemies close at hand.
The terms of this bargain? Locate a lost treasure shrouded in deception and mystery.
The catch? Only one can claim it to win…the loser is left to ruin.
As Jane and Adam embark on a trek throughout England they plan to hate their adversary, no matter how attractive, generous, and kind they are.
Sometimes, plans change…
Book Links: Amazon | B&N | iTunes | Goodreads |


Meet the Author:
After self-publishing science fiction novels over a period of years, I made the truly odd move into historical romance. Although romance is a strong thread in nearly all my works, I came to straight-up, nothing-but-romance only after turning fifty. Since then, I am plagued by the question, "What took me so long?" My awakening began rather innocuously when I casually watched the 2015 version of Poldark. Before I knew, I was falling headlong into the abyss of historical romance and read fifteen such novels over a three-month span. However, no number could sufficiently scratch my itch for more, so I did what any writer would do and began constructing stories of my own. In April of 2019, I received my first contract with Entangled Publishing.
Website | Facebook | Twitter |