Today, HJ is pleased to share with you

Shelly Bell's

new release: 

For His Pleasure

From author Shelly Bell comes the epic conclusion to the sexy and suspenseful Forbidden Lovers series.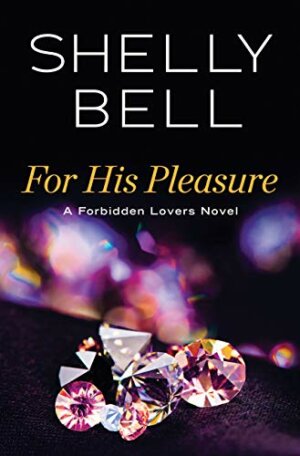 Cash Turner could never resist a woman in need. It's what shapes his desires–and sealed his fate. Recently released from prison after serving time for a murder he didn't commit, Cash has to keep his head down and stay out of trouble. That means avoiding the curvy, delicious temptation of Dreama Agosto . . . a woman who holds his future in her hands.

Dreama knew returning to work wouldn't be easy, but she wasn't prepared for Cash Turner. He's tall, commanding, the first man to spark her interest in a year . . . and her newest parolee. It doesn't take long for Dreama to realize that there's more to him–and his case–than meets the eye. As the two of them investigate the murder that led to his incarceration, they explore the growing desire between them, risking more than her career. Because now that the real killer has set his sights on Dreama, she's also risking her life.
Enjoy an exclusive excerpt from For His Pleasure 
Hard to believe a little more than a year ago, she'd enjoyed a bit of pain at the hands of a Dom.
But erotic pain was quite different from the one she'd come to know. This pain had taken away her control and stolen her ability to feel physical pleasure.
Inside the one-story brick building, Dreama nodded to the young security guard as she placed her purse and winter coat on the conveyor belt to be X-rayed.
He was new, at least to her, since she hadn't set foot in this building since her attack. For all she knew, he could have been working there for months.
She ambled through the metal detector, hoping to make it through without drawing any attention to herself.
Any hope of that deflated when the light on top of the machine flashed red and a triple beeping alerted the guard.
"Take out everything you have in your pockets," the guard said, stopping the conveyor belt from moving. "Keys, cell ph—"
"I don't have anything in my pockets," she explained to him. Hell, her conservative black pants didn't even have pockets. "The metal is inside my body."
"Ma'am," he said, speaking as if she were ninety-two rather than twenty-seven.
Really? She'd left the workforce for a year and was considered a ma'am now? She couldn't be more than a year or two older than him.
He continued. "An implant or small amounts of metal inside the body will not set off the alarm. Please go back and walk through the detector again."
She wasn't going to cry.
She didn't do that.
Ever.
And she wasn't about to start just because a long line of people was waiting behind her or because taking an extra ten steps to her would be like running an extra ten miles for anyone else.
No, she wouldn't cry. But she would make a scene that was likely to end with him crying for mercy on his knees and her getting thrown out of the building. And if she couldn't be in the building, then she couldn't work, and if she couldn't work, she couldn't pay for her new apartment, and if she couldn't pay for her apartment, she'd have to move back in with her parents, and if she moved back in with her parents, she'd go insane over her mother's incessant hovering.
"Listen, I'd really rather not have to go through the detector again," she said, flashing her pearly whites and batting her eyelashes at him. "So maybe could you just…I don't know…use a wand on me?" She gestured to the parole office sign in front of them. "I work here—my badge is in my purse—and since we're going to be seeing a lot of each other, and this is likely to happen every day because I practically have enough metal inside me to make me the star of RoboCop, we should find an alternative arrangement to the metal detector."
As if considering her request, the guard tipped his head to the side. "Again, ma'am, employee or not," he said, the emphasis on the word employee making it clear he didn't believe it, "you are not permitted inside the building unless you successfully clear the metal detector."
The people standing in line started to get restless, their whispers and frustrated groans reaching her ears. She stared at that damn metal detector wishing she had the ability to melt it with her eyes.
"Excuse me, sir?" said a man from behind her. "As an employee of the state's parole office and this building being her place of employment, the lady is entitled to reasonable accommodations under both federal and state law in light of her disability." At the guard's blank look, the man added, "She indicated she's setting off the detector because of the metal inside her body and if you had observed her walking through the detector instead of checking your cell phone, you would have noticed her slight limp."
Damn. And here she'd thought her limp wasn't that noticeable.
"Furthermore," he continued, "she's asked for those reasonable accommodations. Denying her would violate the Americans with Disabilities Act. If you don't have a wand, I'm sure the security guard manual you keep quoting says something about alternative methods in lieu of the metal detector." He kept going, calmly reciting all the specific federal and state laws the guard was violating.
Her jaw dropped.
And if she'd met this guy at a play party, her panties would have too.
He was tall. Like, seriously tall. Probably a good foot above her five-five frame. And broad shouldered, filling out every inch of his black Henley perfectly. His dark brown hair was shaved close to his scalp in an almost military fashion, accentuating his sharp, high cheekbones. His nose was a bit off center with a slight bump on the middle as if it had been broken a few times, but somehow it worked for him. Gave him a dark and dangerous edge that she used to find physically attractive.
And his lips…Oh man, those lips. His bottom lip was plumper than his top. It was another slight imperfection that somehow worked on him.
Yeah, he was fucking gorgeous.
Not in the movie star, pretty boy kind of way, but in a Dreama falling to her knees and kissing his feet kind of way.
She couldn't stop herself from zeroing in on his lips, not because of their unique shape, but because of the way he spoke with them. Quiet, but commanding. A voice you couldn't help but obey. Like top-shelf whiskey, hand-rolled cigarettes, and dirty, kinky sex all rolled into one. Three of her favorite vices. It had been far too long since she'd indulged, months since she'd even been tempted.
This man was temptation personified.
Her gaze dropped to his hands. They were a working man's hands. Large…blunt fingertips…a little dirt under his nails…large.
What could she say?
Some girls got off on a guy's chest or their eyes, while others liked their butts.
Large hands pushed all her buttons.
Large hands and all the wicked things they could do to her. At least what they could have done if she could tolerate a man's touch.
Excerpt. ©Shelly Bell. Posted by arrangement with the publisher. All rights reserved.


Giveaway:

Paperback copy of FOR HIS PLEASURE by Shelly Bell
To enter Giveaway: Please complete the Rafflecopter form and post a comment to this Q:

The heroine, Dreama, suffers from Haphephobia, the fear of touch—specifically, a man's touch. I have a phobia of sharks, Selachophobia, which prevents me from swimming in the ocean (sad because I live a few miles away from the Gulf of Mexico). Do you have a phobia and if so, what is it?
Meet the Author:
A sucker for a happy ending, Shelly Bell writes sensual romantic thrillers. When she's not working her day job, taking care of her family, or writing, you'll find her reading the latest romance.
Follow Shelly on Social Media:
https://www.facebook.com/ShellyBellBooks
https://twitter.com/ShellyBell987
https://www.instagram.com/ShellyBell987/
https://shellybellbooks.com
Buy For His Pleasure:
Amazon https://amzn.to/2WHvPD3
Barnes & Noble http://bit.ly/2QPKo2g
IndieBound http://bit.ly/2KtRw31
Target http://bit.ly/2MDfITw
Books A Million http://bit.ly/2Z101qi