Today, HJ is pleased to share with you

Prescott Lane's

new release: 

Knox

From USA Today bestselling author Prescott Lane comes a standalone second-chance romance between a Hollywood heartthrob and the small-town girl he left behind…
Sexiest man alive, scene stealer, Hollywood headliner.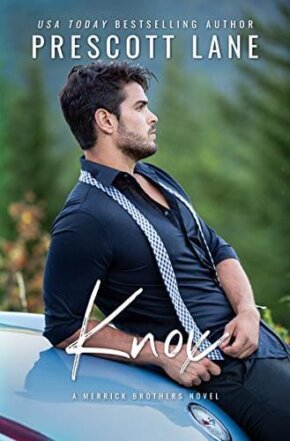 That's what the world calls him. I've got more colorful names for him, all of which would be bleeped out if I was on air doing my radio show. Even if he hadn't broken my heart, he would just be Knox to me. Not a famous movie star.
Just a boy.
The boy who grew to be my first love.
That is, until he ripped my heart out of my chest and stepped on it, live on the red carpet.
I thought that was all behind me. Until he decided to come waltzing back into my life. Granted, he looked hot as heck doing it, but that's neither here nor there.
He may have acted alongside some of Hollywood's hottest "it" girls, but being my leading man is a much harder part to win.
Enjoy an exclusive excerpt from Knox 
Everly gives me a look, reaching in her bag and pulling out a brown paper bag, which can only be hiding one thing — wine! You know you have a good friend when she smuggles you alcohol.

We meet at the back steps of my porch, taking a seat where we can still keep an eye on Gracie. The sun is shining, my best friend is here. Life is good.

"What else you have in that purse of yours?" I ask, teasing her.

She opens it up wide. "I've got chocolate and condoms, which do you need?"

"Dang," I say. "I really was hoping for a chocolate condom."

She giggles a little, popping open the bottle of wine. "Only one sip for me, I'm driving." She doesn't even bother with glasses, simply taking a sip from the bottle. We're classy chicks like that. Then she passes it to me. "I haven't slept with Timothy in four days," she says quietly so Gracie doesn't hear. "Punishment for telling Knox where you live."

"Don't do that," I say. "That's just punishing yourself, too."

She laughs again. "I'm lying. I totally fucked him before coming over here."

I laugh so hard wine comes out of my nose. Everly is the best. We just get each other. In all the years we've been friends, we've never had a big fight. It's hard to be mad at someone who carries alcohol and condoms in her purse. If the zombie apocalypse ever comes, Everly is screwed without any suitable supplies, but if a spontaneous swingers' party erupts, she's ready.

"It's fine. Something tells me Knox would've found a way to find me, anyway."

"He did look good," she says, nudging me a little.

"I know," I say, rolling my eyes. "Dangerously so."

"So?"

"He left me his number," I say. "I haven't called."

"Did you keep it?" she asks.

"Yeah. Why?"

She takes the bottle from me, putting it aside. This must be serious. "You didn't burn it or rip it in a million pieces. You kept it."

"I didn't use it," I say.

"But you kept the option open to use it."

"No. I'm not calling him."

"Let me see your phone," she says.

"Why?"

"I want to see if you saved his number in your contacts." She can tell by my face that I did. "Oh my God, you saved it in your phone!"

"You act like I accepted a marriage proposal. I saved his number, so what?"

"You didn't keep it on a piece of paper that could get lost. You kept it on your phone, where it will be safe."

"None of this means anything."

"Oh, I think it means something," she says.

There's that word again, the same one Knox used. What is this elusive something everyone seems to be referring to these days? I look out on the water, a slow ripple on the surface. If the wind blew, the ripple would grow bigger. Right now, it's just a little small — something.

"For someone who gives relationship advice, you sure are clueless," Everly says.

Of course, she's right, but I still push back. "I give breakup advice," I say.

"Okay, what if a caller phoned in and said that their ex came back to town after five years to see them. What would you tell your caller?"

"Depends on the situation."

"Same as you and Knox. Both single. Both successful. Everything the same."

"I'd say that if they were calling me for advice, it would mean they were still attached to this person."

"See!" Everly cries out.

"See what?" I ask. "I didn't ask you for advice about Knox. I didn't even bring him up. You did!"

"But you kept his number," she says.

"Everly," I say, my voice soft, revealing how vulnerable I feel about this whole situation. "I will always have a soft spot for Knox. He's my first love. That's special. You don't ever forget that person."

She wraps one arm around me, forcing me to lay my head on her small shoulder. She knows I've reached my limit. "How about I set you up with . . ."

"God, no!" I laugh out. "The last guy you set me up with had a criminal record."

"I didn't know!" We both laugh. "You could just have a sex thing with Knox. No attachments."

"A sex thing?" I ask.

"That's something," she says with a smile.
Excerpt. ©Prescott Lane. Posted by arrangement with the publisher. All rights reserved.
Giveaway:

1 print copy of Knox (A Merrick Brothers Novel), US only
To enter Giveaway: Please complete the Rafflecopter form and post a comment to this Q:

What did you think of the excerpt spotlighted here? Leave a comment with your thoughts on the book…
Meet the Author:
Amazon US: https://amzn.to/2Vg0IwA
Amazon Worldwide: http://mybook.to/KnoxPL
Goodreads: https://bit.ly/3iHW3h4
Prescott Lane is the USA TODAY best-selling author of ALL MY LIFE. She's written several other romance books with strong heroines and swoon-worthy heroes. She is originally from Little Rock, Arkansas, and holds a degree in sociology and an MSW from Tulane University. She married her college sweetheart, and they currently live in New Orleans with their two children and two crazy dogs. Prescott started writing at the age of five, and sold her first story about a talking turtle to her father for a quarter. She later turned to writing romance novels because there aren't enough happily ever afters in real life.


Connect with Prescott
Website: https://authorprescottlane.com
Goodreads: https://www.goodreads.com/author/show/7055470.Prescott_Lane
Amazon: https://www.amazon.com/author/prescottlane
Facebook: https://www.facebook.com/PrescottLane1
Facebook Group: https://www.facebook.com/groups/PrescottsPosse
Instagram: http://instagram.com/prescottlane1
Twitter: www.twitter.com/prescottlane1
Bookbub: https://www.bookbub.com/authors/prescott-lane
Pinterest: http://www.pinterest.com/PrescottLane1
Book+Main: https://bit.ly/2EaFgmU