Today it is my pleasure to Welcome author
Denise N. Wheatley
to HJ!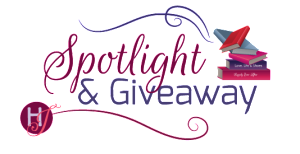 Hi Denise and welcome to HJ! We're so excited to chat with you about your new release, She Gets What She Deserves!
To start off, can you please tell us a little bit about this book?: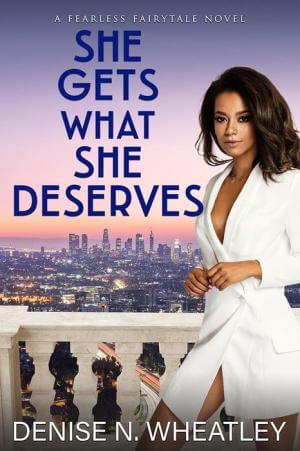 She Gets What She Deserves is Book 2 in my Fearless Fairytale series. It follows our heroine, Devon Jacobs, who has finally made it as a television writer in LA. She recently began dating the sexy actor who stars on her tv show, Ryan Reynolds. On the outside looking in, it appears as though Devon's got it all. But as they say in Hollywood, all that glitters isn't gold.
Devon soon learns that earning a seat at the writers table is the easy part. Maintaining it is where the challenge begins. She struggles to find her voice in a room full of seasoned pros, all while hiding her relationship with Ryan from her boss, who does not condone workplace romances.
A new level of pressure is added when their beloved sitcom is threatened to be cancelled, which puts a strain on Devon and Ryan's relationship. It doesn't take long for Devon to realize that some fairytales come with a plot twist.

Please share your favorite lines or quote(s) from this book:
"You've got some great ideas flowing through that creative mind of yours, so do us all a favor and let them out."

"If I recall correctly, it was Devon who came through with some amazing rewrites for those scripts, after the entire writing team fell short. Am I right?"

"Don't let anybody dim your light in that writers room. Shine. Be confident. Speak up. And, most importantly, contribute. Got it?"

"A lot had changed since Devon packed up and left small-town Berman, Indiana last year to pursue her dream of writing for television. She'd lost friends, weight, and a slew of insecurities. But she'd gained a great career, new and amazing relationships, and a renewed sense of self."

"While she wasn't sure what the future would bring, Devon was content knowing that she'd be facing it all with the love of her life."
What inspired this book?
My love of LA and the entertainment industry were the main inspirations behind She Gets What She Deserves. I was also inspired by life's complications. What happens once you attain everything you've dreamed of? How do you maintain that? Can you maintain that? The dream job, the dream man, the amazing group of friends…I enjoyed exploring those questions when penning this novel.
How did you 'get to know' your main characters? Did they ever surprise you?
Devon, my heroine, has grown so much since the first book in the series (She Gets What She Wants). Her move to LA prompted a major transformation, both mentally and physically. Gone are the days of her being insecure, timid, and afraid to speak up for herself. She has blossomed into a confident woman who knows what she wants and isn't afraid to go after it.
I got to know Devon's character through her personal evolution. Taking her from a small town to LA was eye-opening for me as an author as she adjusted to big city living, transformed into a better person, began working her dream job and dating her dream man, etc.
My hero, Ryan, is the man of my dreams in real life lol. He is smart, handsome, funny and down to earth despite his celebrity status. I got to know him through his relationships with others. Writing scenes where he interacts with family and friends helped me to mold his character into one that is well liked and filled with integrity.
I was surprised by Devon's determination to hide her relationship with Ryan from her boss considering they have such a good working relationship. With Ryan, I was surprised by the self-doubt he exuded when their tv show is threatened to be cancelled.
What was your favorite scene to write?
My favorite scene to write involved Devon being in the writers room, pitching an idea for the first time as an official staff writer. Describing her nervousness and her coworkers' reactions was a lot of fun for me. Here's a snippet:
"Okay, let's start throwing out script ideas," head writer Lena suggested. "Dev, why don't you go first. What've you got?"
Devon froze in her seat. She didn't expect to have to pitch her ideas first. As a matter of fact, she was looking forward to going last, after everyone else had warmed up the room.
Her trembling index finger reached down and enlarged the Episode Two Ideas Pitch document on her computer. When she opened her mouth to speak, her throat was so dry that it felt as if she'd swallowed sand. She took a few sips of coffee, then held her hand against her chest.
"All right," Devon began. "So uh…last season, Ally and Demetrius were just beginning to date. But as her acting career and his singing career took off, things got rocky between them. Remember how Travis was trying to convince Demetrius to leave her alone?"
"Because Travis felt as though Ally was too focused on her career and an old flame back home?" Lena asked. "Yes, I sure do remember that…"
"Um, yeah," Devon replied, noticing a mischievous smirk on her boss's face. "So I was thinking that during this episode, we could explore Ally and Demetrius's relationship, and bring the pair back together. You know, start up some conversations on how they could work things out, despite how focused they are on their careers."
"Wait," Lena snickered as she slouched back in her chair. "Let me get this straight. You wanna see Ally completely forget about her ex back home, who she was once madly in love with, and reignite the flame with Demetrius, which they never fully lit, all while remaining dedicated to pursuing her career. Is that what you're telling me?"
Devon tightened her toes inside of her denim wedges, wishing she could fall through the floor. In that moment, she realized that Lena was low-key referring to her real-life situation with Jason, her old flame back in Indiana, Ryan, and her writing career.
"That was a question, Dev," Lena pressed. "Did I just summarize your pitch correctly?"
"Yes," Devon croaked, her mouth once again drying out due to utter humiliation. "You did."
What was the most difficult scene to write?
The most difficult scene to write involved Devon being confronted by Ryan after he found out she'd seen her ex-crush, Jason, during a visit to Indiana. Here's a snippet:
"Would you like a glass of wine?" Devon asked Ryan. "I brought a great Riesling back from Berman that my mother gave me, and—"
"Can you please have a seat?" he interrupted. "I really need to talk to you."
She looked over at him and saw a darkness behind his eyes that she'd never seen before. Devon felt her legs weaken as she stepped away from the refrigerator and sat down across from him.
"What's going on?" she asked.
"Good question. Why don't you tell me what's going on?"
Devon stared across the table at Ryan, her darting eyes studying his face for a clue as to what he was talking. His expression was blank.
"I don't know what you're talking about," she said. "Are you referring to the latest script and the changes that were made to your character? Because that wasn't my—"
"No," he interrupted. "That's not what I'm referring to. Try again."
A wave of chills swept across Devon's skin. She took a deep breath, her forehead furrowing in confusion. "I have no idea what is going on with you right now. Is this about the rumors of the show being canceled?"
"Nope," Ryan barked, slumping down in his chair and crossing his arms. "Try again."
Devon stood up and walked into the living room. She grabbed her wine glass and drained it, then went back into the kitchen and refilled it. "Listen. I don't know what you're so upset about. Why don't we stop with the guessing game and you just tell me what's going on?"
"All right. Fine."
Ryan pulled out his cell phone. He tapped the screen for a few seconds then slid it across the kitchen table. Devon sat back down and glanced at the screen.
"What is this you're showing me?" she asked.
"You tell me. You were there."
Devon picked up the phone and took a closer look at a post he'd pulled up on Instagram. She almost dropped his cell when she realized it was a picture of her and Jason together at The Fremont Hotel. The photo had been taken right after Lisa stormed away from the table, and Jason had his arm wrapped around Devon.
"So," Ryan said, his voice eerily calm, "can you please explain to me what's going on between you and Jason?"
"Nothing," Devon quickly replied. "Absolutely nothing."
"Well that photo is telling a completely different story. I thought you went to Berman to check on your father, not to hang out with your ex."
She set the phone back down and shifted in her chair. "I…I did. But—I unexpectedly ran into Jason at the hospital when I went to see my father. It was a total coincidence."
"Riiight," Ryan said, slowly nodding his head while he glared at her. "Except this picture wasn't taken at the hospital. It was taken at The Fremont Hotel, and you two are all hugged with one another."
"Ryan," Devon choked after he hopped up out of his chair. She reached out and tried to grab his hand, but he pulled away and began pacing the floor.
Would you say this book showcases your writing style or is it a departure for you?
I would say this book definitely showcases my writing style. While it is a romance, there are elements of women's fiction and chick-lit included as well. Those genres fit the style I feel most comfortable writing. I also enjoy writing stories from the heroine's point of view, which I did with this book.
What do you want people to take away from reading this book?
I hope this book will help people realize that no matter how perfect things may seem, there are usually difficulties bubbling underneath the surface. That "dream life" or "dream relationship" still comes with its fair share of ups and downs. But in spite of that, there are lessons in the valleys. While my heroine's journey isn't always at a high peak, she still manages to work through her issues and stay on the path to happiness.
What are you currently working on? What other releases do you have planned?
I am currently working on Book 3 in the Fearless Fairytale series, She Gets A Happy Ending. I'm loving this book, because it takes readers on a fun adventure as Devon sells a screenplay and begins filming a Christmas movie in the festive town of Leavenworth, Washington. And of course there will be more Hollywood drama, revisiting ex's, and twists and turns!
I'm also finishing up my third novel for Harlequin Intrigue, The Heart-Shaped Murders. It's Book 1 in my Love Family Mystery series, and tells the story of a famed forensic investigator who's on the hunt for a prolific serial killer. The chase turns personal when he begins to taunt her, then deadly as she becomes his next target.
As for my upcoming releases, She Gets What She Deserves hits shelves on September 7th. My holiday novel with Tule Publishing titled Christmas in Full Bloom comes out on October 21st. And my holiday novel with Harlequin Intrigue, Bayou Christmas Disappearance, will be released on November 1st. I am so looking forward to sharing these stories with readers!
Thanks for blogging at HJ!
Giveaway:

An ebook copy of She Gets What She Deserves & 3 Tule ebooks
To enter Giveaway: Please complete the Rafflecopter form and Post a comment to this Q:

I am a holiday junkie, and I especially love Christmas. I'm always curious as to whether or not readers indulge in holiday books all year long, or do they wait until the holiday season to read those books?
Excerpt from She Gets What She Deserves:
"Okay, ladies. You ready?" Lena asked.
Devon gripped the arms of her chair, struggling not to scratch away at the wood. She glanced over at her coworker Madison, then back at her boss.
"Yes," Devon told Lena. "We're ready."
Lena Wright was the head writer of the television sitcom Here To Stay, and she'd just called Devon and her coworker Madison into her office for a quick chat before their first table read of the season.
"Good," Lena replied, clasping her hands together. "I still can't believe season three of the show is already underway. How are you two feeling in your new roles as staff writers?"
Devon shifted in her seat, hesitating in hopes that Madison would speak up first. They'd both been promoted at the end of last season, and while Madison's bump up was expected considering she'd been working as a writing assistant, Devon's had come as more of a surprise. She'd only worked as a production assistant for one season. But her unexpected contributions to a number of scripts had impressed Lena and the producers enough to land her a seat at the writers' table.
"Well for me," Madison began, her shrill tone oozing with excitement, "it feels great being on the writing team. I'm just striving to make sure my voice is heard. Since I'm a new writer and all, I don't want to be drowned out. So my goal is to make my presence known early in the season."
"That's a good goal to have," Lena said. "I love your enthusiasm. Keep it up. Now Devon," she continued, bowing her head and staring at her over the top of her tortoiseshell specs, "even though you did spend some time in the writers room last season, this is a new level for you. That might feel intimidating. But I'd like to see you take a page out of Madison's book and get a little more aggressive. You've got some great ideas flowing through that creative mind of yours, so do us all a favor and let them out."
Devon clenched her jaw and blinked rapidly. "Yeah, I uh…I guess I've been feeling a bit…ostracized maybe? I mean, it could just be me. But I get the sense that some of the other writers resent the fact that I went from being a PA to a writer so quickly. Maybe they don't think I've paid my dues, even though I earned that spot."
Lena sat back in her chair and twirled a pen through her fingers. "Did you hear what you just said?" she asked.
Devon stared across the desk, her squinted eyes filled with confusion. "I did. But um…which part are you referring to?"
"Madison," Lena said, "which part am I referring to?"
"The part where she said she earned her spot."
"Exactly," Lena replied. "Earned. Madison, do you remember how last season, the writing staff found themselves caught in quite a few dilemmas on several scripts?"
"I do remember that."
"And if I recall correctly, it was Devon who came through with some amazing rewrites for those scripts, after the entire writing team fell short. Am I right?"
"You're absolutely right," Madison agreed.
"Do you see where I'm going with this, Devon?"
"I do," she replied quietly.
"Listen to me," Lena continued. "You deserve to be here. I wouldn't have promoted you if I thought otherwise. So don't let anybody dim your light in that writers room. Shine. Be confident. Speak up. And, most importantly, contribute. Got it?"
Devon exhaled slowly and loosened her grip on the chair arms. "Got it. Thank you for that. I needed it."
"You're welcome. Glad I could help. So, that's all I've got for now. I'll see you both at the table read."
"Thanks for the talk," Madison said as she hopped up and headed toward the door. "See you there."
When Devon stood up, Lena held out her hand. "Hey, Dev? Can you stay back for a second? There's something I want to talk to you about."
"Uh…sure," she uttered, her stomach dropping down to her knees as she slowly sat back down. Madison threw her a look before walking out and closing the door.
"So," Lena continued, "what do you think of the first script of the season?"
"I think it's great. I'm really happy to see that Ryan's character Travis is evolving, which is what we'd been aiming for."
"So am I. We're gonna enjoy developing his character arc based on your idea of him starring in that horror movie and facing a slew of adversity from the film's director." Lena leaned into the desk and propped her chin in her hand. "So…may I ask you a personal question?"
Devon felt every muscle in her body tense up. She swallowed the ball of nerves that crept up her throat and nodded her head. "Sure," she croaked. "What's up?"
"Are you and Ryan dating?"
Devon froze in her chair. That question was the last thing she'd expected to hear.
She and Ryan Roberts, who was one of the stars of Here To Stay, had become fast friends when she first began working on the show. By the end of last season, their friendship blossomed into much more.
But the pair had gone to great lengths to keep the relationship under wraps. They were determined to keep their private life private, especially at the workplace.
"Um…Ryan and I are really good friends," Devon said, digging her fingernails into her thighs as the lie rolled off her tongue. "Why do you ask?"
"Well, I'd just heard some rumblings around the studio. And I don't want to make it a big issue if you two are together, because dating coworkers isn't against the rules. But…" Lena paused, her intense gaze filled with concern, "…you've worked really hard to get to where you are. I don't want you to do anything to jeopardize that."
Devon stared back at Lena and remained silent, not quite sure how she should respond.
"Trust me," Lena pressed on, "I'm speaking from experience. I once dated a coworker back in the day when we wrote for a television show together. It was a disaster. We both almost lost our jobs because we couldn't keep our drama outside of the workplace. And not to say that would happen to you, but it's just not worth the risk."
"I understand," Devon quickly replied. "But no worries. Ryan and I are just friends. And there's nothing I would do to jeopardize my dream job."
"Good. I'm glad to hear that. See you at the table read?"
"Yep, see you there."
As Devon trudged out the door, her gait felt heavy underneath the weight of her dishonesty. She suddenly began to question whether or not she'd done the right thing. On the way back to her office, she pulled out her cell phone and texted Ryan.
Hey. We need to talk. Can you meet me at Drink Up Café?
Within seconds, he wrote her back.
Hey, I'm running lines with the cast. We're squeezing in a quick rehearsal before the table read. Everything okay?
Devon groaned loudly before entering her office and plopping down in her chair. Not really, she wrote back. I just had an interesting convo with Lena I have to tell you about.
She stared down at the phone, awaiting Ryan's response as the three dots appeared along the bottom of the screen.
I don't think I'll be able to get a break between now and the table read. Can you tell me about it later?
Devon's cheeks burned with confusion. She didn't know what to think of her exchange with Lena and was dying to get Ryan's take on it.
I guess I'll have to, she replied.
Devon tossed her phone down onto the desk and picked up her script. But she couldn't focus because she was too busy rehashing her and Lena's conversation.
She picked her cell back up and texted her friend Gabby, who worked as a wardrobe stylist on the set of Here To Stay.
The twosome had attended high school and college together back in Berman, Indiana, and Gabby knew her better than anyone. As far as Devon was concerned, Gabby saved her life when she recommended her for the production assistant position on the show. The friends had grown even closer since Devon's move to LA, and she truly valued Gabby's opinion.
Hey, Devon wrote, are you busy? I really need to talk to you.
After several seconds, Devon's phone buzzed with a reply.
Hey, I'm heading into a meeting with the set designer in a few minutes. Not sure how long it's gonna last. Are you okay?
"Why is no one available?" Devon moaned frustratedly as she composed a reply.
Had a talk with Lena that I want to run by you. But we can chat later.
Okay, cool, Gabby wrote back. I'm leaving work early because I've got a doctor's appointment. Can we talk tonight?
Of course, Devon typed. Are you all finally gonna find out the sex of the baby?
Gabby was six months pregnant and engaged to Ryan's personal trainer, Vince. Devon had been harassing her to find out the baby's sex ever since she'd hit the fourteen-week mark. But the couple insisted they wanted to wait until the actual birth.
Girl don't start with that lol! Gabby replied. My meeting's about to start. I'll call you later! XO
Devon responded with a heart emoji then set her phone back down. She missed the days of living in the Beverly Hills guest house she'd shared with Gabby when she first moved to LA. They'd come home from work and crash in their bright, nautical-themed living room or out by the swimming pool, discussing their day over cheese boards and white wine spritzers. But once Gabby and Vince got engaged, they bought a condo in Century City, and Devon moved into a cute little apartment in Beverly Grove.
A lot had changed since Devon packed up and left small-town Berman, Indiana, last year to pursue her dream of writing for television. She'd lost friends, weight, and a slew of insecurities. But she'd gained a great career, new and amazing relationships, and a renewed sense of self.
Just when Devon picked the script back up, a meeting reminder flashed across her computer screen. The table read was starting in five minutes.
"Here we go," she whispered to herself.
Devon looked up and gasped at the sight of Madison approaching her desk.
"Hey!" she exclaimed. "I didn't even hear you come in."
"Sorry, I didn't mean to scare you. I just wanted to walk with you to the table read so I wouldn't have to go in there alone."
Devon rolled her eyes at Madison and waved her off. "Girl, please. You're not slick. You just wanna know what Lena wanted to talk to me about."
"Whaaat? How could you say such a thing?"
"Cut the dramatics and let's go," Devon said as she led Madison out into the hallway. She rolled her script up in her hands and held it to her mouth in an effort to prevent her voice from traveling. "So Lena asked me if Ryan and I are dating."
"Huh?" Madison gasped, covering her mouth with her hand. "What'd you tell her?"
"I told her no."
Madison reached over and gripped Devon's arm. "Aww man! Why didn't you tell me you and Ryan broke up? What happened? You all were my favorite couple! I just knew it was gonna last. I—"
"Madison!" Devon hissed, "Will you please get ahold of yourself and keep your voice down? Ryan and I did not break up. I just told Lena that because I don't want her thinking our relationship is gonna interfere with my job. She did say that dating coworkers isn't against the rules. But she also made it clear that she does not condone it."
"Well first of all," Madison said dramatically while gripping her chest, "I'm so glad you and Ryan are still together. You almost gave me a heart attack. Secondly, if Lena's against coworkers dating, then I guess you did the right thing by not telling her the truth. You just landed your dream job. You don't wanna do anything to mess that up."
"Exactly. And I won't."
"You better not," Madison warned her as the pair entered the conference room.
The cast was already sitting around the table, chatting amongst themselves. Lena and a few of the writers were there as well, paging through the script.
Devon could feel Ryan's eyes on her. She glanced over at him, and the pair shared a discreet smile and wink. When she looked back up, she noticed Lena staring her dead in the face. She quickly shifted her eyes toward the floor and shuffled over to a chair on the opposite end of the table.
Madison slid into the seat next to hers, raising her eyebrows before turning to Devon.
"All right now," she whispered, "you'd better check yourself. I think you're being watched."
Devon hunched her shoulders and flipped through her script, struggling to appear preoccupied. But as she anxiously scanned the lines, the words looked like smudged ink.
"I think you're right," she whispered. "I actually feel bad for lying to Lena. But after she told me about a bad experience she had while dating a coworker—"
"Wait, what?" Madison leaned over and nudged Devon's arm. "Lena never talks about her personal life. How'd you get her to spill that tea?"
"It was more of a cautionary tale than tea. Lena and her ex weren't able to keep their drama outside of work, and it almost cost them their jobs. She doesn't want to see that happen to me." Devon took a deep breath and sat back in her chair. "I just have to make sure Ryan and I do everything in our power to keep our private life private."
"With this nosy cast and crew? Good luck with that."
A heavy feeling of dread settled in the pit of Devon's stomach. She glanced over at Ryan, who was busy chatting with his costar Malcolm. Before she turned away, he caught her eye and gave her a sexy smile and head nod.
Devon quickly turned away and peered over at Lena through the corner of her eye. Luckily Lena's head was buried in the script.
"Okay, everyone," said Whitney, who was the showrunner for Here To Stay. "I think we're ready to get started. First of all, welcome to season three, episode one, titled It's All Happening."
The group broke out into cheers and applause.
"Now I've already read the script," Whitney continued, "and I love it. So shout out to our phenomenal writers."
As all eyes turned to the writing staff, thoughts of Lena and her concerns about Ryan flew right out of Devon's head. She soaked up the surreal moment, relishing in everyone's adulations.
Whitney held her hands in the air and quieted the group. "Lena and I have discussed the direction of this season with our producers and network execs, and the consensus is it's going to be our best work yet. We've got some really exciting, thought-provoking plotlines in store for each of the characters, and we finally get to see Ryan's character Travis land his first major role in a film."
"Yay, Ry Ry!" his costar Simone called out.
"But from what I heard," Ryan said before looking directly at Devon, "It's not gonna be all fun and games for Travis. The movie's director is supposedly gonna give him hell on the set."
Devon could feel her skin begin to burn when she noticed Lena staring at her.
"Well hey," Whitney said to Ryan, "Look at it as an opportunity to show off that acting range of yours."
"Good point," the show's producer Melinda chimed in. "You play this storyline right, Ryan, and we'll be submitting your name to the Emmys for Outstanding Actor in a Comedy Series."
"Ooh, I like the sound of that," he said. "And if I don't win an Emmy, maybe Travis can win an Oscar. He'll deserve one after playing a vigilante serial killer who's restoring order in a post-apocalyptic, zombie-filled town."
"Yes he will," Melinda and everyone around the table agreed in unison.
"All right," Whitney said. "Loving the enthusiasm, but we need to get started."
The room quieted down, and everyone flipped open their scripts. As the cast began reading their lines, a dizzying thrill shot right through Devon. She thought about how not long ago, she was churning out articles on road potholes and pest control for The Berman Post. And now here she was, writing for a television show in Hollywood.
Enjoy the ride, she told herself. You deserve it…
Excerpt. © Reprinted by permission. All rights reserved.


Book Info:
Some fairytales come with a plot twist…
Devon Jacobs finally has everything she's been working toward—a busy, exciting life in LA, a seat at the writer's table on the television show Here To Stay, and a promising relationship with the sitcom's lead actor, Ryan Roberts. But in Hollywood, all that glitters isn't gold. News that her boss doesn't approve of workplace romances has Devon lying to keep her relationship under wraps while also struggling to have her voice heard in a room full of more experienced writers. And when rumors fly that the show may be canceled, the mounting pressure leads Devon and Ryan to reluctantly take a break.
Amid all the uncertainty, a family emergency sends Devon home to Indiana where she unexpectedly reconnects with her old crush, Jason, who insists he's a changed man. Devon faces a life-altering choice—fight for her dream that now seems further out of reach or move home to the safety of the familiar.
What is it that she really wants?
Book Links: Amazon | B&N | iTunes | Kobo | Google |


Meet the Author:
Denise N. Wheatley is a lover of happily-ever-afters and the art of storytelling. She has written (and ghostwritten) numerous novels and novellas that run the romance gamut, from contemporary to paranormal, sweet to steamy. Denise strives to pen entertaining stories that embody matters of the heart, while creating characters who are strong, colorful and relatable.
She is an RWA member and received a B.A. in English from the University of Illinois at Chicago, the city where she was born and raised. When Denise is not sitting behind a computer, you can find her in a movie theater, on a tennis court, watching true crime television or chatting on social media.
Website | Facebook | Twitter | Instagram | GoodReads |