Today it is my pleasure to Welcome author
Julie Benson
to HJ!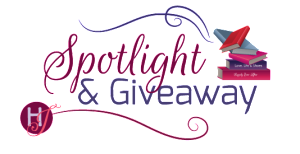 Hi Julie and welcome to HJ! We're so excited to chat with you about your new release, To Tame a Texas Cowboy!
Please summarize the book for the readers here: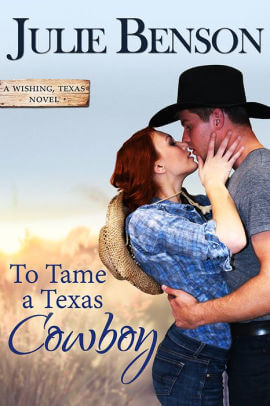 In To Tame A Texas Cowboy, Cooper Abbott hopes once he gets the SeizureReader, a device paired with an app and a service dog designed to assist newly diagnosed seizure patients, into production he can move on with this life and concentrate on his dreams of building his practice as a small-town vet. Then Cheyenne Whitten barrels into his life, and Cooper's well-ordered, calm life is turned upside down. She needs help to get a seizure assist dog. Cheyenne figures a seizure assist dog will reassure her mom and allow her to move out from under her watchful eye. However, things take unexpected turns, and the next thing they realize, not only is Cooper helping Cheyenne get a service dog, he's given her a job and a place to live, too.

Please share the opening lines of this book:
I'm going to cheat a little on this question because books in my Wishing Series always open with a wish made for the hero or heroine in a prologue.

Prologue (wish):
"I can't believe you talked me into coming with you. If anyone sees us—"
"Don't say it. Don't even think it." A shudder rippled through Sheridan Whitten.

Chapter One:
"You really blew it turning me down. I could've rocked your world and made you see fireworks."
As Cooper Abbott stared at Shannon, an attractive brunette, her face now contorted with irritation, all he'd thought was if she'd show him fireworks it was a good thing he'd politely told her no thanks.
Please share a few Fun facts about this book…
Since Cooper was a veterinarian, I knew his story would have include an animal or animals. A friend, Dennis and his dear service dog Penny Lane inspired me to include a service dog. In book 2 of the series, To Catch A Texas Cowboy, we learn Cooper's a veterinarian who's working with an engineer to develop an "app paired with a device for service dogs." Trying to figure out the device's details was driving me crazy because engineering makes my brain hurt. Then Lori Wilde shared a tip with me. When she has a complicated/technical detail, she explains it from the other character's point of view. That allows her to have the character think he/she doesn't understand all the details. It keeps technical jargon from being confusing or taking over the story. Using Lori's trick helped me a lot!
I don't write to a song list. If I listen to songs with lyrics when I write, I end up singing along, and I get little writing done. However, often a song clarifies something in a book for me. In To Tame A Texas Cowboy "Something Just Like This" by The Chainsmokers and Coldplay helped me understand Cheyenne and Cooper's relationship. Cooper wonders why Cheyenne, a barrel racer who's dated cowboys brave enough to ride bulls, would be interested in a small-town veterinarian. I asked myself that, too. A couple lines from "Something Just Like This" jumped out at me. "I'm not looking for somebody with some superhuman gifts…just something I can turn to. Somebody I can miss." When I realized Cheyenne wanted, in fact needed, someone who's solid and there for her no matter what, a lot of the story, including her relationship with Cooper, fell into place.
My newest foster dog, an adorable ginger Boxer/Rhodesian Ridgeback/Heinz 57 pup is named Cheyenne after my heroine.
Please tell us a little about the characters in your book. As you wrote your protagonist was there anything about them that surprised you?
Cooper surprised me with how much he opened up. In previous books, Cooper was the quiet, thoughtful one of my Texas A&M heroes. He tended to hang back in scenes. He often let his friends overshadow him. Thankfully, Cooper proved more talkative than I anticipated. When he shared his past, I was amazed at what I discovered. His possessed more secrets than I expected. He turned out to have family issues that shaped his character and gave him an empathic soul. I have a scene in the book of him with Penny Lane in the shelter in chapter two. I fell in love with Cooper, the minute I wrote that scene. The gentleness, compassion and understanding he showed with Penny told me everything I needed to know about him.
Cheyenne surprised me with her strength, her optimism, and her refusal to let anything get the best of her. Whether it's what people believe about her based on her struggles in high school, her over-protective-bordering-on-neurotic mom, or her health issues, she stays positive. Her philosophy is basically the same as NASA's, "Failure is not an option." What she's dealing with in this story is serious—she's having seizures and needs to find a way to control them in order to return to barrel racing. This could've become a depressing, heavy story, but Cheyenne's strength, humor and outlook on life kept it from being that way.
If your book was optioned for a movie, what scene would you use for the audition of the main characters and why?
Cooper:
For Cooper I'd pick the scene in the shelter I mentioned above. As to why, it's because it reveals so much of his character. It shows his empathy, his caring and a key to his past. But another reason would be because the actor who plays Cooper would need to connect with an animal in an authentic way. The ability to do so is crucial because that ability defines who Cooper is and influences how he interacts with everyone.
Here's a bit of that scene:
Fifteen minutes later, Cooper knelt inside the kennel and started at Penny Lane curled into a tight ball in the far corner. His hands tensed around the leash he held, but other than that he remained still, giving her time to adjust to his presence. Most dogs would be all over him by now. Jumping, barking, begging for attention, but not this girl. She'd already given up.
"Hello, Penny. I hear you're having a rough time."
The dog's eyes opened, but she remained motionless. The trauma and loss she'd endured shone in her wide brown eyes.
He inched closer, watching for signs of aggression, but she'd pulled so far inward, she barely acknowledged him. She just plain didn't care. He continued working closer. "Don't give up, sweetheart. I know you're missing your human, but there's someone else out there for you. Someone who'll love you, and wants, maybe needs you, too."
Penny lifted her head the tiniest bit to stare at him. The look in her warm brown eyes was different than it had been a minute earlier, more haunted now, but with something else.
She thinks you're a hypocrite. You talk the talk but aren't big on walking that walk yourself.
Cooper shut out the mocking voice. "I've lost someone, too. K know it hurts like hell, but you can't give up. She wouldn't want you to."
Olivia's face flashed in his mind. Oval and delicate, framed with long blond hair and big blue eyes. Giving, and sweet as ripe Texas peaches in July, she'd had so much to offer him and the world.
They'd had their lives planned. After a small, intimate wedding and a quick honeymoon, they'd return to College Station. She'd get the SeizureReader into production and run the budding company. Then they'd focus on saving the money for his practice where he could offer reasonably priced vet care to rescues and those who couldn't afford it. They'd both be doing what they loved. They'd have each other, and eventually a family of their own.
But life hadn't gone as planned. Two years, and yet at times, it felt as if they'd been together yesterday.
"You'll get through this, Penny." Cooper hooked the leash to Penny's collar, slide his arms under her middle, and scooped her up. "Let's go home."
Cheyenne:
I think I'd choose the scene when Cheyenne and Cooper talk after someone unexpected shows up at his door. I don't want to say who shows up because it would spoil part of the fun of the scene, but how Cheyenne handles this event shows her humor and her refusal to let anything get the best of her.
After Aubrey left, Cheyenne started at him wide-eyed. "Why would you want to talk to me? If I were you, I'd figure out how to get a restraining order."
He smiled at her attempt at humor as he sank into his recliner. The woman had grit. Despite everything, she hadn't buckled. "On your mom maybe, but this wasn't your fault."
Fatigue and vulnerability flashed in her green eyes, overwhelming the courage and toughness he admired a minute ago. "You're wrong. This is my fault. I didn't rein Mom in before this happened."
"Has your mom always been so," he paused. Would it be completely out of line to call her mom a nut case?
"Go ahead and say it. Crazy, wacko. Nuttier than a Collin Street Bakery fruitcake. Take your pick."
He chuckled at her plain speaking. "I was trying to find a better way to phrase it."
"That's sweet, but unnecessary." Cheyenne sighed. "She wasn't as bad when my dad was alive."
"You don't have to talk about this."
She shrugged. "You've seen my dirtiest laundry. Might as well know how it got so bad. My dad died in a freak rodeo accident when I was fifteen. A bull threw him and before the rodeo clowns got there, the bull stepped on his—" She shuddered, and horror flashed across her face. "There was nothing anyone could do. He was gone."
"Saying I'm sorry is inadequate, but I am sorry."
Cheyenne picked at the couch cushion. "That's what started Mom's overprotectiveness. Most people think things like that won't happen to them or someone they love, but she knows they do. My diagnosis has dredged up that pain, along with her fear and helplessness. She's doing the only thing she can think of, trying to control everything, but she can't fix this for me.
The story poured out of Cheyenne. How she'd left home for the rodeo circuit after high school despite her mom's objections, causing a strain in their relationship. When she had her seizure, needing to know her family's medical history, she'd told her mom what had happened. "I have some money in savings, and hadn't planned on moving back to Wishing, but Mom said if I didn't move home, she'd move in with me."
"That's not much of a choice."
"No kidding, but I chose what I thought was the lesser evil. How bad could it be with her at work all day? Unfortunately, she had vacation time stockpiled. Lucky me, she's been off since I moved in. Mom means well, but she's smothering me. She's panic-stricken I'll have a seizure alone."
"And she imagines all kinds of disastrous outcomes, each ending with your early demise?"
"Exactly."
What do you want people to take away from reading this book?
Be open to the detours life sends your way. Sometimes the turns we didn't want to take or took by mistake bring us unexcepted blessings. But to do that, we must be open to the possibilities of doing something different or seeing something a new way. One thing Cheyenne reminds herself is that what she's facing is a speed bump not a roadblock. Both Cheyenne and Cooper find issues, including occasionally each other, getting in the way of where they feel their lives should be going. At times they rail against those obstacles instead of letting go and reevaluating what they assumed their life should be.
Sometimes we think life has to go a certain way, or this isn't the life I intended to live, but we don't stop to think if we're trying to capture an ideal that doesn't exist, and we should modify our plan.
What are you currently working on? What other releases do you have planned?
Right now, I'm working on book 4 of the Wishing Texas Series. It's titled To Marry A Texas Cowboy and is Zane Logan's story. For those who haven't read the other books, Zane is the playboy of my Texas A&M heroes. He comes back to Wishing because his grandmother is having surgery. Once there he discovers she intends to turn over the running of her business to her assistant during her recovery. Worried she'll be taken advantage of Zane convinces her to let him take over temporary management of the company instead. The catch is his grandmother runs a wedding planning business specializing in western style/rustic weddings! I love doing a fish out of water story and can't wait to put Zane in all kinds of awkward situations.
My heroine is McKenna Stinson. As usual for me, her character is taking longer to develop. As a mom of three boys, creating heroes is much easier for me. Plus, Zane has been in the previous 3 books, which helps, while this is the first time we've seen McKenna. So far, she a strong, competent no-nonsense woman. Zane being put in charge while her boss is recovering throws her at first. She envisioned managing Wishing Love Celebrations as her big chance to get her career back on track. Now she's must figure out how to keep Zane thinking he's in charge while she really runs the business. And of course, she'll see right through the flattery and persuasions Zane uses to get his way.


Thanks for blogging at HJ!
Giveaway:

Ebook of To Tame a Texas Cowboy and Tule swag
To enter Giveaway: Please complete the Rafflecopter form and Post a comment to this Q:

Penny Lane comes into Cooper and Cheyenne's life and has a huge impact. Tell me about an animal that's had a big effect on your life.
Excerpt from To Tame a Texas Cowboy:
"What? Move in with you? In Wishing?" Cheyenne asked, her voice high-pitched and filled with shock.
While Cooper worked to keep his expression blank, inside he experienced a similar what-the-hell-were-you-thinking response.
While his suggestion made sense, was in fact the only logical choice to accomplish their goals, he couldn't shrug off the nagging feeling this was the worst idea he'd had in a long time. Talk about asking for trouble and asking for more than he could handle, starting with being near the enticing redhead around the clock. His body revved up at the thought of waking up every morning to find Cheyenne in his house.
Forget about that. You'll have a business relationship. You'll be roommates. Just like you and Zane were at A&M.
That was how he'd deal with the situation. His body started calming down and his breathing evened out. More in control, he glanced at Cheyenne to find her nibbling on her full, rosy lower lip.
So much for being in control. All he could think about was holding Cheyenne, running his hands through her fiery hair, and him nibbling on her lip. The temperature in his house spiked so high he considered turning down the air-conditioning.
"Why on earth would you ask me to move in?"
"With training Penny and the SeizureReader, it makes the most sense. Both are around-the-clock projects."
"Are you sure?"
Cooper nodded. Sure as I can be since I've lost any common sense I possessed and suspect my brain is leaking out my ears.
"Then yes. I'll take you up on the offer," Cheyenne said. "Getting out of my mom's house will be wonderful. When I find a job, I'll chip in for expenses. I want to pay my fair share."
"It's not necessary. Helping test the prototype is payment enough."
She shook her head, sending her flaming hair floating around her glowing face. The hope and joy shining in her eyes, emotions he'd put there, sent a queasy feeling bolting through him. "I insist. I won't freeload."
"Okay, then."
She placed her hand over his. "I appreciate you doing this for me."
Sweat beaded on the back of his neck. He swallowed hard and snatched his hand out from under hers. "I'm doing this to get SeizureReader off the ground, though I'm glad it helps you, too." Cooper had to hold onto that fact.
Doing so would keep this in perspective for him. Cheyenne was a research subject and roommate but nothing more. He would remain detached.
If you're having to remind yourself about that, you're already in trouble.

Once in the car heading back to Wishing, Cheyenne replayed her encounter with Cooper. Why had he seemed uncomfortable when she thanked him? When she placed her hand over his, he'd yanked away from her as if she'd slapped him.
Quit tearing apart what happened and be thankful you got what you needed—a way out of your mom's house.
"Thank you for suggesting the road trip," Cheyenne said to Aubrey to get her mind off Cooper.
"I'm sorry. I admit it. Coming here wasn't my best idea. You don't have to rub my nose in it."
"I wasn't being sarcastic. I'm serious. Without you, I'd have called Cooper, he'd have referred me to some agency, and I'd be on a mile-long waiting list and stuck with Mom."
"Clearly I missed something, or I've vaulted into bizarro world."
"When you took a shower, Cooper and I talked. Really talked." Cheyenne didn't know why, but Cooper had been different after the police left.
Instead of being furious like she would've been, understanding and sympathy filled his gaze. He made her feel as if he'd walked in her boots and realized how they pinched.
Stop it. She was making a big deal out of nothing. What happened was Cooper realized helping her could get his butt out of a sling with his investors. He needed a test subject for his device thing. Nothing more. Hadn't he said as much when she thanked him?
While she'd been warm-and-gooey-fresh-out-of-the-oven-chocolate-chip-cookie inside, for him it had been a business deal.
"Turns out Cooper needs a guinea pig to test some gadget he's created, and I'm the perfect test subject," Cheyenne said, and went on to tell Aubrey about their discussion.
"That's really something. What do you think about it?"
Cheyenne shrugged. "Don't tell Cooper, but I don't see how an app and having a dog press a button will help much, but if it gets me out of my mom's house, then great."
After spending the rest of the drive talking about anything and everything, when Aubrey parked in front of the house, Cheyenne wished she could fast-forward to next weekend and moving out. "Thanks for giving me the push I needed. Now, wish me luck. I don't know what I'm going to say to Mom, but I'm going to set boundaries. Now that I've put my big-girl panties back on, I'm not taking them off."
"Are you going to tell her you're moving out?"
Sure, she'd said she was keeping her big-girl panties on, but that didn't mean she wanted to climb a tree during a thunderstorm.
Cheyenne shook her head. "That'll take some planning. I'm not moving until next weekend. I'm thinking telling her Friday night would be good."
"Chicken."
She thought of the Wicked Witch of the West's line in the Wizard of Oz. These things must be done delicately.
"My first priority is dealing with her calling the police." Cheyenne closed her eyes and shook her head remembering the concern in Cooper's eyes. "I'm done worrying about being too tough on her."
"Good. Give her both barrels."
"When I think of what could've happened to you and Cooper, I get mad all over again." Cheyenne paused. "I'm sorry you got dragged into this."
"What are best friends for? If you're stuck in the mud, I'll jump in to pull you out."
Cheyenne smiled. "I'd say I hope to return the favor, but that would mean you're in a mess, and I wouldn't wish that on you."
"You can handle your mom," Aubrey said, and then added, "Call me later if you need to decompress."
Once inside, Cheyenne called for her mom as she stalked through the house. Forget about her mother meaning well, not wanting to hurt her feelings, or adding to the pain caused by her father's death. And to hell with further damaging their uneasy relationship. Her mother's over protectiveness had morphed into insanity, and it would stop now.
"She's not here," Sheridan said when Cheyenne entered the kitchen. "I'm sorry about her calling the police. I tried to stop her, but you know how she is when she's on a rant. There's no talking to her."
"There's nothing for you to apologize for. It's not your job to stop Mom from acting crazy. Do you know when she'll be back?"
Her sister shook her head. "The only reason I know she left is because I heard the door slam."
This was so typical of their mother. Whenever she'd done something she couldn't justify and wanted to escape the consequences, she avoided the situation. God forbid she admitted she'd done something wrong and apologize. No, that would be the healthy, reasonable thing to do, but for her mother, conflict was the ultimate evil to be avoided however possible—guilt, tears, running, or most often pretending the situation never happened.
Cheyenne sank into a chair across from Sheridan and massaged her temples. "How could she call the police and report me missing? You've got to admit that's mental-problemcrazy. What if the police had arrested Cooper and Aubrey? Do you know what that could do to their lives?"
"Mom doesn't see it that way. She said it was your fault."
"This I've got to hear. How did she blame me?"
"She said if you hadn't lied, if you'd told her the truth, or if you'd answered your phone, she wouldn't have lost it. She said you know how she worries since Dad died and what not knowing where you were would do to her."
Same old story. Her mother's reaction wasn't wacko. Cheyenne's actions or lack of understanding were the problem. "Trying to control my life is one thing, but what she did to Aubrey and Cooper, what she's doing to you is too much. For the record, no more giving up things like Friday night football games to babysit me. Got it?"
"I really didn't mind. I like spending time with you."
Cheyenne tilted her head, crossed her arms over her chest, and stared down her baby sister. "I have seizures, not dementia."
"Okay. Sure, I would've rather been at the game, but being with you wasn't torture."
"That I'll believe."
Her sister sat at the table for a minute, her index finger rubbing a nick in the surface. "What was Mom like before Dad died? I can't remember anymore."
Poor Sheridan. Unlike Cheyenne, she hadn't been old enough to remember much of life with their dad. "It was so different. Mom's always been a worrier, but Dad kept her from going off the deep end. Whenever she panicked about something like bills, he'd put his arm around her, kiss her on the cheek, and say it would all work out. Then she'd accuse him of not worrying about anything. But it never bothered Dad. He'd smile again, and tell her good thing he didn't, because she worried too much, but together they worried the right amount."
"I wish I had more memories of him. I used to, but they get fuzzier every day. I'm scared soon I won't remember him at all."
"I'll help you. We need to talk about him more and look at pictures."
The front door lock rattled announced their mom's return, ending their conversation. Wide-eyed, Sheridan turned to Cheyenne. "I love you, Sis, but I'm heading to my room. You're on your own. Good luck."
"I don't blame you," Cheyenne said as her sister dashed off.
When her mother entered the kitchen and spotted Cheyenne, she charged across the room to pull Cheyenne out of her chair and into a crushing hug. "Thank God, you're home safe. I've been so worried. Don't ever do that to me again! I can't take the stress. How I didn't have a heart attack, I'll never know."
And here they were with the situation being all about her mom, even though Cheyenne was the one suffering seizures, and Cooper and Aubrey had been forced to deal with the police.
Cheyenne pulled out of the smothering embrace and stepped back. "How could you call the police, Mom? What if they'd arrested Cooper or Aubrey? Or taken them in for questioning? Do you know what that could've done to their lives? Their reputations? You could've destroyed Cooper's practice."
"I panicked when you weren't at Aubrey's. If you hadn't lied or if you'd come home—" Her mom paused and waved her hand through the air. "But you're here and you're safe. That's all that matters, and we can forget all this. I've already had lectures from an officer in College Station and from Chief Quinn. That man has no sympathy, and no idea how I felt not knowing where my child was."
Cheyenne bit her lip. Her mother sounded as if Cheyenne was ten and should've been plastered on milk cartons. Part of her said she should press harder to make her mom understand she'd gone too far. Unfortunately, her mother had that I'm-not-going-to-discuss-this-further look, meaning Cheyenne might as well save her time and energy. Her mom had shut down and talking more would do as much good as screaming in a hurricane.
Her mother patted Cheyenne's hand. "Let's not talk about that unpleasantness anymore. I'd rather hear about this Dr. Abbott, and why you went to see him. What kind of doctor is he?"
Cheyenne cringed, recognizing the gleam in her mother's eyes and what her bright smile meant. She slid her hand out from under her mother's. When she'd struggled in high school and visions of college shriveled, she'd turned to her mom for advice. If she couldn't get into college, what could she do with her life? How would she provide for herself with barrel racing being her only skill? Unlike other careers, in the rodeo, putting in the hours didn't mean a living wage. Her mother's advice hadn't been what Cheyenne expected or wanted. My dear child, the best thing you can do is latch onto a nice young man who can provide for you.
Her mother thought her daughter had finally found her prospect. "Cooper's a veterinarian."
Her mother's smile dimmed. "That's still a wonderful profession. Not as great as a real doctor, but vets do well. Why did you go to see him? Don't tell me Riley is having problems. If she is, you should sell her to get out from under the expense."
Geez, take a breath so I can get into the conversation.
Cheyenne inhaled deeply, counted to ten, then twenty, and tried to control her rising frustration over her mother's insistence she should sell Riley. Her mother harped on that subject, too. Keeping that horse is too expensive considering you may never return to the rodeo. Cheyenne resisted the urge to wring her hands. Why was her mom determined to push all her hot buttons today?
"Riley's fine. I saw Cooper to help me get a service dog."
Her mom waved her hand through the air again, dismissing the idea. "You don't need one of those. They're for people who don't have family to care for them."
Or for someone who needs to get away from her mother before she drives her insane. But instead of saying that, Cheyenne explained what she'd learned from the article she'd read at the neurologist's office, none of which changed her mom's mind.
Forget waiting to tell her mom she was moving out. No matter how much she planned or how she broke the news, her revelation would go over as well as pouring water on a drowned rat. She figured tackling the issue hard and fast, the way she did a barrel race was her best strategy.
After explaining how she could help Cooper test his prototype and he would train a service dog for her, Cheyenne paused and inhaled deeply. "I'm moving out next weekend. Cooper's offered to let me stay in a guest room while he trains Penny."
Her mother crossed her arms over her chest, frowned, and little lines indicating her irritation appeared around her mouth and eyes. "Absolutely not. Maybe if your condition was being controlled with medication, but not with how it's going now."
"With a service dog you won't have to worry about me being alone. Penny will alert me before a seizure, and I can make sure I'm safe. That eliminates the big risk of me getting hurt when the seizure hits."
"Fine. I grant you a service dog sounds good, but I still don't think you should be alone. Bring the dog here. Then when Dr. Abbott's at work, I'll be with you."
Thanks, but a big hell-no thanks. "After what you did calling the College Station police, you think he'd agree to come here to train Penny?"
"I'm sure if I explained the situation and apologize, he'd be reasonable."
Whether or not Cooper understood made no difference to Cheyenne. "Me living here isn't good for either of us. I have to live my life, and you should go back to living yours."
"But to move in with this man? What do you know about him? That's the kind of reckless behavior that gets women killed. If I lose you, too, I don't know what I'll do."
Cheyenne resisted the urge to roll her eyes at her mother pulling out the he-could-be-a-rapist-psychotic-serial-killer argument. While she didn't need her mother's permission, getting her acceptance would make life easier and prevent her from camping out on Cooper's porch. Lord, perish the thought of that nightmare.
Stick to logic and facts. Cheyenne grabbed a deep breath and the band wrapped around her chest loosened enough for her to breathe.
"Cooper is one of Ty Barnett and Chief Quinn's best friends. They've known each other since college. They were in the same squadron in the corps at A&M."
A scowl crossed her mother's face. "That's why the chief was so nasty with me. Doesn't he realize law officers should be objective? But he'd already decided I was wrong before he talked to me. Do you know he threatened to arrest me for making a false report?"
Cheyenne cringed over her mistake mentioning Chief Quinn. The question was, how could she get her mother's mind off the wrong she felt she'd experienced? Focus on Cooper and moving out. Maybe that would help. "Since Cooper met Ty in college, he's spent a lot of time at the Bar 7. I'm sure Ty's mom has gotten to know Cooper over the years. If you're concerned, ask her about him."
Surely her mom couldn't argue about Cooper's character if Ty's mom vouched for him.
Despite Cheyenne's rational point, when she glanced at her mother, she could almost see the gears in her head spinning in search of another argument. Why couldn't she just let the issue go?
"You're punishing me for calling the police, aren't you? That's what this is really about." Her mother's lip quivered, and her eyes misted over. Pulling the you-can't-do-this-to-me card was a sure sign of her mother's desperation.
"I'm not punishing you. This is about me, and what I need."
"What if I promise to not be so overprotective? What if I give you more space? Will you drop this silly idea of moving out? Will you quit punishing me for calling the police?"
"I'm not doing this to hurt you. I love you." Cheyenne clasped her hands together on her lap under the table. Her patience frayed and, tired of pretty much chasing her tail, it was time to make the situation clear. "I'd like you to be okay with this, but I don't need your permission, and I'm not asking for it. I'm telling you what I'm doing."
"If you don't want to heed my concerns, you're right. You don't need my permission, but you could at least appreciate having a mother who cares enough to worry about your well-being."
"I do." But that doesn't mean I'll let you guilt me into changing my mind.
"Will you at least call me to check in a couple times a day?"
Cheyenne resisted the urge to sigh in relief, knowing she'd rounded the first barrel. "I'll text you every night before I go to sleep."
"I'd prefer a phone call. Texting is so impersonal. Not only that, but I can tell so much from your voice."
Be thankful you're getting a daily text. Cheyenne swallowed her snarky comeback, took a deep breath and instead said, "I'll text every day, and call every other day. Take it or leave it."

The next weekend Cooper reached behind his seat to retrieve the last box marked kitchen essentials. "Come on Rowdy, Penny. Let's check out our new digs."
Not that it mattered what anything other than the clinic looked like. He'd live in a rat-trap-hole-in-the-floors double wide to buy this practice. Though he would, he was thankful he didn't have to.
Since Dr. King and his wife had moved to a smaller house closer to the lake and town, they'd worked out a price for the practice, house, barn, clinic, and the land. Yup, he had everything he needed here. He stepped onto the spacious front porch and stared out at the ten acres spread out around him. A grove of trees provided privacy to the east and south. A wood plank boardwalk led from the simple ranch house to the clinic. Past that smaller building was a corral and small barn. What else could a bachelor need?
You may be a bachelor, but you're not living alone. Remember your deal with Cheyenne? She lives here while you train Penny Lane, and she helps test the prototype.
Despite the unsettling thought, for the first time in over two years, Cooper found himself excited about the future as he walked inside the modest house, sparsely furnished with his furniture. Cooper placed the box on the kitchen counter, turned, and almost barreled into Ty's wife, Cassie. "If you want, Grace and I can unpack the kitchen for you. That is, unless you'd rather do it yourself, so you know where everything is."
"Wherever you put stuff, I'll find it."
His friend's wife stared at him, concern in her observant artist's gaze. "Tell the truth, is this what you want, or did you agree to take over for Dr. King to get Ty to quit bugging you? I love the man dearly, but he can be pigheaded when he gets an idea. He was so horrible about the Bluebonnet Inn when I first arrived in Wishing. He thought he knew what was best and wouldn't consider another point of view. I want to make sure he hasn't talked you into something."
Cooper smiled at her concern. His buddy had found one fine woman. "He hasn't. I've always wanted my own practice. The timing isn't the best with the SeizureReader, but I couldn't pass up this opportunity."
"Ty didn't twist your arm?"
"Would I do that?" Ty asked as he stepped through the front door, two large pizza boxes from the Lil' Brick Oven in his hands.
"Yes," Cooper and Cassie answered simultaneously.
"In a heartbeat," AJ said as he entered the house with his fiancée Grace, a tall dark-haired former New York City girl.
As Ty placed the pizzas on the table at one end of the kitchen, Cooper strolled to the refrigerator and grabbed a six-pack of Shiner. As he returned, staring at the couples filled him with envy, as if he were an outsider. Since the day he met Ty, AJ, and Zane, they'd been, well—them. Even after graduation, when they went their separate ways, they'd remained close. They'd been the ones to share inside jokes and a shared history, but now that was changing.
Ty had married Cassie and they were parents to her niece, Ella. AJ and Grace were engaged and would wed in a couple months. While his friends moved on to new adventures, Cooper's life felt stagnant.
He'd never considered the possibility Ty and AJ would marry before him, not when as freshmen he'd been the only one with a serious girlfriend. He'd expected to be married with a child or two by the time his buddies settled down. Go figure. Life took strange turns and not all of them were pleasant.
Forget about what might have been. Think about where to go from here. That was another reason why this move was good for him. He'd get away from the constant reminders of Olivia. Everywhere he went in College Station held memories of her or their plans. Wishing was a blank slate, a chance for him to create a new future. His future.
"I can't believe the three of us are living in Wishing," Ty said in between bites of pizza.
"If we could get Zane here, the whole gang would be back together," AJ said.
Cooper and Ty laughed. "No way will that happen."
"You never know," AJ said.
"Were you listening the last time we got together?" Ty asked. "He was the one that bet Coop would be bored in a month. Yeah, that guy's gonna move to Wishing."
"You never know where life will take you. Look at me. Ten bucks says Zane ends up living here before we're thirty-five," AJ quipped.
"What the heck. I'll take that bet," Ty said as he shook AJ's hand.
"I'm in. I never pass up a chance to make easy money," Cooper added.
"What is it with you guys? You'd bet on the weather," Cassie teased.
Ty slipped his arm around his wife's shoulder and kissed her on the cheek. "Nah, Texas weather's too unpredictable."
"Except in the summer," AJ said in all seriousness. "Then it's just hot or damn hot."
"I don't know if I'll ever get used to the heat here," Grace said. "The sacrifices I make for you, AJ."
"But you know I'm worth it."
"Sometimes I'm not so sure," Grace said.
A silly grin on his face, AJ said, "Guess I'll have to try harder."
This was what he missed since Olivia died. Having a comfortable, easy relationship with a woman. One where they could joke, talk, or just sit and do nothing together. That special connection with another human on a level like no other.
A knock sounded on the open door, and Cooper turned to find Cheyenne in the doorway, a potted cactus like the ones grocery stores sold clutched in her hands. Her red hair was tied in a thick braid, showing off her delicate face. He tried not to focus on how her faded jeans hugged her fantastic curves because that would make him break out in a cold sweat. Instead, he concentrated on her face, colored a slight pink due to her embarrassment. "It looks like I'm interrupting a party."
A tan-and-brown four-legged blur darted across the room at the sound of Cheyenne's voice. She bent down and greeted Penny. "It's good to see you, too, sweet girl."
"She missed you," Cooper's voice came out in a husky rush.
I did too.
Where the hell had that irrational thought come from? He couldn't have missed Cheyenne. He barely knew her. But there was something about her, a connection he hadn't felt with a woman in a long time. A shudder of unease coursed through him.
AJ glanced at Cheyenne. "After what happened in College Station, I'm surprised to see you here."
Grace glared at her fiancé and swatted him on the arm. "Don't mind Mr. No Manners. Join us."
"I don't want to butt in," Cheyenne said.
His brain and manners finally kicking in, Cooper noticed his friends glancing between him and Cheyenne with confused looks on their faces. He made quick introductions, and then added, "Cheyenne, you don't need to ask to come in. This is your place, too. Do you need help unloading your stuff?"
"What?" The collective response came and Cooper realized how what he'd said sounded to everyone who didn't know about his and Cheyenne's deal.
Four sets of eyes pinned him with shocked looks. Then his friends tossed out questions.
"This is news," Ty said, a sly smile spilling across his face. "Are you two dating?"
"She's moving in? As in living together?" AJ blurted out.
Grace slapped him on the arm. "Think before you talk, babe. That was rude, and keep in mind that assessment's coming from a native New Yorker."
"When did this come about?" Cassie asked.
Cooper stood there wondering how to clean the mess he'd dumped on the floor. How could he have said that out loud with his friends here? Of course his buddies would jump to conclusions.
Easy. Whenever Cheyenne was around and he gazed into her big green eyes, he lost half his brain cells.
"Cooper and I aren't dating," Cheyenne declared, placing the plant on the kitchen table beside the pizza boxes.
Cooper resisted the urge to shift his stance. Was that irritation in her voice? Was she ticked his friends assumed they were involved? He'd sensed a spark between them, but maybe he'd been wrong.
Quit thinking so much and say something, you fool.
Five sets of eyes focused on him this time. "When Aubrey and Cheyenne came to see me last week, we discovered we could help each other." Cooper swallowed hard and tried to concentrate on explaining their deal rather than his attraction to Cheyenne. "It's all logical. Almost businesslike."
Ty and AJ stared at him as if he'd said he was going to TU to get a master's degree in fashion design.
"That's exactly what it is, a business arrangement," Cheyenne agreed, and Cooper swore she was trying to keep from laughing. What was up with that?
"Do you need help moving your things?" Cooper asked again, directing the conversation away from his and Cheyenne's personal relationship.
"Since I walked, I didn't bring anything. I figured I'd ask Aubrey to help me later. Once I checked that it was okay with you."
Cooper turned to his friends. "You two okay with making one more run today?" They both nodded, and he glanced back at Cheyenne. "No time like the present. Let's get you moved in."

Awkward silence as thick as morning fog hung between Cheyenne and Cooper on the short drive to her mother's house. When she arrived at Cooper's and saw him laughing with his friends, she'd paused, feeling a pinch of envy over how comfortable they were. She'd spent her life on the outside for one reason or another. What would it be like to have friends like Cooper had? Ones who knew each other well and had a deep bond.
Arriving at her house, Cheyenne couldn't believe her good luck at finding her mother still in town running errands. While the men loaded Riley and her gear, Cheyenne tossed her daily essentials and clothes into her suitcases, and prayed they escaped before her mother returned. The last thing she wanted was another round of I-can-talk-you-out-of-moving, this time with an audience. Cheyenne shoved her hairbrush and toothpaste into her suitcase and yanked the zipper closed. Glancing around the room she'd grown up in, she sighed in relief and vowed after regaining control of her life, she'd repair things with her mom.
Suitcases in hand, she headed outside, finding Cooper and his friends had finished their task. Cooper met her, took her suitcases and placed them in his truck bed. How had she gotten lucky enough to pull this off without having to deal with her mom? The thought no sooner popped into her head when gravel crunched in the distance. As the snap and pop of rocks under tires grew louder, Cheyenne spotted her mom's sedan and cringed.
I jinxed the escape by being thankful before making the clean getaway.
"You two head out," Cheyenne said to Ty and AJ. "I'll say a quick goodbye to Mom—" She swallowed the nervous giggle in her throat. Quick goodbye? Yeah, right. Only if she got divine intervention, and surely the good Lord had bigger worries needing attention. Chances were this farewell would be messy. All she could do was keep the audience as small as possible. "Cooper and I'll follow in a minute."
Excerpt. © Reprinted by permission. All rights reserved.


Book Info:
They want different things, but they just might need each other
Barrel racer Cheyenne Whitten returns to Wishing, Texas, after an injury, determined to recuperate and return to the rodeo circuit. But living with her over-protective mother only adds to Cheyenne's problems. Desperate to move out and reclaim her independence, Cheyenne believes a service dog is the answer. That is, until she learns the waiting list for one is up to five years.
Having lost his fiancée two years ago, Cooper Abbott wants to run his veterinarian clinic and rebuild his life. A calm, stable, uneventful life. Then Cheyenne shows up asking for help getting a service dog, and Cooper finds he can't refuse the feisty redhead.
Cheyenne and Cooper insist a relationship is the last thing they want. Cheyenne is focused on her health and returning to the rodeo. Cooper's heart is still raw from loss. But it could be they're exactly what each other needs.
Book Links: Amazon | B&N | iTunes | Kobo | Google |


Meet the Author:
An avid daydreamer, Julie Benson doesn't remember a time when she wasn't creating stories. After graduating from the University of Texas at Dallas with a degree in Sociology, she worked as case manager for a social services agency before having her children. Three boys, and many years later, she started actively pursuing a writing career to challenge her mind and save her sanity. Now she writes full time in Dallas, where she lives with her husband, their three sons, two lovable black dogs, a mischievous brown one and a turtle. Julie says, while her house is never quiet or predictable, it is full of heroes.
Website | Facebook | Twitter | Instagram | GoodReads |