You Can't Judge A Trope By Its Cover: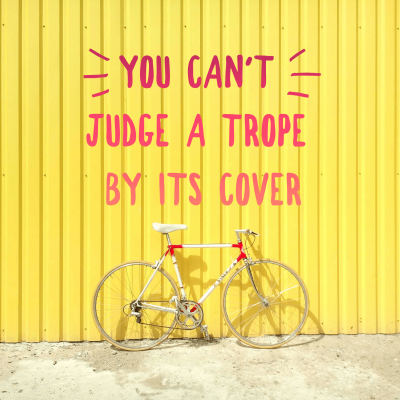 Second Chance Romance

Okay, I know that this is probably an over discussed trope in romance novels. I would argue that there is a good reason for this: THEY ARE THE BEST. There is something so delicious about watching two people who are fated for each other beat the odds and find their way back.
I also love a good grovel. So, if our hero or heroine has done something particularly offensive in the past and now has to get back into the good graces of their partner well that's even better.
I love second chance romance because it's pretty much a guarantee on an HEA. Plus, I believe my mamma when she tells me that good things come to those who wait.

Dare to Resist by Laura Kaye. This is one of my favourite combination trope books! Not only is it second chance romance, but it's also one big helping of best friend's little sister. Yes. Please. Three years ago Kady and Colton almost hooked up, but Colton put a halt to it, deciding that his best friend's little sister wasn't the person to fulfill some of his more exotic desires. Now, the two are trapped in a hotel room in the middle of a thunderstorm. All of a sudden there isn't a whole lot to do, other than pick up where they left off three years ago.  Kady and Colton have so much chemistry it is burning up the pages. For a novella this one packs a major emotional punch.

The Kane Series by Stylo Fantome. Dark second chance romance, is that a thing? Well, this series certainly makes it a thing.  Kane and Tatum shared one incredibly charged night seven years ago. Tatum decided she wasn't getting pulled into the twisted games that Kane likes to play. Now she finds herself back in his web. Maybe, just maybe this time she'll be able to beat him at his own game and keep her heart in tact. When do things stop being a game and start being real? Tatum and Kane are about to find out.

Too Close to Call by Tessa Bailey. So if you've read anything off my blog or in any of these series you may have noticed that I have a slight Tessa Bailey obsession. I can't help it okay? She's just so incredibly good at her job. Namely, writing romance. In particular writing second chance romance. Small town girl who let him get away to chase his dreams? Check. Future NFL star who is back to get the girl he left behind? Check. This one has everything we need for a good second chance romance.

Falling for the Groomsmen by Diane Alberts. This is second chance romance with a big old helping of enemies to lovers and sass. I want more of it. Right now. Christine has spent most of her adult life forgetting the boy she lost her virginity to. And now she's on a mission. She's going to cross every item off of her naughty to do list. The only problem the boy in question happens to be a groomsmen at the same wedding. Tyler can't believe he has a chance to make things right with Christine. He's never forgiven himself for how he acted all those years ago. If anyone is going to help her with that list it'll be him and in the process he's going to win her heart.

Wild Card by Karina Halle. If you haven't read anything by Karina Halle yet I'll have to insist you go and do that right away. So I may be biased because she's a fellow Canuck, but her writing is so unique.  This whole series is out of this world good (in fact this is reminding me to go write a real review of it!) Shane and Rachel were soulmates and teenage lovers. But a mistake from Shane breaks both of their hearts and tears them apart. Six years later Rachel is back and ready to face Shane and their past. Will this couple, who is destined to be together, make it?


Let me know in the comments what is your favourite part of a second chance romance? Any second chance romance books I should add to my TBR list? 
Katharine