Spotlight: New 

May

releases from Crimson Romance
Crimson Romance: We're the place to find heartwarming, smart romances in your favorite genres – including contemporary, historical, paranormal, romantic suspense, and spicy! You'll find fresh takes on classic themes, new themes that will delight and excite you, heroes you'll fall in love with, and heroines you'd want to meet in real life. Explore our site to discover more about our new and forthcoming releases, and enjoy many features such as our Crimson Romance blog, author interviews, sample chapters, contest opportunities, and more!
Thanks to Crimson Romance I have 5 prize packs to giveaway today!
Doubts of the Heart by Eva Shaw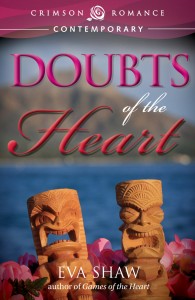 A consultant to FBI now on medical leave, Nica Dobson is wrestling with images of whom she once was and who she is now. A recent breast cancer survivor, can she find the courage that evaporated during her treatments, accept the changes in her body and mind and unravel the maze of blackmail, death threats, deception, political mudslinging and double-dealing?
Investigating a suspicious death from the eighties to prove a paternity connection between a terminally ill school teacher and a hard-living rock star would be nearly impossible for Nica even with the Bureau to back her up. Now? Nica is forced to depend on her nemesis from high school, Payton Yu, who seems to ignore facts in his quest to become Hawaii's governor.
Being a Good Samaritan has never been more complicated, especially when that requires digging up dangerous secrets involving an old moneyed Hawaiian family and their ruthless matriarch.
Sensuality Level: Behind Closed Doors

ISBN-13: 978-1-4405-6829-9

Author Info:  www.ed2go.com. Please visit her at www.evashaw.com and on Facebook.

Excerpt – Chapter 1:
I put on a coconut bra. Don't tell me you've never wanted to do that because down deep every woman has. But you know what the scary part was? It fit. For coconuts.

Turning around in the shop's microscopic dressing room at the International Market Place in downtown Honolulu, I tried to scrutinize my reflection in the fuzzy, fun-house mirror.

"And what's become of your pride, Nica Dobson?"

This was not a rhetorical question because I really did ask myself that. Self didn't answer, which is a good or a bad thing depending on where my psyche was living at that second.

I slipped out of the bra and back into shorts and yellow t-shirt, sandals, and Cubbies baseball cap. What had happened to me? Who was I? What was my purpose in life?

Sorry, if you think I have any of these answers, I don't, so quietly close this book and check out the ones on the self-help shelf. Life is a big, fat mystery to me.

That's why I found myself in Honolulu, a year after surgery for breast cancer, six rounds of chemo, and then seven weeks straight of radiation. I was on leave, not from my senses, but as a confidential consultant for the Federal Bureau of Investigation.
Seduction's Canvas by K.M. Jackson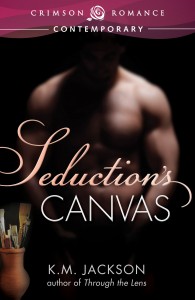 "I want to paint you." Artist Samara Leighton had wanted to say those words to the sexy motorcycle rider who lived in the building ever since she first laid eyes on him nearly a year ago. But now that the words were out she couldn't stop her heart from beating wildly in her chest.
"Honey, you don't have enough paint to cover me." Security specialist Mark Thorn didn't mean to come off as a hard ass. As a matter of fact he wanted nothing more than to let the tempting artist from across the hall do whatever she wanted to him and then some. But her haughty demeanor left the normally cool rider off his game.
Samara knew this was her only chance to live out her long-standing fantasy and she wasn't going to let it slip through her fingers. She has very little time before her show is done and the pressure of her family legacy means she will finally go through with living out her life under the umbrella of the Leighton name and its responsibilities. There would be no more downtown jaunts, lazy museum afternoons and evenings spent lost in the magic of color and her canvases. And definitely no time spent holding tight to the muscular form of her dark rider while the horrors of her past and her cares drifted further away with each mile of road they covered.

Sensuality Level: Sensual

ISBN-13: 978-1-4405-6134-4

Author Info: website www.kwana.com, on Facebook, andTwitter.

Excerpt – Chapter 1:
There are two types of men: users and losers. The quicker you get that into your head the safer your heart will be.

Samara stopped her rapid fire thumb touch texting and let her fingers pause over her cell phone's keyboard, her eyes briefly shifting to her father as he continued his rant.

"I don't know what I'm going to do about this Hamilton Heights project. If these people keep pushing back, this could be the end and potentially cost us millions. And now this."

Once again Sam's father slammed the tabloid on the limousine seat between them. "The last thing we need right now is bad press. It's a goddamned mess!"

Sam willed her budding headache to the back of her mind on an inward sigh. As if she needed to see the tabloid again. She already knew how she'd looked when the cagey paparazzo snapped the pic of her going for that chick's weave. Like a raving nutter, that's how. Not one of her better moments, no. But the woman had hit her trigger and she'd hit it hard.

"Howard, please," Sam's mother Liv chimed up from the seat across from them, visibly nervous.

Really, was this verbal lashing and all this drama what Sam had signed up for when she'd agreed to a little family lunch?

She glanced back down at her phone and frowned. And was she being too harsh with Gabby? Sam thought for a moment then shook her head. No, Gabby would prefer her to tell it like it was instead of sugarcoating the situation. Better to get her to finally pull her head out of the clouds when it came to men. So much less pain that way.
Scrimmage Gone South by Alicia Hunter Pace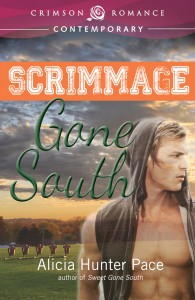 Tolly Lee is pearls, debutant balls, and old silver on the breakfast table. She is ashamed of something she did thirteen years ago, but she was only sixteen and she didn't set out to do it. Still, she should not have led college senior Nathan Scott to think she was his age. She never imagined a football star like him would keep calling her, but it was mostly a long distance relationship and it's not like they had sex. In the end, she paid for her sins with her heart and she might not be done paying. When she moved to Merritt, Alabama, Nathan had been gone for over a decade. Now that he's back, if the good citizens of her adopted hometown learn of her part in costing their hometown hero his chance at an NFL career, she might as well pack up her law practice and move to Siberia.

A sports commentator christened Nathan Scott "The Angel" because of his flawless face and his ability to leap to catch a football, as if he had wings. He still has the face but his leaping days ended when he was injured after going on the football field distracted, only hours after catching the girl of his dreams in a terrible lie. He would never have accepted the job as head football coach of Merritt High if he'd known Tolly had set up shop on Main Street. Not that he still has feelings for her.

But a small town has a way of reviving the past and when common interest in an orphaned teenager forces Tolly and Nathan to agree to an uneasy truce, guilt and old resentments resurface.
With no end zone in sight, their mutual attraction leads to a Scrimmage Gone South.

Sensuality Level: Sensual    ISBN-13: 978-1-4405-6264-8

Author Bio:
Alicia Pace Hunter is the writing team of Jean Hovey and Stephanie Jones.

Excerpt – Chapter 1:
Tolly Lee parked her Mercedes in front of the house that was the shining star on a rundown street. She lifted the baked ham from her trunk and made sure the card that read, With Sympathy, Bragg and Lee, Attorneys at Law was firmly attached to the aluminum foil. For the life of her, Tolly could not understand what good a ham was going to do. She'd wanted to bring a gallon of martinis but her cousin's wife, Missy Bragg, had said that would be in bad taste.

The deceased, Eula Lawson, had been the biggest teetotaler to ever live and die in Merritt, Alabama. Everybody knew that. Well. Everybody seemed to always know a lot of things that Tolly didn't.
A Heart to Heal by Synithia Williams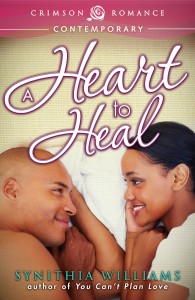 Shayla Monroe fled her hometown of Helena, South Carolina, after a shocking situation broke the heart of the only guy she'd ever loved. Years later, after losing her job in Atlanta with her name once again shrouded in scandal, she has nowhere to go but home.

Now a devastatingly handsome and well-respected man, Devin Jones became a successful doctor as a way to forget Shayla's betrayal. When she returns as infamously as she left, he plans to put aside old feelings and treat her as any other person in town. But after looking into her soft brown eyes, the feelings he thought long dead quickly rush to the surface.

Ignoring rumors, disapproval from family and friends, and promises to avoid each other, the two become friends … then lovers. Devin wants all or nothing, but Shayla, haunted by her past, is afraid their relationship will damage what's left of her reputation. Can two broken hearts survive the fight against past and present demons to heal and find love?

Sensuality Level: Sensual    ISBN-13: 978-1-4405-6660-8

Author Info: SynithiaWilliams.com.

Excerpt – Chapter 1:

"Well, it's not what you're used to, but it's as good as you'll get."

Shayla Monroe ignored her mom's comment and dropped a box of her belongings on the old hardwood floor. If there was one thing she was sure of, Marcella Monroe wanted her to know how lucky she was to have any place to stay. She suppressed a groan and took in her surroundings. As if coming home with a tarnished reputation wasn't bad enough, she had to live here.

The tiny house barely knocked on the door of 1,000 square feet and consisted of a living area, small kitchen, one bedroom and a bathroom with a tub.

No shower. Just a tub.

It was a far cry from the spacious apartment she'd had. Atlanta was a large city, but when you created a scandal, it wasn't large enough. Shaking aside the regret she constantly lived with, she walked over and took the box her mom was carrying and placed it on the floor.

She cringed after dusting her hands on her jeans. They were once the epitome of style, now they were reduced to a dust rag.

"The house is fine, Mom. I'm glad Mr. Porter was willing to let me rent it."

The frown line between her mom's eyebrows deepened, blending in with the other worry lines on her tan skin. "Yes, well, he did it as a favor to me. Remember that before you invite anyone over."

Shayla bit the inside of her cheek. Her plan was to hide out here for a few weeks, not throw a party. But it would be a waste of breath to say that out loud. "I won't have company."
The Matchmaker Meets Her Match by Jenny Jacobs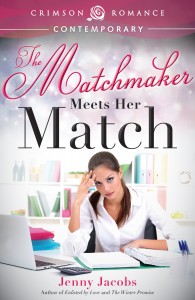 Rilka Árpád inherited her name and her job from her grandmother. She doesn't mind her name; it's her job she can't stand. Working as a matchmaker has exposed her to all the downsides of human behavior – in her opinion, it's a wonder anyone can stand each other long enough to get through a date, let alone cherish each other forever.

She makes herself a promise: if she can just get through her current client list in the next three months, she'll go on sabbatical. And maybe never come back.

Her new client, war veteran Jeremy Ford, ends up being everything Rilka has come to expect (and dislike) about her work when he announces that he just wants to get laid. At least he's honest.
Or so she thinks. It turns out that Jeremy wants a lot more than a one-night stand, and he wants it from Rilka. But the only way they can get to forever is if Rilka learns to trust her heart.

Sensuality Level: Behind Closed Doors   ISBN-13: 978-1-4405-6418-5

Author Info: www.jennyjacobsbooks.com.

Excerpt – Chapter 1:
Rilka Árpád – who had always been convinced her grandmother had stolen her last name from a Hungarian ruling dynasty rather than coming by it in any of the traditional ways – looked at the fidgeting woman seated across the table from her and restrained herself from saying, "Relax!"

All of her years of experience had taught her that no one relaxed upon being commanded to do so. Still, the fidgeting would make it hard for the interview to run smoothly. Not that the interviews ever ran smoothly. Rilka used to blame it on the clients but by now she was pretty sure it was her fault, or, to be charitable, it was the fault of the conditions that brought people here in the first place.

"Would you like some tea?" she asked, rising from her chair and walking to the stove in the corner where a teakettle simmered. She always met clients in the kitchen, because it was a cheerful, homey place, and she wanted to put them at ease. We're just having a chat, the kitchen said, or was supposed to say.

Today the gray skies outside had overwhelmed the cheerful red-checked curtains and even the vase of perky yellow daffodils on the table. A Midwestern thunderstorm was in the offing and not even the power of daffodils could stop it. The gray day matched Rilka's mood. The rain would come. The rain would stay. The end.
His Fantasy Maid by Susan Blexrud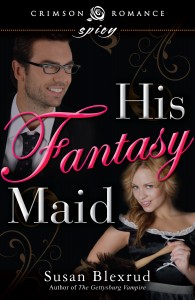 On the eve of Jake Sinclair's bachelor party, his best man surprises him with a fantasy maid named Amy. Clad in a bikini, she cleans his house and jump starts his heart. She's beautiful, smart, and compassionate. Why is a woman like this working as a fantasy maid? A few days later, his thoughts still distracted by the enigmatic Amy, Jake crashes his car and wakes in the hospital emergency room where his fantasy maid is now wearing scrubs and wielding a stethoscope. Is she a hallucination, or is his fantasy maid a doctor?

Sensuality Level: Hot   ISBN-13: 978-1-4405-6352-2

Author Info: www.susanblexrud.com, www.embracetheshadows.wordpress.com, Twitter, and Facebook.

Excerpt – Chapter 1:

If I believed the adage, "you are what you do," my self-concept would be in the toilet, so to speak. I clean houses in a bikini or French maid get-up, client's choice, which contributes little to making the world a better place. As a result, my adage is, "you are what you become," because I'm becoming a doctor.

But today, I'm Amy Maitland, fantasy maid.

My best friend and fellow medical resident, Ellen, knows about my undercover life working for Fantasy Maids, but she's the only one. If word got out at the College of Medicine, I'd be the laughingstock of the University of Central Florida.

My five brothers know I work as a housemaid, which they respect as good, honest labor, but they don't know the fantasy aspect. Protective (and controlling) men that they are, they'd lock me up.

That said, it's not the worst job in the world. I've been a fantasy maid for almost two years; so far, none of my clients has tried to assault me. But it's always a possibility, considering Florida's propensity for perverts. The company (i.e. Rex, the owner and a part-time secretary) arms us with pepper spray and an emergency hotline number (Rex's cell phone), and they screen the customers to make sure no one's a registered sex offender.

They also arrange our appointments and Rex is good about following up—within four or five days—to make sure we survived the gig.

Still, being alone with a strange guy in his apartment is enough to get anyone's
Adrenalin pumping and I never go into a new situation without first sending up a prayer. I always let Ellen know where I'm going and I carry a rosary, even though I'm not Catholic.

A childhood friend gave me a strand of the rose-colored beads for Christmas one year, and they've been my protector ever since.
Love Will Find a Way by Anji Nolan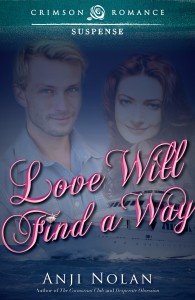 When Emily Wilkes, a cargo agent with Transcontinental Airlines, meets Bill Bailey, a wealthy businessman twenty-six years her senior, they embark on a love affair. They are together for three years when she meets Jack Clemmons in Monaco. Jack is a younger version of Bill, and could be everything Emily ever wanted. However, although her loyalty is momentarily tested, she commits herself to Bill, who knows—and can overlook— the indiscretions of her past. Jack, who is deeply attracted to Emily, reluctantly accepts her decision.

But when Emily's roommate and co-worker Jude Cameron steals a large quantity of diamonds from the Transcontinental warehouse vault, the police accuse Emily of being Jude's accomplice. And while the evidence against Emily is circumstantial, omissions from her past stack up to harm her.

Both Bill and Jack have the means to clear Emily's name … until Bill dies from a massive heart attack. Do Jack's feelings run deep enough to help her, or has Emily's rejection hurt him too badly?

Sensuality Level: Sensual   ISBN-13: 978-1-4405-6786-5

Author Info: anjinolan.com

Excerpt – Chapter 1:
The rhythmic beating of wings alerted her, and Emily looked up to see a gull hovering fifteen feet or so above the chaise on which she reclined.

"It's a thief you know," said an accent-tinged voice.

Startled, she turned. "Who's a thief?" She shielded her eyes against the sun, and
recognized the elegantly dressed blond from the night before. "Oh hi, Jack Clemmons, isn't it?"

He took off his sunglasses, revealing ice blue eyes. "You remembered."

"How could anyone forget you after such generous contributions to the awards dinner?"

"I'd rather you remembered my sparkling wit and personality." Emily smiled. "It was a receiving line. I don't recall any chit-chat."

"Yet I remembered the tall redhead with green eyes."

"Occupational hazard, there aren't many of us left." Emily swung her legs from the chaise and retied her pareo about her hips. "So, Jack, I'm guessing the accent is South African."

"You would be correct, and you are American."

She giggled. "No shit, Sherlock, what gave me away?"

"You're very blunt, aren't you?"

"Is that a problem?"

Jack slipped his glasses back on as Emily dug hers from her bag.
"Not at all; I like a strong woman. Did you have fun last night?"

"I'd have had more if I'd won the diamond tennis bracelet."

He held out a solid practical hand. "So, come take a look at the bird." Jack helped
Emily to her feet, and led her to the parapet. "See the hotel's seafood delivery." "And?"

He pointed. "Look up there."

The gull had left the terrace and perched on a flagpole across the street. With wings outstretched, it bounced wildly and squawked in agitation as a deliveryman hoisted a basket of seafood on his shoulder.

"Now watch the cheeky moocher," Jack said.

As soon as the fishmonger disappeared down the alley, the gull launched off the pole, and swooped onto the cart. There, head cocked and wings extended, it plucked an expensive tidbit from its kelpy resting-place. It rose high again, and overhead the terrace, dropped its cargo.

A large snail hit the ground, bounced twice, and came to rest against the parapet. The bird swooped down beside the mollusk, and tentatively poked the cracked shell to see if its beak would penetrate. When it would not, the hungry flyer danced around the stricken escargot, webbed-feet slapping aggressively on concrete.
The Devil She Knew by Rena Koontz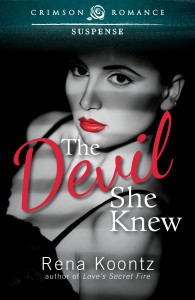 You have to trust somebody, Cassidy. It might as well be me," he said. But she didn't know him. And something her mother taught her once always stayed with her: "Better the devil you know than the devil you don't."

When reputed mobster Tony DelMorrie feuds with his girlfriend and wins the fight by killing her, Cassidy Hoake is the only witness. She quickly becomes a target when DelMorrie skips bail—running is Cassidy's only option. Now, she's hiding from the devil, living in a small Ohio town, aware that only her anonymity protects her. She can't afford complications like Clay Cestra. His police uniform fits like a second skin and he looks even better with his clothes off. But he is the law and she is a fugitive. A life with him means risking everything, confronting her demons and defeating the devil.

Sensuality Level: Sensual   ISBN-13: 978-1-4405-6782-7

Author Info: www.renakoontz.com.

Excerpt – Chapter 1:
Black rivulets swirled in the white porcelain sink, gurgling in the drain as it swallowed her old identity. Her head under the faucet, Cassidy Hoake watched the waves of dark liquid fade while she continued to massage her scalp under the warm water. The box said to rinse until the water ran clear. Just a few more minutes.

She grabbed a towel, draped her head, and stood, rubbing vigorously with her eyes closed. Ready or not, she looked at her reflection in the mirror behind the sink. The new look surprised even her. Gone was the thick, auburn mane her mother had often bragged about.

She'd replaced the shoulder-length locks she'd worn since high school with a lustrous black, short haircut that she planned to spike up and out and fringe to frame her face. She stared wide-eyed at herself, then walked barefoot into the bedroom and retrieved a pair of burgundy-framed eyeglasses from the bureau.

Thank goodness she'd discovered that year-round costume store. Buying items for a disguise was easy.

Standing in front of the mirror again, she took a deep breath and carefully edged the eyeglasses up her nose. Her eyebrows raised in surprise at the result. She barely recognized herself. Surely, he wouldn't.
Missing Pieces by Molly Kate Gray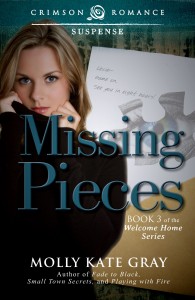 FBI psychologist Lexie Thomas didn't ask to be part of this case. It chose her. For the past year, a white envelope has been delivered to her office every month. Lexie doesn't even have to open the envelope to know what she'll find inside: a handwritten note, a single puzzle piece, and a picture of the killer's most recent victim.

Colton Billings has lived in Smuggler's Run, Texas, for almost his entire life. Being a member of the police force is the family business. Unfortunately, his father's retirement comes just as the second biggest crime to hit the town unfolds. When Anna Grimes's disappearance coincides with Lexie's return to town, he knows he's in over his head…in more ways than one.

Sensuality Level: Sensual   ISBN-13: 978-1-4405-5732-3

Author Bio:
A fan of things that go bump in the night, Molly Kate Gray writes romantic suspense with a Southern drawl.

Excerpt – Chapter 1:
January 12
1:52 pm

The glistening white Lexus crawled to a stop alongside the walking trail. The lightly tinted passenger window rolled down as the young woman drew closer to the car.

Step. Step. Step. Step. Her hips swayed gently in time with each footfall.

"Hello!" The driver gave a friendly wave and pulled his sunglasses down and tucked them into his collar. "Hate to bother you in the middle of your run, but how do you get out of here?"

The driver's deep Texas drawl was comforting and familiar, as he'd intended it to be. With his well-worn dove-gray cowboy hat, he could have stepped out of a western. He chuckled softly to himself and pointed to the freeway in the distance.

"I can see the road, but I just can't get there." He held up his phone like it was the enemy. "My son put GPS on here, but the lady keeps on taking me in circles."

The jogger relaxed her guarded stance as she laughed. "Common mistake. Happens all the time. You can't get there from this road." She took a step closer to the car as she leaned in with her one hand on her knee.

Sweat glistened along her temples and rolled down the back of her neck. She'd been jogging for quite a while. This park was on a remote edge of town. The young woman probably didn't live anywhere close by—good for him, not so good for her. He glanced at her, noting her body language. Smiling. A ghost of a laugh.

She was eager to help him.

And that was a mistake.

Pointing toward the park entrance, she leaned against the rear bumper of the car and began to explain the easiest route to the freeway. "You have to go back to the main road and turn left on Canyon Rim Drive. Then take a left when you get to Dove Trail. Keep going till you come to the light, and you'll see the sign for the access road."
"So I go to the park entrance and turn right?" He raised an eyebrow for confirmation.

Honestly, it wasn't hard to get out. He could get there in his sleep. She wasn't describing the most direct route.

"No. You turn left."

The man tugged his hat off and ran his fingers through his banker-short hair, revealing more than a mass of gray at the temples. "Alright. I go to the entrance and turn left. Then I turn right."

She shook her head as she braced her heel against the tire and stretched to keep her hamstring loose. "Do you have any paper? You might want to just write this down."

Switching legs, she leaned over the tire like a ballet dancer at a barre. She huffed in annoyance, obviously second-guessing agreeing to help. He needed to hurry this up. He didn't want to lose her.
The Right Combination by Nancy Loyan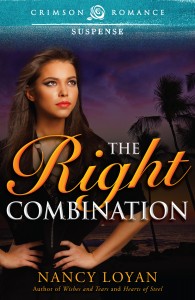 Raphael (Rafe) has prided himself in being in control of his life, but now he's adrift. He's a Hispanic man uncomfortable with his heritage, a playboy who knows he has to settle down, a man who pretends that family doesn't matter when it does, and an FBI agent who thinks he's at the top of his game only to be demoted by a serial killer.

Nalani Hana is far removed from the US Mainland and prefers it that way. Though a descendent of Hawaiian royalty, she prefers the simplicity of her secluded cottage on Maui. Born and raised into the safe business, she carries on her father's legacy at N. Hana Safe & Lock Company.

Now someone is murdering the country's legendary safe and vault technicians. Once a month a safeman is found strangled and stuffed into a safe with three fingers severed. Raphael has to find the killer before he strikes again. The question is whether Nalani Hana is a suspect or the pawn of a demented killer.

Sensuality Level: Sensual   ISBN-13: 978-1-4405-5859-7

Author Info: www.NLSScribe.com

Excerpt – Chapter 1:
Safes are as mysterious and alluring as a woman.
Strong yet gentle to the touch.
Equally as tempting.

Yellow crime barrier tape billowed in the humid breeze as it surrounded Samuals Safe and Lock Company like an animal pen. Only demented animals, Rafe thought, would commit such a sordid murder. He had experienced many, far too many, in his ten-year career.

"Special Agent Costillo, FBI," Rafe announced, flashing the leather bi-fold containing his credentials.

"Yeah, we've been expecting you," answered the uniformed Miami policeman standing guard at the crime scene, swiping his sweaty brow.

When a federal crime involved safes, Rafe was often a part of the investigation. He was the FBI's top expert on safes and vaults. Connections at the FBI's Miami field office knew he was in town visiting his family and informed him of the crime scene.

He had been involved in mob-hit cases where the victim had been locked in a safe and tossed in a lake, a new take on cement shoes. Incidents where people were murdered for the contents of a safe or vault were not uncommon. Having three legendary safe technicians murdered and stuffed in safes in the span of three months was unusual.

Having one occur in the city of his birth while he was visiting made him uneasy.
Giveaways: (E-books)
B1: Doubts of the Heart
+ Love Will Find a Way
B2: Seduction's Canvas
+ The Devil She Knew
B3: Scrimmage Gone South + Missing Pieces
B4: The Right Combination + The Matchmaker Meets Her Match
B5: A Heart to Heal
+ His Fantasy Maid
To enter giveaway: Please complete the Rafflecopter form below and post a comment Telling me which of these books caught your attention and why?
Good Luck
~Sara