In Audra by Amanda L.V. Shalaby, Audra Kingsley is a wealthy heiress in age to be presented in St. James in London. While she may have dreamed about that since she was a child, all she dreams about and wants now is to marry friend, neighbor and sweetheart, Lord Crispin Brighton. But until she is presented she won't be able to marry him.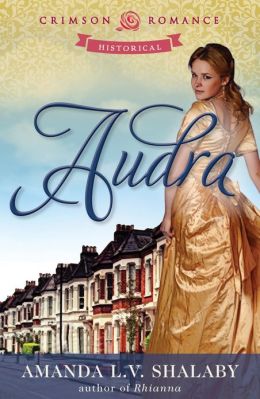 Crispin and Audra have known each other for years, Now as she is to go to London for her presentation, he can't stand the thought of being separated from her and declares his love for her and asks her to declare her love too to keep him until her return.
As Audra is in London with Crispin's aunt, Lady Sutherland, as her sponsor, she is presented in St. James and goes to the ball in Almack's. With that done she expects to be able to return home, but Lady Sutherland has other thoughts in mind and decides that Audra must stay in London for the Season until she makes another match.
Not only is Audra being kept in London against her will, she is also being pursued by a secret admirer, while interesting, she wishes he would stop sending her notes and that she could be home with Crispin.
Crispin's and Audra's love will face a few challenges but true love will win in the end with enough determination and faith. But first they will have to face a few people that are willing to go to any lengths to tear them apart.
Audra is a sweet and very smart girl, she is faithful and very honest with her thoughts and feelings. Crispin is a handsome and trustful young man, who will stop at nothing to make sure that his love is safe. He may seem to go along with what Audra wants but when he doesn't hear from her, he knows deep in his heart that she loves him and she must be in trouble so to her rescue he will go.
For a very sweet Jane Austen style romance that will entertain you and make you fall in love, Audra by Amanda L.V. Shalaby is great choice.
Book Info
Publisher: Crimson Romance (April 29, 2013)
Audra Kingsley, a wealthy heiress, may not have seen much of the world, but she knows exactly how she wants her future to play out – and a coming out ball held at her country estate, Kingsley Manor, would suit her just fine. Her father's wish that she be presented at St. James in London seems silly since she is to marry her neighbor and childhood sweetheart, Lord Crispin Brighton, but she obliges him.
Audra travels to London with her patroness, the eccentric Lady Sutherland, intending to return home as soon as she has curtseyed to the Queen. Unknown to her, Lady Sutherland is in no rush to leave London before the Season is over and intends to show Audra she has more options in the suitor department than Lord Crispin, a second son.
Audra finds herself surrounded by few friends and is forced to attend parties, balls, and operas – all while becoming the object of a secret admirer's obsession. As Audra struggles to make her way home to her beloved, plans to compromise her into an unwanted marriage are underway.
Sensuality Level: Behind Closed Doors