In The Argentinian's Virgin Conquest by Bella Frances, Dante Hermida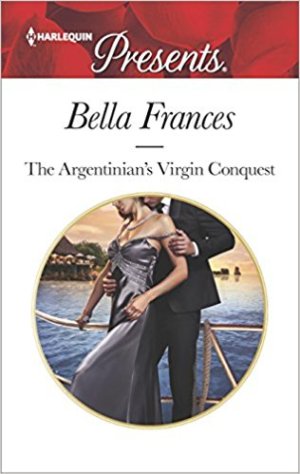 thought he was doing the right thing by rescuing the gorgeous woman he believed was drowning. Instead, Lucinda 'Lucie' Bond turns out to be a challenge with her defiant attitude and her ability to pierce his iron will; an iron will that he thought no-one could penetrate. But somehow Lucinda has wormed her way into his heart, and if he doesn't realize it soon enough that he wants her forever, he may just lose her.
"What exactly are you offering, Princess?"
"As soon as you drop that stupid moniker I might tell you."
Dante laughed as he closed the gap. They stood almost toe to toe. And this time she leaned back only to look up at him. She was getting her stride now and he was loving it. "You don't need to tell me anything. I can see it written all over you. In giant neon letters."
What a wonderful start to this series Ms. Frances has penned in this book, encompassing the fake relationship trope, a heroine that has so much to overcome and a hero that needs to let the past go to ever be happy again. The way this story started had me feeling sorry for the heroine. Her mother is a real piece of work, always choosing someone else over her and I could understand why she gets frustrated with the woman. However, what I liked most about the beginning was the moment that the hero and heroine met. Lucie is feisty when it comes to the fact that the hero has made a mistake in assuming she was in trouble.
Both the main characters were fascinating, and I loved how they interacted with each other and also helped each other to heal from their pasts. The heroine is strong, brave and I liked that she finally stood up to her mother. The woman doesn't treat her children the same way, always seeming to choose to do things for Lucie's brother over her, and I could understand why she ended up getting fed up; deciding enough was enough. That if her mother couldn't find a way to respect her decisions than she shouldn't say anything at all.
While Dante, he's been through so much with falling in love with a woman so much older than him and who should have known better than to get involved with him, because of his age at the time. So, I could understand why it made him fear getting involved with another woman, as his previous relationship ended badly and he still feels guilty for what happened. Can he overcome his past to be happy with Lucie? Will she finally make him realize that love is worth fighting for? Dante can come across a little gruff at times, which is clearly a defense mechanism when it comes to his past, but still I really liked him, especially whenever he conversed with Lucie. But what I liked most about the hero is how he helped her when she needed it. She's not good with talking in front of crowds and the way he stepped in to save the day was endearing.
"I don't know, Dante. You hurt me more than anyone has ever hurt me. You denied me. You denied us."
His eyes clenched shut at that. A shadow of pain crossed his face. "I know. And I've lived with that since the moment you left. It will live with me forever – unless you give me another chance."
Overall, I really enjoyed this book, which entertained me from start to finish with the fast-paced plot and strong chemistry between the main characters. The way this story ended had me cheering for this couple's happy ever after. Dante needed to do all he could to win back Lucie and I loved how he didn't give up when Lucie didn't make it easy for him to win her back. I would recommend The Argentinian's Virgin Conquest by Bella Frances, if you enjoy books by Lynne Graham, Carol Marinelli or Jennifer Hayward.
Book Info:

Publication: March 21st, 2017 | Harlequin Presents | Claimed by a Billionaire #1
His most tempting conquest!
Lucinda Bond might be descended from English nobility, but her aloofness hides painful insecurities. Painful enough that she's never allowed herself to be touched.
Then Dante Hermida sweeps her from the Caribbean Sea, assuming she's drowning, and Lucie finds herself in the arms of Argentina's most outrageous playboy! His arrogance challenges her, but his caressing gaze ignites a desperate desire…
Despite Lucie's defiant facade, soon Dante has her at his sensual command! But discovering Lucie's innocence, this dark-hearted Argentinian finds himself longing to claim her…with a need that shows no sign of abating!