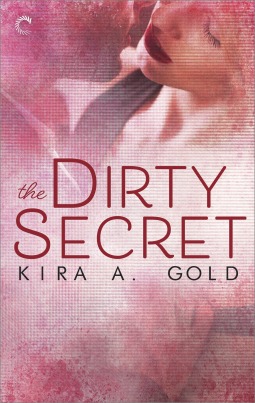 The Dirty Secret by Kira A. Gold is about two people who find love when they weren't looking in the most unorthodox ways. Both characters need something, so they go to Donna Edith. Donna Edith is a people placer, who has a gift for pairing people together who need each other.
First of all, I loved the character's names. Unique and not overly used. We have Killian who is a talented architect that needs something to set him apart from everyone else at the firm and to do that he needs a designer. This is where Vessa comes in. Vessa is a free-spirited, feminine artist who is passionate about what she does, but needs money that will make her financially secure. Killian and Vessa are the answers to each other's problems.
The attraction between the two is swift and surprising. Neither character has time for sex or love, but the more they interact with each other, the more they share a bond, one that is full of passion and longing. The longer they see other, the less the care about the real world. Their priorities shift to where they need each other more than their next breath, but with Vessa hiding who she really is, can these two make a future together?
This book is well-written and well described. The descriptions were highly detailed and this author has a way with words. Each word written has meaning and paints a very beautiful picture. I was able to lose myself in this story in a matter of sentences.
If you love your romances to be free of angst, but with plenty of erotic moments, definitely check out The Dirty Secret.
Book Info:

March 28th 2016 | Carina Press |
From the Desk of Donna Edith…
My services are unconventional. My clients come to me with needs and I match them to other clients with needs of their own…
Promising young architect Killian Fitzroy: Driven, clever, eager to prove himself. Starved for sex, though he's come to me for professional assistance, not personal. Needs: Someone unique, creative and fast. An artist with a feminine perspective to breathe life into a house he's built.
Aspiring scenic designer Vessa Ratham: Sensuous, spontaneous, but secretive. Recently returned to Vermont armed with an art degree that qualifies her for little more than waiting tables. Needs: An opportunity to shine.
Yes, Killian and Vessa will satisfy each other nicely—in more ways than one.