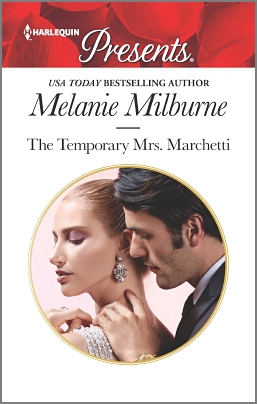 In The Temporary Mrs. Marchetti by Melanie Milburne, seven years ago Cristiano Marchetti proposed to Alice Piper only to have her reject his proposal. But now, he needs her to accept his proposal due to a clause in his grandmother's will, otherwise he could lose mostly everything near and dear to his heart. Can he convince Alice to give him a chance without letting his bitterness from her rejection years ago get in the way?
"So…why would you want to marry someone who clearly doesn't want to marry you?"
His dark as night gaze gleamed, making the floor of Alice's belly shudder. "You know why."
Alice arched one of her brows, trying to ignore the pulsing heat his words evoked deep in her feminine core. "Revenge, Cristiano? I thought you were a civilized man."
"I am prepared to be reasonable."
Alice affected a laugh. That was not a word she readily associated with him. He saw the world in black and white. He didn't know the meaning of the word compromise.
What a wonderful second chance romance Ms. Milburne has penned in this book, which started off brilliantly with what Alice receives. But it was the moment that Alice and Cristiano come face-to-face for the first time in this story that had me completely intrigued, determined to discover more about their past relationship and why the hero is so bitter and angry towards the heroine. Why did she choose not to marry him in the past when they seemed so in love? Why has Alice fought so hard to be the independent woman she is?
The dialogue was riveting, and I loved every moment the hero and heroine were together. Their banter, whether they were arguing or getting along showed there was plenty of chemistry between the pair that deserved to be explored. Because it was palpable they still loved each other, no matter how much they tried to deny it. Alice leaving him in the past totally changed the hero's view on relationships, and he doesn't know whether he can give her what she wants – a future with him, the kind of future he once wanted including love, family and forever happiness. Can she convince him that she's ready for a future with him now? What will she do with her share of his grandmother's will?
Alice is a wonderful heroine that has done everything she can to overcome her past. She's strong, brave and I liked how successful she's become in her fight for her independence. Never did she believe she'd have that chance, if she'd married Cristiano when they were together seven years ago, but now that she's established herself in the business world, she finds herself thinking about the future. Will she continue to work towards her dream of making herself more successful, or does she want to settle down and have a family? While the hero, he's hard-working, confident, and is so anti-relationships after his split with Alice seven years ago. Yet, it seems he can't fight fate and it's palpable by the way his grandmother is playing matchmaker, even from beyond the grave. Clearly, she wants him to be happy now that she's gone, and the only way he will be is with a little manipulation to push in the right direction.
"You won't ever be happy, Cristiano, because deep down you don't think you deserve to be. You refuse to love someone in case they withdraw that love or fate takes it away from you."
He snatched up his jacket from the back of the dressing-table chair. "Leave your psychoanalysis for someone who gives a damn. You don't know me as well as you think."
"I know," Alice said. "That's why we were doomed from the start. You don't want anyone to get close to you. I can't be in a relationship like that. I want emotional honesty."
Overall, Ms. Milburne has penned a really good read in this book, which was filled with plenty of intense emotion; two main characters that need to realize what they want from each other and a storyline that kept me entertained from start to finish. The way this story ended was perfect, as Cristiano finally realizes that he can't let Alice get away a second time. He loves her more than anything and he's not chasing her just for the sake of his grandmother's wishes. However, it was the way Alice's friend manipulated Cristiano and his reaction. That was totally amusing and proves how much he does love Alice. I would recommend The Temporary Mrs Marchetti by Melanie Milburne, if you enjoy second chance romances.
Book Info:

February 21st, 2017 | Harlequin Presents |
The rules of engagement…
When Cristiano Marchetti proposes to former mistress Alice Piper, the deal has an expiry date. He has six months to fulfil the conditions of his grandmother's will. But the hotelier has another agenda—exacting revenge on Alice for daring to walk away seven years before!
Alice needs the financial security her enemy is providing, but soon their every clash is a shockingly tempting encounter. Yet as she uncovers the man beneath the hard-hearted exterior, the future Mrs. Marchetti wonders if she could break the rules of their engagement…and walk down the aisle as more than Cristiano's temporary bride!