A Baby in His In-Tray by Michelle Douglas: Deception is not a good way to start anything, but you know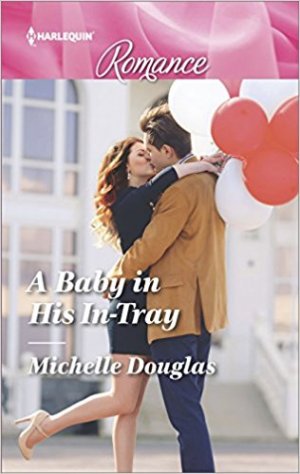 what they say no good deed goes unpunished.
Olivia Grace Gilmour was starting to realize that more and more when this "easy" favor for her sister was turning into more and more when she came back to see a baby on her desk. Who would do that and why? Knowing next to nothing about the man she and her twin were deceiving she had no idea.
Sebastian Tyrell was used to things going smoothly and having no major distractions in his life, at least not now. Ever since the event that shall not be mentioned 2 years ago he was determined to live cleanly and not let anyone in. So when his office manger calls to say there is a baby on his desk he has no clue.
Olivia and Sebastian have all sorts of things going against them. Multiple deceptions and secrets with time running out. What is going to happen when it finally does run out? Will all be okay?
Wow, this quick read is full of quirkiness while somehow keeping a steady plot of messed up families, secrets, and a budding romance that should be cliché and a bit gauche but manages to be light hearted and really sweet. Ms. Douglas has done a really amazing job helping this story take a breathe and jump into the "real world" so to speak. This is a great light hearted romance.

Book Info:

Publication: March 6th 2018 | Harlequin Romance |
Taking care of babyWith the boss!When Liv Gilmour's identical twin sister begs her to take her place for a week to work for business hotshot Lord Sebastian Tyrrell, she can't say no–after all, the boss will be away. Until someone abandons a baby with a note demanding Sebastian take care of it. Suddenly Sebastian's swift return sees Liv up close and personal with the sexy boss…and a baby who needs them both!