A Down Home Christmas by Liz Talley  is the "real deal," a Christmas story with all the elements to give the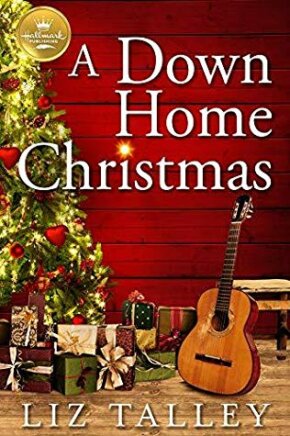 reader a warm Christmas glow. There's decorating, Christmas tree shopping, Christmas cookie baking, lots of Christmas music and a Christmas show and auction to rise money for the children's progams at the community center, Common Connection.
Kris Trabeau hasn't been home to Charming, Mississippi and the aunt who raised him after his parents' death for a number of years. Kris and Aunt Tansy had a nasty argument over Kris leaving to pursue a country music career in Nashville. Now he is returning to Charming after being named CMA's New Artist of the Year and proud of it after years of hard work pursuing his dream. Right now though his goal is to convince his aunt to sell Trabeau Farm and move into The Hermitage Retirement community outside Nashville. As he is driving down the long potholed drive leading to Trabeau Farm he has to slam on his breaks to avoid hitting a chicken wearing a sweater being chased by a dog whose owner is running behind trying to catch her dog. A chicken wearing a sweater! What's going on here? Kris helps the dog's owner, Tory Odom catch the dog and rescue the chicken. Thus begins the Christmas fun.
It's Christmastime and Aunt Tansy has been looking forward to Kris spending Christmas with her on the farm for years. Every other year he always had an excuse to not be there. When she finds out Kris' plans for her she decides to remind him how important home and roots are by throwing together a Christmas like all the wonderful family Christmas gatherings from the past. Even though Tory, who is getting over being dumped by her long time boyfriend, is not celebrating Christmas due to her breakup, she agrees to help Tansy with her down home Christmas. After all this gives her the opportunity to spend more time with Kris who she is attracted to.
This story brings a cozy warmth as the love and true meaning of Christmas as well as discovering roots and love of home and family blaze off the pages. I loved all the characters but especially enjoyed the antics of Tory's dog, Edison and how Tory, Kris and Aunt Tansy give Bria, a young girl at the community center a boost in self-confidence and a sense of being loved. Reading this story will leave the reader with a warm glow of happiness and Christmas cheer.
Book Info:

Publication: July 2nd 2019 | Hallmark Publishing |
A rising star,
a down-to-earth teacher,
and a Christmas touched by wonder…
Country music star Kris Trabeau heads to Charming, Mississippi, to convince his aging aunt to sell her farm and move into a nice retirement community. She's not having it, and she enlists her neighbor Tory Hudson to help her remind Kris why the farm means so much…especially at Christmas.
After being dumped by her longtime boyfriend, Tory's not feeling the holiday spirit. Still, she agrees to co-chair a children's concert and silent auction to benefit the after-school center where she volunteers. As Kris helps her with the concert and spends time with the kids, the attraction between them becomes harder and harder to ignore. Can he trade spotlights and city lights for the place where the music began?
This funny, emotional romance includes a free Hallmark original recipe for Jingle Bell Cookies.