I recently had the honor of an advanced viewing of Love Between the Covers, which is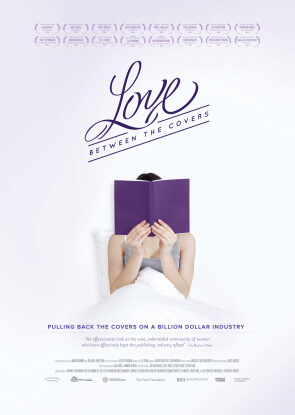 a fascinating documentary that took us behind the scenes in one of the biggest genres in the book industry today: Romantic Fiction. Now obviously here at Harlequin Junkie we are ALL addicted to romance in any sub-genre and format we can find. So this film caught our attention. Not only did it turn out to be an eye-opening look into what it really takes to get a book onto the market, but it also showed us what our favorite authors deal with on a daily basis to give us the stories we crave, adore and rave over.
Laurie Kahn, who was the director, producer and the writer, created a film that I think encompassed everything most readers are interested in. It covered subjects such as the history of romance in literature, which was sprinkled in throughout the movie, plus author interviews, comments and interviews with fans, and a walk through the daily life of both authors and publishers. The majority of the information was done in a lighthearted, positive manner which I loved, but to me it really felt like Love Between the Covers was a rather intimate story that was tailor made specifically for book fans.
My favorite part was the wonderful and insightful author interviews. There were some pretty big names here such as Nora Roberts, Beverly Jenkins, Eloisa James, and Jayne Ann Krentz to name just a few. I loved hearing their stories, which ranged from upbeat to poignant and everything in between. We got to see how they plot out their books, heard how they got their beginnings as an author, and even watched as they interacted with fans at events–which was SO much fun. It made me realize yet again how much of a great big community the world of romance truly is and how lucky we are to share a love of these books.
And that was one of the biggest things that struck me, that romance novels are such a huge presence in our daily lives and it's a connecting thread between so many of us. The comment that one book fan made, saying how "romance has gotten me through the toughest times of my life" just goes to show how much reading romance can mean to an individual. And I'm sure there are a lot of us who can say the same thing: That reading about a HEA gave us a lift in spirit when it was very much needed. I know it has for me!
So if you're the type of person who enjoys getting glimpses into what truly happens in the world of romantic literature, Love Between the Covers will be sure to please. One thing that was made clear was that these women, these authors who write such fabulous novels that sweep us off our feet, put copious amounts of time, effort, blood and tears into every story they give us. I think this film will give us a much broader appreciation for the whole process when we begin to read the next novel on our never ending wish lists.

Info:
Love stories are universal. Love stories are powerful. And so are the women who write them.
Love Between the Covers is the fascinating story of the vast, funny, and savvy female community that has built a powerhouse industry sharing love stories. Romance fiction is sold in 34 languages on six continents, and the genre grosses more than a billion dollars a year — outselling mystery, sci-fi, and fantasy combined. Yet the millions of voracious women (and sometimes men) who read, write, and love romance novels have remained oddly invisible. Until now.
For three years, we follow the lives of five very diverse published romance authors and one unpublished newbie as they build their businesses, find and lose loved ones, cope with a tsunami of change in publishing, and earn a living doing what they love—while empowering others to do the same. Romance authors have built a fandom unlike all others, a global sisterhood where authors know their readers personally and help them become writers themselves. During the three years we've been shooting Love Between the Covers, we have witnessed the biggest power shift that has taken place in the publishing industry over the last 200 years. And it's the romance authors who are on the front lines, pioneering new ways to survive and build communities in this rapidly changing environment.

Movie Trailer: https://youtu.be/Nm6ZTHRys30