In Wake for Me (Life or Death #1) by Isobel Irons, Viola Bellerose is trapped in her own body due to her comatose state after an horrible accident.She is lost in her dreams-a world which is both vivid and terrifying. The only saving grace for her in the world is the entry of a tall and tortured doctor who often enters her world in a romantic role.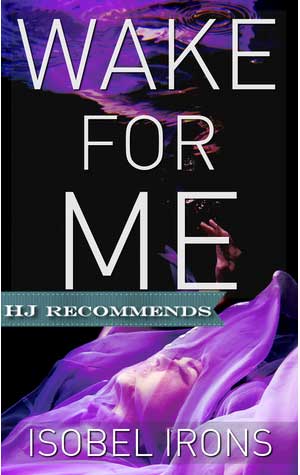 Sam Philips is a first year intern who is barely surviving the pressures of his professional and personal life. His solace is the time he spends with his favorite patient, the girl he's nicknamed Sleeping Beauty. He spends hours at her bedside, spilling his secrets to the unconscious girl.
But what Sam can't never guess that his Sleeping Beauty can actually hear him and with each passing day, she is falling head over heels over in love with him as he with her and that someone else might be trying to kill her.
"I'm never going to wake up from this, am I?"
Arms surround me in the dark. It's so warm, so quiet. Finally, for the first time, I can breathe. I inhale deep. The smell of chlorine and freshly washed laundry fills my lungs.
"I promise you, you're going to wake up," he tells me. "But when you do, things will never be the same."
"What aren't you telling me?" I demand, pushing away from his embrace.
"Why are we here? Why have all the voices stopped?"
But he doesn't answer. I'm alone.
Wake For Me by Isobel Irons is a well written,exciting medical romantic suspense. The most interesting part of the story was the interlinking of Viola's dreams with the reality of what Sam was facing and the unique romance which was born because of that. I liked how Isobel so vividly describes the dreams that you can actually see all that happening in your head. Viola was /is a nineteen year old singing sensation and a heiress to a million dollar worth wine company. I liked her spirit and her boldness which was a contrast to the reserved nature of Sam who is equally adorable. The chemistry between both of them made the romance even more believable. There was a little bit of suspense thrown in too but that was not the strong point for me because it is evident who wants to kill her before fifty percentage of the book is over.
"Wake for me," a voice says, and I do.
I look up to find Sam sitting at the table across from me. But now, the table is a miniature wine cask. Our knees brush against each other on either side.
"You're late," I tell him. "I was so worried."
"I love you," he says, much too quickly. He's hiding something, but he wants to see me smile, just once, before he tells me what it is.
"I know," I say. There's something rolling around inside my stomach. I could be pregnant, I think. The thought terrifies me and excites me at the same time. Maybe the baby is Sam's. He'll be so beautiful. But we should get married first. Wait, I'm too young to get married.
No, this is bad news. Everything is wrong.
Overall,Wake For Me by Isobel Irons is a compelling medical romance suspense which you should definitely not miss.With vivid description and adorable characters,this book is for everyone who wants something different.
On a side note which I know is irrelevant to this review but worth mentioning – the acknowledgement made me smile.
Book Info:

Published December 15th 2013 by Amazon.com
"Finding the man of your dreams can be hard… Especially if you're unconscious."
When Viola Bellerose breaks up with her "up and coming" Irish rock star boyfriend, the feisty winery heiress takes it in stride—by making out with a hot stranger and accidentally crashing her Mercedes into the East River. Whoops.
Somewhat unfairly, in her opinion, Viola now spends her days in a coma, trapped inside the prison of her own body. With each passing day, she finds herself becoming more lost in a world of vivid and terrifying dreams, in which a tall and tortured doctor often appears in a romantic role.
First year intern Sam Philips is barely surviving his complicated life, dealing with his older brother's death, avoiding scary charge nurses and working endless hours–all while competing against his fellow interns. His solace is the time he spends with his favorite patient, the girl he's nicknamed Sleeping Beauty. Convinced that her coma can't last forever, Sam spends hours at her bedside, spilling his secrets to the unconscious girl.
But what the outwardly shy Sam could never guess, is that his Sleeping Beauty is actually aware. That she's secretly hanging on his every word, and falling head over heels in love with him. That even as Sam tries to save her, someone else might be trying to kill her.