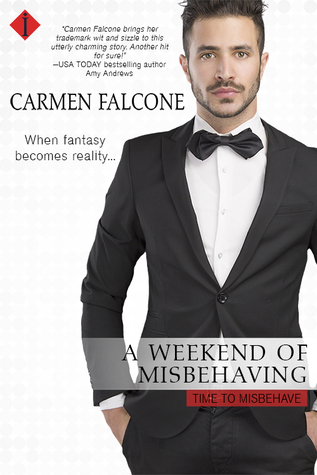 In A Weekend of Misbehaving (Time to Misbehave #2) by Carmen Falcone, Alice Sommers needs her job as a nanny. So, doing something silly like skinny-dipping in her boss's pool should be on her list of things not to do. But after a tough day dealing with the mess her sister has managed to get her family into, she decides to be reckless. However, it doesn't take long for her boss to catch her in the act and blackmail her into playing the part of his devoted fiancée to help him convince an art owner into selling him some paintings that he desperately wants.
"In our little make-believe world, what would a happy-go-lucky nanny like me be doing with an introverted one-percenter like you?"
"Must I remind you that you work for me?"
"Not during this trip. You're paying me to be your sassy fiancée, the woman who should get a medal for breaking down your walls and showing you what life is all about."
What an enjoyable read Ms. Falcone has delivered with this second book in her Time to Misbehave series. Encompassing the fake relationship trope, a heroine determined to fix her sister's mistake, and a hero wanting desperately to buy some art from an eccentric art owner before anyone learns the truth about the paintings. I really liked how this story started by introducing me – as a reader – into the trouble Alice's sister has managed to bring on her family. Trouble which sets the fast pace of the story, and definitely illustrates the heroine's need to be impulsive in the moment where she decides to skinny dip.
The dialogue was a nice blend of intense and teasing, and kept me entertained due to both characters back stories as well as the pressures they both face because of their fake relationship. Can they convince everyone that they're a couple? Will they're being together get them both what they want? Alice needs to pay off her sister's debts and Lorenzo needs the paintings before they have a chance to ruin his career.
I really liked both the main and secondary characters. The heroine really impressed me. She's strong, sassy and brave. Certainly, she cares a lot about her family and would do anything for them. Even knowing that playing the part of Lorenzo's fiancée could end disastrously, as she struggles with her growing feelings for the hero. While the hero, he's assertive and so sure of himself when it comes to getting what he wants. Yet, Alice proves quite a challenge for him, especially when it comes to convincing her of what she should do about her future. She's torn between her love for her family and her job.
Overall, this was a really good story where the sex scenes were scorching, nicely-detailed and illustrated this couple's strong chemistry well. As for the ending, it was wonderful. The fallout from their fake relationship could have ruined Lorenzo's plans for the paintings he wanted. Yet somehow, it ended up being good for him as it made the hero realize that nothing was more important to him than Alice. I would recommend A Weekend of Misbehaving by Carmen Falcone, if you enjoy the fake relationship trope.
Book Info:

January 11th, 2016 | Entangled Publishing | Time to Misbehave #2
When fantasy becomes reality…
The last thing nanny Alice Sommers needs is to be caught skinny-dipping by her sexy, cranky-pants boss—in his pool. Her sister owes a crap-load of money to a slimy loan shark and Alice really needs this job if she has any hope of saving her family. Fortunately, her boss is richer than sin and needs her just as much.
Art dealer Lorenzo Baldi will lose his prestigious career if his anarchist father's paintings are revealed to the art world. He's determined to persuade the paintings' eccentric owner to sell them to him, even if to pull it off, he'll have to blackmail his daughter's nanny—a woman with the sexy curves of a Botticelli masterpiece—into being his fake fiancé.
The gorgeous island of Capri inspires some major misbehaving. But even as the loan shark breathes down Alice's neck and the paintings move closer to the art scene, Lorenzo drops one more bomb that will change everything.