After Hours Seduction by Janice Maynard is the first book in her Men of Stone River Trilogy. This is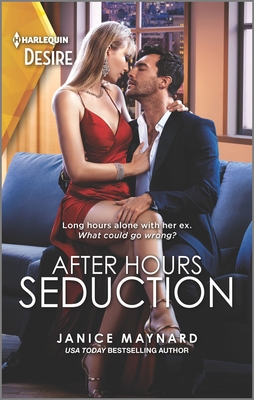 a delightful second chance romance.
Katie Duncan and Quinten Stone, billionaire CEO of Stone River Outdoors Company, had an affair two years ago. Katie is Quin's brother Farrell's admin at their company. No one at Stone River knew about their affair. That's why Katie ended up at Quin's Maine cabin assisting him during his rehab from knee replacement surgery.
Since Farrell and Quin's other brother, Zach knew noting about her affair with Quin Katie didn't think she could come up with a good enough reason not to take on the assignment of assisting Quin in Maine. Katie and Quinn had a blazing hot sex life two years ago. The problem Katie had back then was that Quin was a closed-up shell of a man. Katie just couldn't break through and get to know who Quin really was. Katie couldn't live with that so she broke up with him. Now here she is at Quin's secluded cabin for a six week assignment. Katie is very nervous because she knows she will struggle with being so close physically with Quin for six whole weeks. Katie is still attracted to him.
Quinten Stone nearly died in the auto accident that killed his father. Quin survived with a majorly busted up right leg. Following a couple surgeries Quin, world renowned competitive skier, stupidly hit the slopes prematurely and mangled his leg again requiring knee replacement surgery. Having learned his lesson at last Quin swears to his brothers that he will follow doctor's orders this time rehab properly and take it easy. Having Katie in his cabin with him is incentive to make the effort. Quin never forgot Katie and was very upset when she broke up with him. He is anxious to see if they can make a relationship work this time around. Quin knows he is still very attracted to Katie. Now to see how she feels.
Katie and Quin go back and forth in this reunion. They definitely have their ups and downs. I enjoyed reading about the close relationship of the three brothers. There is also a hint here for the upcoming books about suspected corporate espionage. That will be interesting to follow. The next book in the series is Upstairs Downstairs Temptation, Farrell's story.
Book Info:

Publication: May 5th 2020 | Harlequin Desire | The Men of Stone River Book 1
Long hours alone with her ex.
What could go wrong?
Wanting him was a mistake,
And still she said yes…
When Katie Duncan agrees to work with her boss's brother, she knows she's stepping into the lion's den. The man she'll be living with is her former lover, billionaire Quinten Stone. Their passion sizzled until Katie couldn't accept Quinten's wealthy world. She'd walked away to save herself. Now the alpha CEO is back in her life, tempting as ever…and hell-bent on seducing Katie back into his bed…
USA TODAY Bestselling Author