All Fired Up by Dylan Newton: Book publicist Imani loves a good plan, a well thought out list or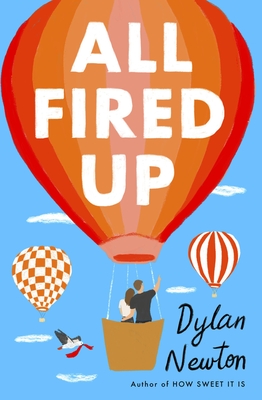 really any kind of organisation, which is what made her one wild carefree weekend with Zander totally out of character for her. Fast forward a year and Imani is back home to help take care of her Gigi after having a double knee operation, but the one thing non of her well planned out lists could have prepared her for is all the sexiness of Zander Matthews or his determination to date her! Soon Imani finds herself questioning if this big promotion is actually what she has always wanted or if her heart truly belongs with Zander throwing clay, riding hot air balloons and just living in the moment.
"I'm ready to be an anchor, a tree, a dock, a big-ass mountain— whatever you need to feel stable. And loved."
All Fired Up was the perfect follow up to How Sweet It Is, these Matthews brothers just keep stealing my heart! I loved every moment of Imani and Zander's story, and getting to see them try and figure out their way in life. Right from the start this book had me giggling and let me just tell you Newton kept the laughs coming in this cute second chance romance.
Imani was just a treat, I loved getting to see her super organised A type personality being drawn to Zander's live in the moment carefree philosophy. These two could not be more different yet they worked so well together, I just loved getting to see them balance each other out and really help each other truly live. They truly did make the perfect yin and yang pair. My heart just broke for Imani when we got to see that she was still dealing with the death of her mother and how this has effected her daily life. I think that both Imani and Zander have had to face trauma and PTSD largely helped bring them closer together.
As for our hero, well Zander was just the cutest. It was pretty hard not to just love this guy. Not only was he charming but he was a fun loving person that was always ready to help the people around him. I loved his determination to date Imani and the way he went about winning her over. I really liked that Zander helped Imani slow down and appreciate the small things in life, while she helped him realise that it is good to have a plan for his future and something to fall back on. I truly loved getting to see these two as they grow as individuals and getting to see their relationship progress into something swoon worthy.
"Get me my purse, Imani . Give us five seconds, young man, and let me get some dollar bills. Between me and my granddaughter, we're gonna make it rain."
The secondary characters in this book were just brilliant, I loved getting to see Kate and Drake again, this time as they get ready to welcome their first child. Kate was just hilarious with her birthing plan, the actual birth and all of her deep breathing. I loved that we got see more of Imani and Kate's relationship this time round and the way they supported each other. As for the Matthews boys, well its safe to say that Ryker is definitely going to steal our hearts in his book, this guy is a well of emotions that is waiting to be explored and I just can not wait for his book! Im a true sucker for a pushy golden oldie and this was Gigi down to a tee, Imani's grandmother was a pure hoot. I loved her open say it as it is attitude and that she was all about pushing Imani to live her life and get freaky with Zander. As for Lancelot the foulmouthed parrot, let's just say this bird will have you in stitches guaranteed.
All Fired Up was the perfect second chance romance that will melt your heart, have you laughing out loud and shouting at the main characters all on the same page! I would definitely recommend reading this book as well as keeping an eye out for the next book in the series!
Book Info:

Publication: May 17, 2022 | Forever |
As a successful book publicist, Imani Lewis works night and day to promote her authors. It's her dream job, but she's become a total workaholic. So when her grandmother invites her to stay for the summer as she recovers from surgery, Imani happily agrees. But being back in the same small town as her one-night stand may not be quite the relaxing break she envisioned…
Zander Matthews wakes up every day determined to enjoy the present because he knows from his time in the Marines that tomorrow isn't guaranteed. But he's never gotten over the beautiful woman who blew through town a year ago, then disappeared. And he doesn't want to be hurt again. So they agree to a deal: he'll help Imani fix up her grandmother's house as long as they stay firmly in the friend zone.
Whether it's repairing tiles in his ceramics studio, dodging nosy neighbors, or soothing the most obnoxious parrot ever, Zander never fails to make Imani laugh. And soon their friendly banter is turning ever flirtier. But since Imani's stay is temporary and Zander can't be tied to anything beyond the most tenuous plans, will she be able to handle it when things get all fired up?