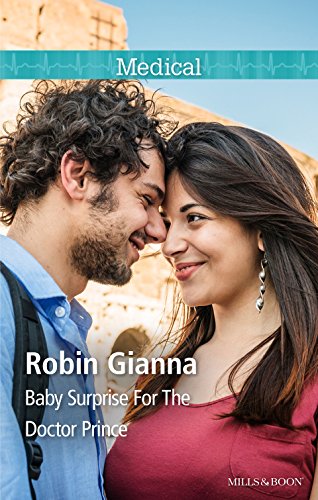 In Baby Surprise for the Royal Prince (Royal Spring Babies #2) by Robin Gianna, when Aubrey Anderson arrived in Venice ready to work hard in her job as a nurse, she never imagined she'd have to work alongside the man she fell into bed with the moment she met him two months ago. Still, she's determined to ignore the chemistry blazing between them and keep things strictly professional. Except the more time Aubrey spends with Dr. Enzo Affini, the more she finds it impossible to resist his charm. Will Enzo and Aubrey be able to let go off their fears to have a chance at happy ever after?
"We'll just have to figure out how to work together. I have no doubt we can act like mere acquaintances and pretend that night never happened."
"That would be extremely difficult. For me, at least."
"Uh-huh. And since we're going to have a professional relationship, please stop with that tone of voice and…and those kinds of comments."
"I thought you no longer find me attractive, so why is that a problem?"
Having really enjoyed the first book of this series with Enzo's brother, Dante – as the hero — I couldn't wait to read this story, because it's palpable in the first book that Enzo has no intention of settling down and finding love, family and happiness. The way this story started with Aubrey being shocked by her discovery of who she'll be working with in her role as a nurse drew me into this story immediately. Certainly, to say she was surprised was an understatement. Could she and Enzo work together and remain professional? Could she pick up the language of the country she was without too many struggles?
The dialogue was well-written and I looked forward to every moment where Aubrey and Enzo conversed. He could be sweet at times and downright rude at others, because he believed Aubrey had ulterior motives for re-entering his life after two months. Why was he so suspicious of the heroine, even when it becomes clear that she has no intention of getting close to him just for the reason he's royalty? However, there were some really good light-hearted moments that I loved. Aubrey is a sassy heroine and I loved the challenge she provided the hero, especially when he believes it'll be too hard to work with her and tries to offer Aubrey an alternative.
Aubrey and Enzo's chemistry is strong, and I loved how Aubrey proved him wrong, of that she didn't want him for anything other than to be with him. Because he's a good man that deserves to be happy, even though he thinks otherwise because he believes he's a bad bet when it comes to relationships. Really, Aubrey is strong, brave and I liked how good she is at her job. She makes people feel comfortable in her role as a nurse and knows how to get a stubborn patient to see reason. While Enzo, he's hard-working, confident and I liked how determined he is when he goes after what he wants. Moreover, it was hard not to sympathize with the hero when it seemed he mightn't get back the one thing he'd been desperate to see back in his family.
Overall, Ms. Gianna has penned a really good read in this book where the strong chemistry and wonderful romance illustrates that nothing is impossible. That even though Enzo doesn't believe he's capable of relationships, he is willing to do whatever it takes to win Aubrey's heart, which he proves by what he does for her in the end. What a noble act by offering something that meant a lot to him. But what I liked most about the epilogue was that the Affini brothers got everything they deserved – love, family and happiness. I would recommend Baby Surprise for the Royal Prince by Robin Gianna, if you like second chance romances or medical romances.
Book Info:

 February 20th, 2017 | Harlequin Medical | Royal Spring Babies #2
Their royal bundle of joy!
Two months after her breathtaking night with Prince Enzo Affini, nurse Aubrey Henderson arrives in Venice to discover he's her new boss. And even more shocking? The news she's carrying his royal baby!
Guarded doctor Enzo has long protected his legacy—and his heart. He's determined not to trust his attraction to irresistible, spirited Aubrey. But as their baby grows, so, too, does their undeniable connection…and a longing for a happy-ever-after that neither can deny!