Bad Girl Reputation by Elle Kennedy: Genevieve West is a total different person to who she was as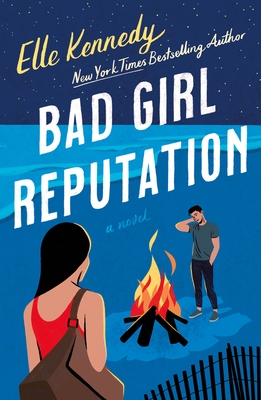 a young dumb kid. Gone are her wild reckless bad girl days and she has no plan for going back down that path again. All she wants is to go home for her mothers funeral and help her father run their family business until he can hire some help and then she is out of there. All she has to do is stir clear of her gorgeous ex-boyfriend and partner in all things mischief Evan Hartley. But this is proving to be a lot harder than Gen had hoped, you see Avalon Bay is a pretty small town and avoiding Evan is turning out to be near to impossible especially when he is determined to win her back! Oh and that insane spark between them seems to be just as electric as it was back in the day! But can these two really make it work this time? Do second chances really exist or are they destined to go up in flames all over again?
Good gosh Bad Girl Reputation was one hot steamy angst filled delicious read! I'm all about a cute second chance romance and add in the fact that this was a toxic turned healthy relationship and I was intrigued. Gen and Evan have had an on again off again relationship from the time they were teens, their moth to a flame toxic pull to one another has had enough of blow ups only for them to find their way back to each other that is until Gen leaves town ghosting Evan.
I have to say I really liked Genevieve, not only was she a sparky, kick butt leading lady but I really liked the fact that she knew that she needed to make hard changes for herself and that she was strong enough to do so. I loved that even though she had a less than clean past she did not let this hold her back from being a confident, strong minded smart woman. Even though she changed her wild ways I liked the fact that she still had her spitfire attitude.
Now I think it is safe to say we all love a bad boy from time to time but there is nothing hotter than a man that knows that he needs to grow up and this is exactly what we get from Evan. I will say at first he did come of as a bit of jerk and he really was no saint as a teen but I really liked getting to see him transform into a man worthy of Gen. His determination to win her back was just swoony all on its own and really made me love his character all the more. I really liked in Evan making these changes he also helped improve the lives of his family and a lot of the people close to him.
The connection between Gen and Evan was addictive. These two just could not get enough of each other, granted they were toxic together but at the same time just fitted together perfectly. I liked getting to see the grown up versions of them working out and really shining. Gosh the banter between these two was HOT!! There was no doubt about the chemistry or physical pull and that was more than evident as their story progressed. Though I will say that I didn't like the fact that Gen had Harrison on a string when clearly she was not into him at all. I really liked that ultimately Gen and Evan helped each other find the best versions of themselves.
Bad Girl Reputation was one angsty hot read that keep me on my toes as Gen and Evan tried to find their way back to each other this time forever. If ever there was a worthy second chance romance this was it, definitely one I would recommend checking out!
Book Info:

Publication: October 4th 2022 | St. Martin's Griffin | Avalon Bay #2
When former bad girl Genevieve West returns home for her mother's funeral, she's prepared to keep her distance from her ex-boyfriend, Evan Hartley. Their history is rife with turbulence. And passion. A heck of a lot of passion… which she's trying desperately to forget.
But it's impossible not to run into Evan in the small coastal town where they once ran wild. And the moment she sees her gorgeous ex again, it's clear to Gen that Evan is still as unruly, sexy, and irresistible as ever. This time around, however, she's resolved to walk a new path. No more partying. No more foolish mistakes. Her plan is to temporarily remain in town to help her father run his business, but the second he finds somebody else, she's out of there.
Evan has other ideas. He knows they can be good together, but he just has to convince Genevieve of that, even if it means turning over a new leaf himself. But can a bad reputation ever truly be shed? Do second chances really work? Genevieve and Evan are about to find out.