Bayside Escape by Melissa Foster finds Violet Vancroft reunited with the only man she ever loved, physician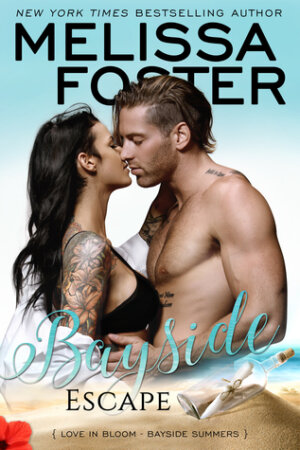 Andre Shaw. Two years earlier she ran from his proposal, afraid to put down roots. A chance reunion makes the pair face the past and see if they have a future.
I've been waiting for Violet's story, and it doesn't disappoint. Since her introduction into the Bayside series, Violet has always been the aloof, mysterious one. She disappears and no one knows where she goes. She keeps herself somewhat closed off from her sister and their mutual friends, partially because of the way she grew up. Her mother, Lizza, dragged her around the world, never keeping her in one spot. When she knew Andre, she was afraid to put down roots somewhere while he was firmly planted in Boston. Now the tables are turned and Violet finally has a place to land, but Andre travels the world to set up new medical clinics.
Lizza, for all her faults, shows up to Desiree's wedding with Andre as her date to, in a way, bring him back to Violet. Violet thought she never knew about their relationship, but she clearly did. I liked her for that. While she hadn't always been the most responsible parent, she tries her best to give both of her daughters what they need, not necessarily what they want.
I enjoyed learning about the many different layers of Violet. Andre is the only person she feels comfortable enough to see all aspects of her life. Andre, for his part, doesn't hold Violet's prior actions against her. Instead, he helps her face her past, her fears, and encourages her to open up to her sister and find a way to merge all aspects of her life.
While this can be read as a standalone, I recommend at least reading Desiree's story, Bayside Desires, which is the first book in the series. It will give new readers a better understanding of Desiree and Violet's relationship with both Lizza and each other, as well as how the sisters reconnected after so many years apart.
Melissa Foster creates characters that readers will adore and will root for them to find their own happiness. If you enjoy well-written romance with entertaining characters and little drama, you shouldn't miss Bayside Escape.
Book Info:

Publication: March 6, 2019 | Melissa Foster | Bayside Summers #4
Two years ago Violet Vancroft was a nomadic artist who never wanted to put down roots and Andre Shaw was a prominent Boston physician whose roots ran too deep to unearth. Their love didn't stand a chance-or at least that's what Violet believed when she received a plea for help from the sister she'd never really known-so she snuck away like a thief in the night.
Now Andre travels the world setting up new medical clinics, and Violet has finally found the family she'd always craved and the roots she'd never known she wanted. When their paths cross unexpectedly, it's not the reunion either one imagined. But they've never stopped loving each other, and after the dust of anger and hurt settles, passion ignites even hotter than before. As the end to Andre's time at the Cape nears, reality sets in, leaving them no closer to a future than they were before. Violet and Andre are forced to dig deep to discover if they're destined to live apart forever or if true love really can conquer all.