Wicked as Lies is part one of a duet and the third book in Shayla Black's Wicked and Devoted series.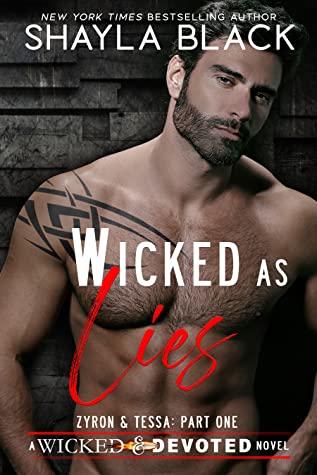 Colonel Caleb Edgington has recently gotten married and running his black ops and personal protection agency is not sitting well with his new bride. It's time to retire and turn the agency over to his two sons Hunter and Logan and his stepson Joaquin Munoz so the EM Security Management Agency was formed. Recent jobs pertaining to Mexican cartel boss Emilio Montilla have gone south and the operatives have been lucky to escape with their lives. The only way this can be happening is if there is a mole in the agency. But who can it be?
Tessa Lawrence is the office secretary at EM Security. She was away on a maternity leave, but before returning to work her ex-boyfriend who ditched her before the baby was born reappears in her life. He is causing her trouble because she refuses to take him back. Her boss decides she needs a bodyguard for a few days and sends new agent Chase "Zyron" Garrett to stay at her duplex with her. It's a case of instant attraction but there is a no fraternizing with fellow employees in their contracts so they both have to resist. They both need their jobs so resist they do.
I could not put this book down. This attraction between Tessa and Zyron pulled me deep into their story. I felt so invested in these two characters that I had to keep reading to see what was going to happen next. Since this is part one of the duet the ending doesn't include a HEA but I am fine with that as it gives me more exciting reading to look forward to. I really liked seeing so many characters from past Shayla Black books. Caleb, Hunter and Logan Edgington and Joaquin Munoz have their stories told in the Wicked Lovers series. EM Security operatives Josiah Grant and Cutter Bryant have their stories told in the Devoted Lovers series and EM operative Pierce "One-Mile" Walker's story is the two-story duet that began the Wicked and Devoted series. All these stories are excellent reads as is this book. Go ahead and read them all. You will be glad you did.
Book Info:

Publication: February 9th 2021 | Shelley Bradley, LLC | Wicked & Devoted #3
He's reckless. She's forbidden.
And he's done caring that she's the enemy.
Chase "Zyron" Garrett left a bloody stint with Uncle Sam for the personal security business. His employment agreement forbids hookups with co-workers, which isn't a problem—until Tessa Lawrence, the office secretary and single mom, is harassed by her vengeful ex-boyfriend. Zy is assigned to protect her, but the moment he meets the gorgeous blonde, those contractual restrictions tighten around him like a noose.
Tessa Lawrence is alone in the world…except for her newborn baby, and she's determined to survive without anyone's help. Then Zy walks through her door. Fiercely protective yet tender, he's everything she wants in a man, lover, and father for her daughter. But he's totally off-limits. If she falls for him, she'll be fired.
When a teammate is captured and the enemy predicts their every move, it's clear they've got a mole. The bosses task Zy with discovering their traitor, and all clues point to the woman he's losing his heart to. With danger lurking, he's caught in a tangle of unquenched need and searing betrayal. Will their love be the greatest casualty of all?