The Pregnant Colton Witness (The Coltons of Red Ridge #10) by Geri Krotow: Veterinarian Doctor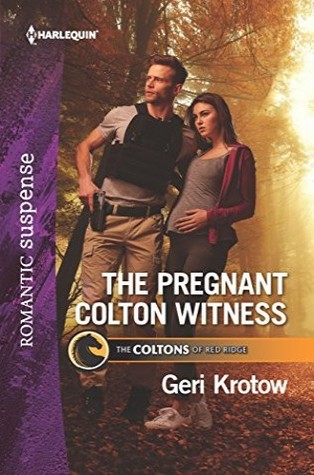 Patience Colton is all alone at night in the Red Ridge K-9 Verterinary Clinic. She is not quite feeling 100% herself since she saw the results of the pregnancy test she did earlier that morning. The father is K-9 Officer Nash Maddox. They gave into their irrestible sexual attraction a couple months ago but both agreed that they wouldn't pursue a relationship. Now Patience has to tell Nash the news. How is she going to do that? One thing she does know is that she wants this baby and will raise the baby on her own if she necessary.
All this is on her mind when she takes her most recent patient, Fred, the labradoodle who had been accidentally shot by a hunter after escaping his owner's yard, out for a short walk to prevent his muscles from freezing up after his surgery. Patience decides to pick up her binoculars to look at the trees in this Black Hills Lake area hoping to spot a great horned owl. That should help distact her from her weighty thoughts. What she does see when she heard a sound out on the lake is a small boat in the lake is a man holding the limp body of a woman and dropping it into the lake. Unfortunately he sees her and heads the boat towards the dock by the clinic. Patience knows this means big trouble so she picks up the labradoodle and runs back into the clinic and calls 911. Who should arrive first to her call for help but Nash and his K-9 partner Greta. Yes, Patience is in big trouble.
Author Geri Krotow is a great suspense writer. She does a fantastic job bringing the reader into the story to feel the suspense, interact with the characters and "live" the action. I really enjoyed reading this book as I am a Geri Krotow fan. I look forward to reading more of her stories.
Book Info:

Publication: October 1st 2018 | Harlequin Romantic Suspense | The Coltons of Red Ridge #10
Coming soon! The Pregnant Colton Witness by Geri Krotow will be available Oct 02, 2018.