Beach Read by Emily Henry: This book was everything; angst, anger, resentment, hurt, tears,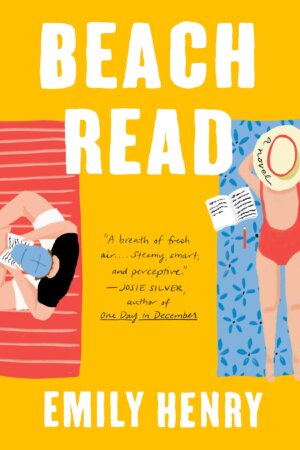 forgiveness, growth and new love. Going into this read I was expecting a cute little romance, but Beach Read was so far from that. In fact I think it was actually better, the not knowing if and when the other shoe would drop. This novel took me on an emotional journey and left me feeling emotional but in the very best way.
"Promise not to fall in love with me." "Oh my god!" I shoved his shoulder and flopped back into my seat, laughing. "Are you slightly misquoting A Walk to Remember at me?"
After the death if her father January is hit with another Earth moving blow that the perfect life she knew was not all it seemed to be and that her beloved father was actually having an affair. With this news rocking her romantic rose colored world January has to close up what she believes to be her father's love nest – a beautiful lake/beach house in his hometown – while she struggles to write of the love she is struggling to believe in again.
"He tasted like vanilla and cinnamon left over from the Ice Cream Treat, only better than the dessert itself had."
While at the lake house she is faced with another ground shifter, this time in the form of one Augustus Everett, her college nemesis. The two have had this long standing love hate relationship. The now neighbors get of to a rocky start but slowly grow closer when they strike up an unlikely literary bet, to try writing a novel in the style if the other. While January shows Gus the beauty of small romantic moments, Gus takes January on a journey to look at the world without her rose colored glasses. While the two walk down their new literary road they start to form a very real bond with sizzling chemistry and an undeniable attraction, while helping each other through their own emotional baggage.
"It was just another good day. A perfect day. A happy for now, so vast and deep that I knew— or rather believed— I didn't have to worry about tomorrow."
The thing I loved about this book was how real everything felt, it was not just some fluffy love story, it was a story about real raw gritty unfiltered love. Not only in the romantic sphere but also the love between family. Emily Henry has done such a brilliant job in creating this novel and painting not just a picture of love but also one if personal growth. Beach Read was definitely not what I initially thought it was going to be about but it turned out to be equally entertaining and enjoyable. This slow burn romance is definitely worth a read but I do warn you to keep your tissues handy, Henry definitely pulls at the heart strings.

Book Info:

Publication: May 19th 2020 | Berkley |
A romance writer who no longer believes in love and a literary writer stuck in a rut engage in a summer-long challenge that may just upend everything they believe about happily ever afters.
Augustus Everett is an acclaimed author of literary fiction. January Andrews writes bestselling romance. When she pens a happily ever after, he kills off his entire cast.
They're polar opposites.
In fact, the only thing they have in common is that for the next three months, they're living in neighboring beach houses, broke, and bogged down with writer's block.
Until, one hazy evening, one thing leads to another and they strike a deal designed to force them out of their creative ruts: Augustus will spend the summer writing something happy, and January will pen the next Great American Novel. She'll take him on field trips worthy of any rom-com montage, and he'll take her to interview surviving members of a backwoods death cult (obviously). Everyone will finish a book and no one will fall in love. Really.