In Hush, Puppy (The Dogmothers #4) by Roxanne St. Claire, Restaurant owner John Santorini is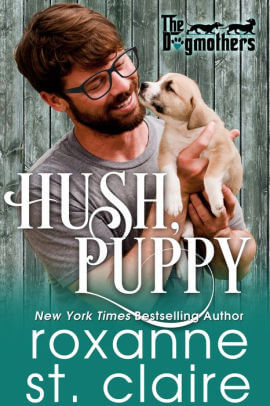 hoping the time is finally right to take the next step and franchise his family's business. Although there's a lot standing in his way. The least of which is his grandmother and her sidekick who call themselves The Dogmothers, looking to find him the love of his life. John's love is crunching numbers. And flying. But soon he's knocked for six when a phenom named Destiny whirls into his life and basically takes his new puppy Maverick hostage. Not that John minds, when it means he gets to spend time with Destiny's mother, Summer Jackson–a widow who makes him start paying attention to his heart instead of his brain, for once.
'Summer, and Destiny, meant way too much to him. This made no sense to a man who lived as logically as he did.'
Summer brought her wonderful daughter on a trip to Bitter Bark under the guise of adopting a puppy. But there are two issues right away. The first is that she actually came to town to find a man who she thought lived there, but he's nowhere to be found. The second is a handsome man named John Santorini. From the moment Summer sets eyes on him, she's done for. So is Destiny, but it's a cute little puppy she nicknamed Mavvie that she's smitten over and seemingly won't let go. John is a great sport about it all. And they're both shocked at how much of a difference Mavvie has made with Destiny's speech difficulties. But with her past creeping up on her, how can Summer explain to John her true reason for being there without hurting the new relationship they've created?
"Wow. Not bad for a rookie."
He laughed. "Thanks, but you're right…she's a force of nature."
"I think she met her match." Summer smiled up at him, wondering for just one second if she'd met hers, too.
Hush, Puppy put a smile on my face and in my heart. Her latest touching story about love, family, and overcoming challenges ranks right up there with my favorite of Roxanne St. Claire's novels–and it's all thanks to a precocious young girl and an adorable puppy.
"Mavvie." She reached out grabby little hands, taking the puppy and pulling him to her face. "I love you," she whispered in his ear, the words squeezing John's chest exactly like she was squeezing Mav.
Start to finish I think I smiled, chuckled, and "awwwwed" more during Hush, Puppy than I have with any book in a long time. But Rocki has a way of making me do that, especially with both this Dogmothers series and its predecessor, the Dogfather series. I mean, how can you not like a bunch of books set in a lovely small town, based around a couple of key families, and with lots of dogs, right? We also get the added benefit of some tender romance in each one that is sigh-worthy. And that was exactly what we had between John and Summer. Sigh…
As much as I love hunky alpha heroes, it's always nice when we get a guy who is a mix of alpha and beta. John could definitely stand up for himself and his loved ones when needed, but he was more of a caring guy than he was possessive. Although Summer (and Destiny) brought out a bit of a territorial side in John, which was all kinds of hot and sweet. His backstory was an interesting one. And I giggled several times over his addiction to the movie Top Gun–and may or may not have finished the lines he and Summer quoted from it. (Hey…I'm an 80s kid. It was basically required watching!)
But what stuck out to me about John was the wonderful connection he built with Destiny and Summer, and that he of course already had with his family. He was a terrific guy and deserved the love he found with his two best girls. And with his puppy, Maverick, who stole the show along with Destiny. Rocki convincingly wrote about the little powerhouse of a five-year-old girl with the voice of an angel but who also had a speech impediment. I think readers will be hard-pressed to not adore Destiny. She was her mother's heart and soon became that of everyone in town, too. Summer herself had quite the tough background she was still grieving over in some ways but John's family and friends all banded together to show her the dreamy life she could have in Bitter Bark.
The Dogmothers were at it again in Hush, Puppy, a heartwarming tale that will have contemporary romance readers captivated from page one. With sincere emotions and enough surprises along the way to keep you on your toes, I can't recommend this book enough.
Book Info:

Publication: Published June 12th 2020 | South Street Publishing | The Dogmothers #4
John Santorini has his hands full this summer and not just with Maverick, the wild and willful puppy he recently adopted. He's trying to franchise his business, he's got serious staffing issues, and his biggest investor still hasn't committed to financing. But all of those problems fade away when a five-year-old girl pounces on his puppy in the park and pronounces him "Mine!" John can handle a kid with a crush on little Mav. But he's not so sure what to do with his instant attraction to her mother, a beautiful young widow who brightens his world the minute she arrives in town.
Summer Jackson has come to Bitter Bark for one reason: to meet a man. But the man she plans to connect with isn't there. Instead, she finds two outrageous grannies who want to marry her off, discovers an extended and colorful family that wraps her in love, and crushes hard on a Greek charmer who offers her a place to stay and a job for the season. John may not have been the man Summer intended to meet, but his soul-melting kisses soon have Summer rethinking all her plans. He's smart, sexy, sweet, and his impossibly adorable puppy is helping her daughter overcome her baffling speech impediment.
It doesn't take long before Summer and John are dreaming of the happy ending they've both been denied. But when the past comes back to wreak havoc on all their lives, Summer's real reason for coming to town threatens to destroy this budding little family. Will John have to settle for a Summer fling…or do the Dogmothers have the recipe for romance one more time?