Beyond Risk by Connie Mann is the first book in her Florida Wildlife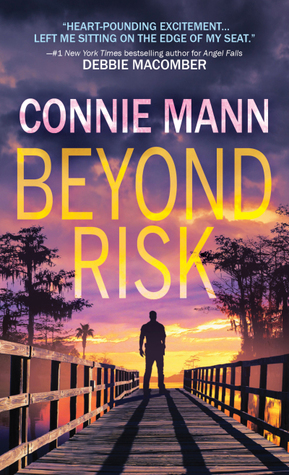 Warriors series. She has begun this series with a bang – lots of action, suspense and twists and turns.
It is not a good day for Charlee Tanner and little does she know it but the day is going to turn into a very very bad one. It is the one year anniversary of the kayak trip where JJ Jennings drowned and his sister Nora almost did. Charlee still feels guilty because the kayakers were her responsibility and she was only able to save Nora.
On this day she is taking another group out on a trip on the quieter Ocklawaha River; a group who signed up for a river tour through her family's business, Tanner's Outpost. With only one hour left to go on the tour Charlee finally starts to relax when one of the teens on the tour, Brittany Harris falls out of her kayak and doesn't come back up. Charlee joins a couple others on the tour who dive in to find Brittany. The water is very murky and the others are unsuccessful in finding her. Charlee does manage to find her but her foot is stuck under a log preventing her from swimming to the surface. She manages to move the log enough to free Brittany's foot and heads to the surface with her. Charlee heads to the shore with the girl who is not breathing and needs CPR stat. She is almost to the shore when shots are fired.
Both Charlee and Brittany are hit. Fortunately Hunter Boudreau, newly minted Lieutenant with the Florida Fish and Conservation Commission and Charlee's best friend is nearby and races to the sound of the shots. He is able to call in backup and ambulances to hurry to the scene of the shootings. All this excitement happens in the first two chapters of the book. Believe me this is just the begining of lots of action and suspense.
Connie Mann writing style brings to life a great suspense story, a real page-turner. I look forward to the next installment in what appears to be a very exciting series.
Book Info:

Publication: January 29th 2019 | Sourcebooks Casablanca | Florida Wildlife Warriors #1
The river runs wild …
Former Fish & Wildlife Officer Charlotte "Charlee" Tanner still carries the guilt of a tragic drowning accident that occurred on her watch. She hoped moving back home to the wilds of central Florida would provide a safe haven—until she learns the death was no accident, and she's the intended target.
… But no wilder than their passion.
Tough and decisive, Lieutenant Hunter Boudreau loves his new job as a law enforcement officer with the Florida Fish & Wildlife Conservation Commission. Charlee is his best friend, so when she comes under fire, he's not letting her out of his sight until the killer is caught. But Charlee won't sit by and let anyone else die for her.
As danger closes in and Charlee and Hunter's attraction threatens to consume them, Charlee has to decide if she can trust Hunter. And to save Charlee, Hunter will have to trust her, too.