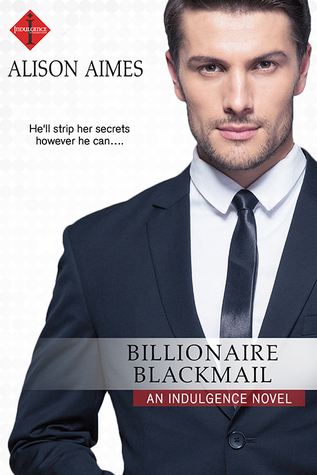 In Billionaire Blackmail (Billionaire's Revenge #1) by Allison Aimes, Nik Valenti has discovered someone is stealing from his company, and that someone just happens to be Sara Turner, the woman he's been casually dating. He will do anything to discover the truth, and get back what has been taken, even if he has to blackmail her. Yet, the more time he spends with her, the more he finds she just may be innocent. So, if she's not responsible, who is setting her up?
 You should have quit outright." Nik did not look happy. "This contract has no specified end date."
"Even convicted criminals are given a limit to their sentence."
"You haven't been convicted. Neither has your brother. That's the whole purpose of this deal. To save both your skins.
The revenge trope isn't one I read a lot of, but Ms. Aimes has penned a fantastic read in this first book of her Billionaire Revenge series, which kept me entertained from start to finish. Because Nik is ruthless, leaving Sara no options but to agree to what he's blackmailing her with. The opening chapter definitely sets the fast-pace of the story, and grabbed my attention immediately. Nik had every right to be as ruthless as he is, yet things aren't always what they seem no matter how well they're investigated. No matter how much irrefutable proof he has.
The dialogue was intense due to the main characters back stories, and it was understandable that someone would set Sara up to take the fall because of her parents and their bad habits. Then there's the fact that they both have serious trust issues, and it's hard for Nik to believe that Sara might be innocent when he has numerous proof to her being guilty of stealing. Yet, although the story was quite intense, there were some light-hearted moments where both Sara and Nik let their guards down and remembered just how good they are together.
Her breaking point inched a little closer. "Anything else?"
He eyed her warily. "You should eat some dinner before you go to bed."
"No." She turned back round and jerked the door open. "Not tonight."
"You should eat. It's not healthy to—"
"Don't push me, Nik." She didn't face him this time, too afraid of what he'd see in her eyes. "You won a bunch of victories today. Be happy with that."
I really liked both the main characters, especially Sara. She may be backed into a corner by Nik's accusations, yet – I thought –she handled the situation really well, despite Nik having the upper hand. She's strong, brave, and I liked how determined she was to discover the person setting her up, even though all hope seemed lost at times due to the trouble her brother has bought into her life. While Nik, he's confident and ruthless in getting what he wants, because of what he's been through in his past. No way will ever go back to being someone without the means to support himself. Yet, at the same time, he can't deny wanting to protect Sara when he begins to realize that maybe she really is innocent. Everything he does for her definitely proves that he cares for her like he's never allowed himself to care for a woman before.
Hot and nicely-detailed sex scenes heat up the story creating a nice balance of suspense and romance throughout this story. Certainly, Nik and Sara have incredible chemistry, despite what the hero is accusing her of. As the evidence mounts against Sara and the fact that neither find it easy to trust, it was hard to believe that they'd ever get their happy ever after.
Overall, Ms. Aimes has penned a wonderful read in this first book of her Billionaire Revenge series, and I really enjoyed how it ended with both Sara and Nik determined to protect the other from the person setting the heroine up. And as for the epilogue, it proves that love is worth fighting for and can help overcome any obstacles. I would recommend Billionaire Blackmail by Alison Aimes, if you like the revenge trope, billionaire heroes, or strong heroines determined to prove their innocence when wrongfully accused of a crime.
Book Info:

July 11th, 2016 | Entangled Publishing | Billionaire Revenge #1
After a childhood spent on the streets, ruthless billionaire Nik Valenti has had his share of dealing with crooks. He thought that was behind him. Until the woman he's been casually dating turns out to be the biggest con artist of them all. Now, with pride, money, and his company's survival at stake, he won't rest until she's experienced his own brand of justice.
Sara Turner knows she's no angel, but a few deliberate omissions…well, compared to the rest of her family, that's choir girl behavior. But now the one man whose heart she'd hoped to steal is accusing her of embezzling from his company. Worse, he wants answers. And he's come up with a foolproof way to ensure he gets them. One Sara must accept if she doesn't want to end up in jail.
Nik might be trying to save his company, but he has a tough time ignoring the way Sara makes him burn. The passion between them is all-consuming, and each time he peels away a layer, he discovers there's more to her than first meets the eye, but he can't give in to his need. Nik will put everything on the line to find the truth…except his heart.