In Blood Oath (Alexandra Cooper #20) by Linda Fairstein, with her boss dead, the hunt for a new district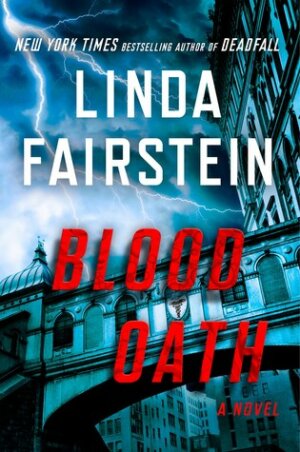 attorney is on. Too bad Alexandra 'Alex' Cooper doesn't want the job because she'd be perfect for it. But she enjoys her job as a sex crimes prosecutor and solving crimes alongside homicide detective Mike Chapman and SUV detective Mercer Wallace, so that's what she wants to continuing doing. Presented with a tough case she might not be able to win with a witness that has a history of lying, she's determined to fight tooth and nail for the young woman that has been through a lot in her life, especially when a powerful adversary that sees Alex as a threat to the top job is determined to use any means necessary to make sure she doesn't even think about running for district attorney. Will Alex be able to get to the bottom of her latest case or will she find herself up against a criminal willing to go to great lengths to keep the past buried?
"Don't be a jerk, Coop. I brought Lucy here to you because I agreed with the lieutenant that you might be able to help her. You're the one who's dreaming up some story about a cop – or maybe a cop – when you haven't done anything to verify where Lucy is going with this story."
"I know that she's all alone in this world, so far as I can tell, and she was trustworthy enough for the feds to make a case stand up with her help when she was just a kid."
"Let me go down the hall and get her," he said. "If she makes sense, I'll do whatever is right."
It's always interesting to discover what Ms. Fairstein will title her books because within each of her stories the title always holds a very enlightening message. Really, with titles such as Blood Oath, Deadfall, Killer Look, Hell Gate, Bad Blood, Terminal City, Devil's Bridge, Killer Heat and so on, I've been intrigued to learn what the meaning behind each title is. And this time around, I had a distinct idea what the meaning behind Blood Oath was and the further I read into this book, the more I found the meaning behind Blood Oath a little sickening for the victims. How could someone prey on the vulnerabilities of someone so young in such a way? Still, this book took me on quite an edifying and compelling journey that had me hanging on every word until I finished this book in one sitting.
Then again, having read every book of this series, which each leave me eagerly anticipating the next one once I'm finished, I couldn't wait to dive into this story that sees Ms. Fairstein pen her twentieth novel for her Alexandra Cooper series, and what a wild and thrilling ride she's taken readers on in every one of the books and this one was no different. Really, with the death of Alex's boss (the district attorney) and his murder investigation all wrapped up, the race is on to find a new district attorney. Is Alexandra the woman for the job? Does she even want the job? Some believe she's the only one right for the job because she's so honest, fair, but still able to be tough if she believes someone is messing with her. Will she decide to run for district attorney, especially with a powerful adversary coming after her determined to do everything they can to undermine her position as a successful sex crimes prosecutor? Will she win the battle she faces? How far is she willing to go to fight for the victims that have suffered at the hands of a monster?
As for the dialogue, it was absolutely entertaining and thrilling right from the beginning and I enjoyed the way this story started, as Alex is big on helping her fellow attorneys. However, it isn't long before she's pulled into what could be two different cases. Will she help a judge that needs her advice as a lawyer? Will she be able to help the young woman that Mike has brought into her office? Yet, what I loved most about this story is the twists and turns this story takes since there are various investigations that end up being connected. Furthermore, the dialogue was also a wonderful combination of intense moments and playful banter; more intense than playful that always has me loving the dynamics between Alex and her partners. They'll fight for each other and do everything they can to solve the crimes they've been assigned while doing their best to keep spirits high when things don't go their way through moments that make me smile and laugh a little, especially since Mike is famous for sarcasm and cute nicknames for Alex.
When he walked into my room, his clothing was covered by green scrubs, and a mask was tied at his neck, but not pulled over his face. "Who do I remind you of?"
"Not a clue," I said.
"I'm thinking George Clooney," Mike said. "ER."
I put my hand up to his forehead and laughed. "Fever, maybe? You do sound delusional, Detective."
"Made you smile, didn't I?"
"I'm thinking that maybe you should call Commissioner Scully and have someone pick us up and take Lucy and me – and you, Dr. McDreamy, if you're ready to go – over to my apartment right now."
With the characters, even though this story is told from Alex's point-of-view, I think of Mike and Mercer as main characters because they're always there for her when she needs them and they're always together through various investigations whether it be a homicide or a special victims unit case. The three have not only been colleagues for years, but the best of friends and it shows with how close they are with Alex and Mike's friendship blossoming into – what I hope is — an everlasting relationship. Moreover, I loved how Alex has bounced back from her kidnapping and shows that she isn't afraid to do what's right for those that need her help as a sex crimes prosecutor. Really, she's as resilient and courage as ever and I liked her determination to help Lucy – a young woman that needs her help after what happened to her. Will Alex find the evidence she needs to put a really bad guy away? Will a separate investigation being handled by other detectives provide answers to a past someone doesn't want exposed? Will Alex, Mike and Mercer be able to keep Lucy safe?
Overall, Ms. Fairstein has delivered an utterly engaging and compelling read in this book, which provides plenty of mystery as Alex and her partners attempt to help a traumatized young woman, get to the bottom of rumors swirling around about an unpleasant judge and discover the truth behind the mysterious and violent collapse of a colleague. Furthermore, the ending had me on the edge-of-my seat, as Alex faces a tough challenge. Will she be able to keep her witness safe? Will Alex need Mike and Mercer to come to her rescue or will she be able to rescue herself? Yet, it was the final chapter that wraps this story up perfectly with a wonderful interaction between Mike and Alex. They have a great connection through more than ten years of friendship built on trust and having each other's backs through thick and thin. Really, Alex is the best partner Mike has ever had both personally and professionally and he's not afraid to admit it. I would recommend Blood Oath by Linda Fairstein, if you enjoy mystery/thriller novels, romantic suspense or books by authors Debra Webb, James Patterson, Karin Slaughter or Tess Gerritsen.
Book Info:

Publication: March 26th, 2019 | Penguin Dutton | Alexandra Cooper #20
Assistant DA Alexandra Cooper of the Manhattan Sex Crimes Unit is finally back at work following a leave of absence, and not a moment too soon. With more women feeling empowered to name their abusers, Alex is eager to return to the courtroom to do what she does best. But even she can't anticipate the complexity of her first case when she meets Lucy, a young woman who testified years earlier at a landmark federal trial . . . and now reveals that she was sexually assaulted by a prominent official during that time.
Yet Lucy's isn't the only secret Alex must uncover, with rumors swirling about one colleague's abusive conduct behind closed doors and another's violent, mysterious collapse. As the seemingly disparate cases of her client, adversary, and friend start to intertwine, Alex, along with NYPD detectives Mike Chapman and Mercer Wallace, finds herself in uncharted territory within Manhattan's Rockefeller University, a premier research institute, hospital, and cornerstone of higher learning. But not even the greatest minds in the city can help her when unearthed secrets begin to collide in dangerous ways . . . and unless she can uncover the truth, the life-saving facility just may become her grave.