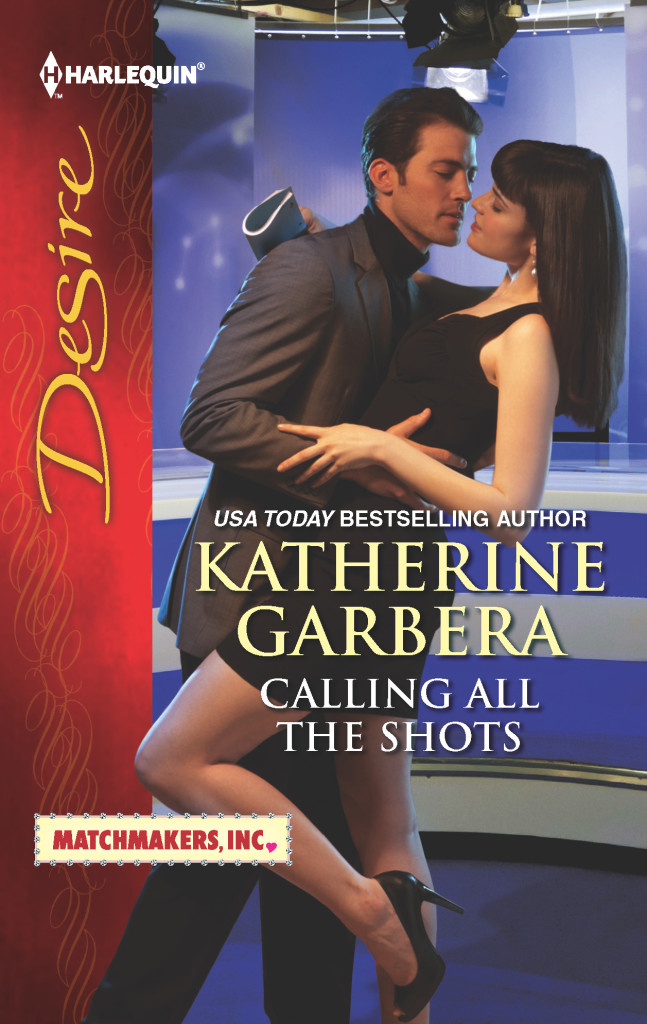 Calling All th

e Shots by Katherine Garbera
Rating:
3.5 Hearts
Publisher: Harlequin Desire (November 1, 2012)
Book Info:
The irony of working on a matchmaking reality TV show hosted by the guy who broke her heart in high school has producer Willow Stead tied in knots. Not only that, but Jack Crown even has the nerve to ask her out. Should she risk taking him up on his offer?
Jack sees Willow Stead all grown up and has to have her. Soon passions erupt that rival the drama on the show. But does Willow have a trick up her sleeve that will throw the celebrity pitchman a major curveball?
Review:
Jack and Willow have know each other since high school and have just recently reunited on the set of Willow's television show. Willow wants revenge for Jack's past mistakes, mistakes that Jack doesn't even remember. As Willow and Jack spend day, and long heated nights together they start to realize that love is more important than they once believed.
Jack and Willow have a very intriguing relationship. With past events and heated emotions many forces are pushing and pulling these two characters. The only problem I had with this is that it took  Jack and Willow so long to come to the realization that they have more than just lusty feelings for each other. Other than that I found "Calling All The Shots" to be a fast and fun read.
This book is filled with great characters and talent. Jack and Willow are great and very likable, but the same goes for the side characters. That is one of the things I liked so much about this book, the fact that the side characters have so much of a real life feel that helps to envelope the reader into this world even more.
The more that you get to know these amazing characters the more you fall in love with "Calling All The Shots". If you are looking for a fun, sweet, romantic read then this is the book for you.