Lush Money (Filthy Rich #1) by Angelina M. Lopez: Unusual contracts, sexy main characters and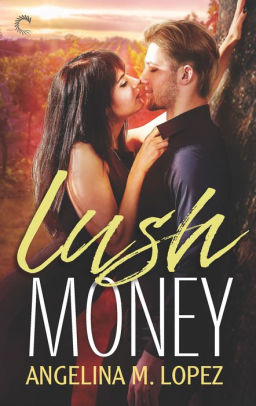 skulduggery. That's what readers have to look forward to in this book.
Mateo couldn't believe his father expected him to sign this contract. But what choice did he have? He was desperate to save his wine-growing principality in Spain, Monte del Vino Real. His father, the king had mismanaged the principality and practically bankrupted it. So, yes, he felt he had to sign this contract that stated he had to spend three nights each month for a year with billionaire Roxanne Medina and do his best to impregnate her. She wanted to bear a royal child. The contract was valid for one year and at the end Mateo would receive a large amount of money, enough to save his land and his people. He had to be crazy to go along with this. He just didn't have a choice and he was attracted to her. So…..
I have to admit that while I was reading the beginning of this book I started feeling grouchy as I read. I read to escape and be pleasantly entertained, not to feel grouchy. I really didn't like Roxanne Medina in the beginning. She came across as very cold and unfeeling. The author did an excellent job of redeeming her in my eyes. She also has done a good job with her other characters. She made them seem very real. The flow of the storyline was realistic. No boy and girl meet and instantly fall in love. There is lots of conflict throughout the book and I liked how Ms. Lopez resolved everything. There were plenty of surprises as she resolved the conflict. I enjoyed that.
So there are realistic characters, an interesting storyline and, oh yeah, lots of sex scenes. If you like hot sex scenes, you'll really like this story. These scenes are well-written and advance the story. At the beginning of this story I was prepared to not like it at all. Ms. Lopez made a believer in her storytelling ability out of me and I ended up turning the pages as quickly as I could because I liked the book so much.
Book Info:

Publication: October 14th 2019 | Carina Press | Filthy Rich #1
A marriage of convenience and three nights a month.
That's all the sultry, self-made billionaire wants from the impoverished prince.
And at the end of the year, she'll grant him his divorce…with a settlement large enough to save his beloved kingdom.
As a Latinx woman, Roxanne Medina has conquered small-town bullies, Ivy League snobs and boardrooms full of men. She's earned the right to mother a princess and feel a little less lonely at the top. The offer she's made is more than generous, and when the contract's fulfilled, they'll both walk away with everything they've ever wanted.
Príncipe Mateo Ferdinand Juan Carlos de Esperanza y Santos is one of the top winegrowers in the world, and he's not marrying and having a baby with a stranger. Even if the millions she's offering could save his once-legendary wine-producing principality.
But the successful, single-minded beauty uses a weapon prince Mateo hadn't counted on: his own desire.
This book is approximately 105,000 words