In Caught in the Current (Cape Cod Shores #2) by Charlee James, when Jason 'Jay' Hall's nephew is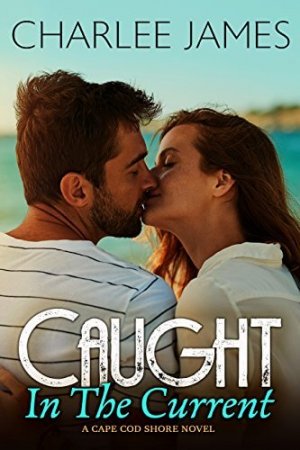 kidnapped, he'll do anything to get the child back. Hiring PI Alexandra 'Alex' MacIntyre is the best decision he's made, especially when she's so driven to help. But when Jay discovers how much guilt she holds inside herself over a tragedy in her past, will he be able to help her heal or are her wounds too deep to move past in order to achieve their happy ever after?
"Sorry. This is rough on you and I'm not making it easier with my poor choice of words. My outlook tends to be a bit cynical, but I do feel good about the information we've found."
"I like to keep my glass half full, but unfortunately this situation is different."
If you've never read a book by Ms. James, then this is definitely the series to start with because the main and secondary characters are fantastic; the dialogue compelling from start to finish and the plot so interesting that I could not put either book — so far — of the series down. The way this story started had me liking the hero and heroine immediately and had me wanting to get to know more about Alex, as she has her reasons for finding children when they go missing or are kidnapped. Is redemption possible for her and will she be able to let go of the past to have a future with Jay? However, it was from the moment the hero and heroine come face-to-face for the first time where this story really takes off, as Jay is worried for his nephew's well-being and desperately needs the heroine's help. Will the heroine be able to find Jay's nephew?
As for the dialogue, it was entertaining and intense due to the main characters back stories and the investigation into the hero's missing nephew, which I thought ended a little more easily than I thought it would once they got to finding the kid. However, in saying that, I still enjoyed the journey these two took to find Jay's nephew. Moreover, the heroine has been through so much and I could understand why she doesn't do relationships because she believes that she doesn't deserve to be happy after what happened in her past. Does finding missing kids get her one step closer to finding redemption? I also liked the heroine's resilience, courageousness and persistence when it comes to her job because it mustn't be easy for her to use her skills as a PI to find missing kids, especially since the horribleness of what happened to someone she loved and how her parents have treated her ever since like she's to blame. While the hero, he's confident, resilient, will do anything for those he loves and I liked how determined he was to work with the heroine because finding his nephew means everything to him. Yet, what I liked most of all is the close relationship Jay has with his family and how welcoming they are of Alex.
"I didn't want to feel this way, but with you, the control has been stripped from me." She shook her head and looked at her knees. "I couldn't get a handle on this if I tried."
"So, you're saying you care, but you're not happy about it." His cheek twitched as his lips fought to curve.
"That's exactly what I'm saying. I haven't done a real relationship, Jay, and I don't know what to do or say. I'm bound to screw up and throw it all to hell. I don't want to hurt you, or let you hurt me." Alex sighed and rubbed her temples.
Overall, Ms. James has delivered another fantastic read for this series where the chemistry between this couple was tangible and intense from the moment they come face-to-face, even though they do their best to keep things platonic because Alex doesn't want to get hurt or want to hurt Jay; the romance was delightful and had me loving that the heroine gave the hero a chance; and the ending had me smiling because of the hero's determination to show the heroine that she means everything to him and that he's not going to let her go easily once they're reunited after things went awry with their relationship. However, the epilogue wrapped this story up nicely, as Jay and Alex are so happy together and are so deserving of their happy ever after. I would recommend Caught in the Current by Charlee James, if you enjoy contemporary romance mixed with a little bit of suspense; the friends to lovers trope or books by authors Kadie Scott, Jeannie Moon, Barbara Dunlop and Dani Collins.

Book Info:

Publication: September 24th, 2018 | Tule Publishing | Cape Cod Shore #2
Retired Marine Jason Hall is a force to be reckoned with. When his nephew Luke is kidnapped by his fresh-out-of-jail father, he knows there's one woman he can count on to help in the search. The last time he saw private investigator Alexandra Macintyre, they were steaming up the windows of her black SUV. Forgetting the scorch of her lips against his hasn't been easy, but Jay knows the crippling pain of betrayal far too well.
Alexandra Macintyre is no stranger to tragedy. Haunted by her past, she seeks redemption by helping families find their loved ones, hoping their outcome is different from her family's misfortune. Alex and Jay make a formidable team as they band together to rescue Luke, but the road trip south tests their emotional stamina. Alex is used to being alone, but Jay gives her a taste of the love and belonging she's never dared to hope for.
Will Alex be able to make peace with her tragic past for a future with Jay?