Changing the Rules (Champion Valley #3) by Erin Kern is a sweet, sassy, funny and entertaining story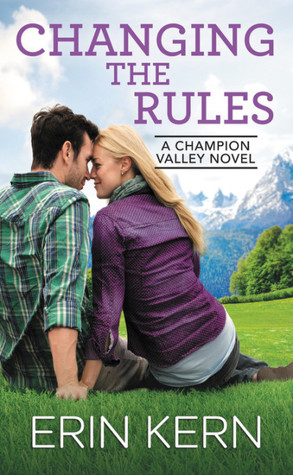 about a guy who has not idea hot to be a dad, a little girl who will capture your heart and the woman that brings them together. This is the story of Cameron and Audrey.
Cameron is the easy going bachelor who had a sweet, funny and caring nature. That does not mean that he is really to take on his six year old niece, Piper. But when she shows up on his door step, although he resists at first, she captures his heart, and he opens his wide to take her in. Even if taking her in means that he had to deal with the sexy control freak that comes with her, one Audrey Bennett.
Audrey Bennett is organized, she is a controller, she makes list and plans and does not trust easily. So when she meets that sexy coach with the easy smile, who scoffs at taking in his niece, Audrey's guard goes up. But as they start to settle into a routine, and Audrey is sucked into the "family" they are creating, she begins to have her doubts. She is the kind of person so always waits for the other shoe to drop, and is waiting for to happen with Cameron.
What I loved the most about this story is that usually it is the guy who runs scared when the big "L" word is mentioned. But in this case, it was Audrey. She has been let down, left and does not trust easily. It is Cameron that give her the time and space to see that he is here, he cares and that her heart belongs with the little family that they have created.
I loved everything about this amazing story, and though it is the third book in the series, I did not for a minute feel like I was stepping into the middle of a series. A must read for anyone that enjoys a sweet sassy love story with a little girl who will steal your heart.

Book Info:

Publication: Published March 27th 2018 | Forever | Champion Valley #3
This alpha athlete is about to meet his match…
Cameron Shaw knows exactly what he's doing when it comes to coaching high school boys on the football field, but caring for a six-year-old girl is a whole different ballgame. When a gorgeous, highly opinionated woman shows up with his niece in tow and claims he's Piper's new guardian, Cameron's first response is "hell no." But he can't abandon a little girl who just lost her mother….
Audrey Bennett wasn't planning to stick around town, but Piper's gruff, way-too-good-looking-for-his-own-ego uncle clearly needs help. The longer she stays-watching Cameron teach Piper to make pancakes and tie her sparkly pink shoelaces-the harder it is to leave. Especially when he stops arguing and gives Audrey the most toe-curling kiss of her life. But just as she thinks he might be the one, a secret he's been keeping threatens to tear apart their happy little family.