Chasing the Moon by S.M. Soto: Selene has always been a wallflower and she has been fine with this,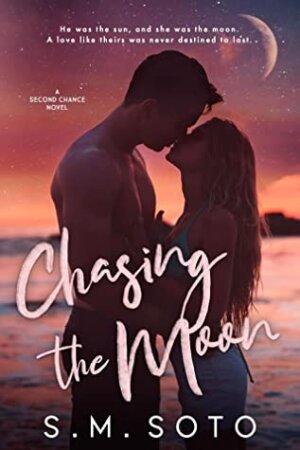 but everything changed for her on her birthday when on an ordinary cake run to the grocery store turns into Selene coming face to face with broody bad boy Endymion. It was love at first sight for her, not only was he the most beautiful person she has ever seen but it was as if the universe had sent him to her, after all they both shared the names of the star crossed Greek lovers.
"Now…now I don't feel like I'm living out that tale of mythology anymore. We're writing our own story. Our own legend with frayed pages, missing chapters, and everything else between, and you know what? I wouldn't change it for the world because I love you, Endymion Black. Just as the sun loves the moon, and the stars love the night."
For years Selene watched and loved Endymion from a far, with them being from to different social circles she stood no chance but when one steamy night changes everything, Selene is left relooking at everything she once saw and knew pushing her so far as to flee the only place she knew. Fast forward six years and Selene finds herself coming back home to take care of her father. However gone is the timid wallflower and in her place is a striking beauty. Selene is not the only one that has changed in this time, Endymion is no longer a boy, he is all man now. A man with his sight solely set on Selene. With time comes growth but it also comes with a few secrets, the question is with these two young lovers face the same fate as the Greek mythology namesakes?
"I don't just love you because you gave me Luna. Even if she weren't in the picture yet, I'd have no other choice but to love you , Selene. You're the one pure thing in this town. You're the bright light I've been searching for my whole life. I just didn't realize you were right there under my nose all along. I was too blind to see it then, but I'm not now."
This is my second book by S.M. Soto and let me tell you this author has a way with her words! Right from the prologue I was hooked! I absolutely loved the play on the Greek Myth of Selene the moon goddess and Endymion the shepherd, which also fits perfectly with the title of this book. I loved the turn around and that it was Endymion that had to chase Selene in the end and that their love story thankfully had a happy ending.
"I love you, too, Selene. Always." Our love is otherworldly. It always has been. We belong to the cosmos, forever me and my moon goddess."
One of the things I love about Soto's work is that her female characters are so loveable and quirky, it was impossible not to instantly be drawn to Selene and her love for all things moon, most notably the adorable Luna. As for Endymion well we all know boys can be stupid growing up especially teenage boys, but thankfully Endymion grows up and sees light to the situation. At first I will admit I was not his biggest fan but as the chapters went by we got to see more and more of the real Endymion, that and the way he interacted and built his relationship with Luna was just heart melting.
Chasing The Moon is a perfect unrequited love story in which the main characters get a second chance at love. This book is packed with angst in the best way possible and I am happy to say there is absolutely no unnecessary drama!
All I can say is do yourself the favor, go get a copy of Chasing The Moon, this book will grab your heart and make you believe in soulmates and a love that transcends time and bounds.
Book Info:

Publication: October 28th 20202 | Pub: S.M. Soto |
A modern-day retelling of the Greek Myth of Selene and Endymion.
He was the sun, and she was the moon. A love like theirs was never destined to last.
Selene Drake has always been the girl that blends into the background.
The wallflower.
Quiet.
Unnoticed.
Sweet as can be.
It never bothered her, she preferred slinking into the shadows.
When she first laid eyes on Endymion Black, she fell irrevocably in love with him.
The bad boy.
Cold.
Distant.
Handsome as ever.
For years, she pined after the unattainable boy who had somehow burrowed his way into her heart.
Until everything changed.
One unforgettable night bridled with passion and forbidden lust destroyed her naïve heart and reshaped her innocent soul. It sent her fleeing from the only town she'd ever truly known.
Six years later, Selene is back in Dunsmuir and the boy she spent years loving in silence, has now turned into a man. A man with his sights set on her. Somehow, the tables have turned, and this time around, he's the one doing the chasing, determined to claim her heart as his. Only, he doesn't realize, she has a secret of her own.
One with the potential to change their lives forever.