In Christmas Joy by Nancy Naigle, When Joy Holbrook got the call that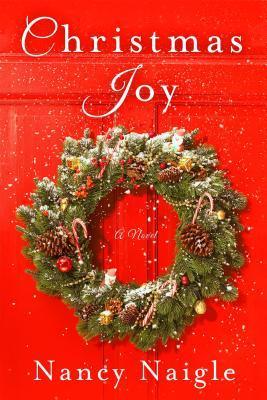 her Aunt Ruby was in the hospital with a broken ankle at the beginning of the Christmas season, she was in the midst of vying for a promotion in Washington D.C. Heading back to her aunt's farm in Crystal Falls was not on her list but she'd do anything to help the woman who took care of her after her mom passed away twelve years ago. But on top of feeding Ruby's assortment of critters, Joy must also watch a local young girl each school morning and ready the farm for the annual Crystal Christmas Cookie Crawl.A competition that ends up pairing her with handsome Ben Andrews. A guy who not only steals her heart but proves to her that the holiday spirit is real and has been in her heart all along.
"You're right. I take huge risks in business, but I don't take risks with my heart. I can't deny that, but I've fallen in love with you. And I'm afraid. Not afraid in a bad way, more nervous and excited in a really good way."
"Excuse me? Did you say–?"
"Oh what? I say you're right and you just quit listening."
"No. I don't need to be right. My brain couldn't process that last part because what I thought I heard you say was you love me."
Ben's track record with women isn't the greatest. But when lovely big city gal Joy comes crashing into town–literally, as she backs her car into his truck–her feisty attitude and intelligence sparks his interest. Working with her to ready Ruby's farm for the upcoming holiday competition puts them at odds a few times but Ben realizes that underneath the bravado, Joy is still hurting from the loss of her mom. He knows that with some time and care he and a little girl named Molly can show Joy what magic the season can bring to her life. And he also hopes he can also show her that his intentions toward her are true.
'He always picked the wrong girls, and he'd pretty much decided alone was better. But a few dinners out with Joy wouldn't be a half-bad way to spend some time. Everyone needed friends, right?'
Christmas Joy was a heartening small town holiday romance that truly expressed the 'reason for the Season'. Author Nancy Naigle created a group of characters who were charming, down-to-earth, and just quirky enough to lend a bit of fun to an already solid story.
'Molly bobbed her head as if imagining a one-two-three countdown, and then her voice filled the room. "Rudolph, the red-nosed reindeer…" Her little hands flung to the top of her head like antlers. And then to her nose.
Joy pulled the pillow from beside her and held it to her heart. She really may never have seen anything this darned cute in her whole life. And just how did that little girl sing that big?'
I really had a good time reading this novel. Not only was there an abundance of holiday cheer but there was also a wonderful sense of community and family throughout the story as we learned more about Joy, Ben, Ruby, Molly and the rest of the Crystal Falls residents. Naigle used a lighthearted touch when it came to the emotions and deeper issues our characters faced but the meaning came through loud and clear. And it helped turn this into a quick, enjoyable read.
Joy was the one who I thought underwent the biggest changes personally. She remained strong and capable but came to understand the side of herself that wanted to connect with loved ones. I completely sympathized with her aversion to the holidays after losing her mother a little over a decade ago at Christmastime. So instead she focused on her work and generally ignored the holiday. But being back in her aunt's home slowly helped Joy realize that she could use Christmas as a way to honor and remember her mother. And of course with the wide-eyed wonder of one special little seven-year-old named Molly, she got to see the holidays through a whole new point of view.
Ben was a stand-up guy who also helped gently push Joy toward reconnecting with her Aunt Ruby and their family traditions. I loved how laid back Ben seemed and to see how much he cherished his loved ones and his community. I thought he really encompassed the down-home charm I so love about the South and that he was the perfect balance to Joy's big city school of thought. He might have been a bit quick to jump to conclusions about her intentions, but I felt like Ben's reactions were warranted after the way his previous relationship had ended.
If Christmas Joy doesn't give you the warm & fuzzies then I don't know what will. I have a feeling that readers who are looking for an authentic holiday story will completely enjoy their time spent between these pages.

Book Info:

Publication: Published October 18th 2016 | St. Martin's Griffin |
A heartwarming Christmas story about family, friendship and finding love in unexpected places.
Joy Holbrook might be all work and no play, but that changes when her Aunt Ruby takes a fall that lands her in a rehabilitation center before the holidays. Joy takes a leave of absence from her job as a market researcher to run the family farm, even though the timing may hinder her chance at garnering the promotion of her dreams.
Ben Andrews isn't your average accountant. He also happens to be the handiest man in Crystal Falls. He's helped his elderly neighbor, Ruby Johnson, decorate for the annual Christmas Home Tour—and win—the last several years. He's not about to let some drop-in niece break their winning streak.
Ruby seems overly concerned about Joy being able to handle Molly. Under the impression she's referring Molly the bunny that is one of the menagerie of animals, Joy's not worried at all until the next morning when a little girl named Molly shows up. For the sake of her aunt, Joy is forced to partner with Ben while Ruby is on the mend to help with preparation for the Christmas tour and, in the process finds her career-focused heart dreaming of a family.
Will the magic of Christmas help her to open her heart and find her everlasting joy?