Christmas Protection Detail by Terri Reed is a super enemies to lovers story. This story definitely had me on the edge of my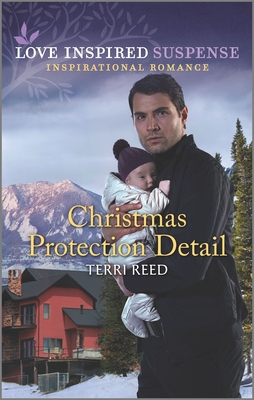 seat while I was reading it.
Deputy Kaitlyn Lanz was enjoying the town's combination community Christmas party/retirement party for her former boss, Sheriff James Ryder. When she heard Nick Delaney come up to the ladder she was standing on to place her ornament on the community Christmas tree she was immediately annoyed when he tried to tell her where to place the ornament. She didn't need his unwanted flirtatious attention to spoil the party for her. The sooner she could escape from his presence the better.
The next time Kaitlyn saw Nick approaching she wanted to flee but then she noticed the stressed look on his face. He had just received a call from an old friend, Lexi Eng asking him for his help, then he heard a crash and gunfire. They both raced to Nick's Humvee to investigate. When they found the location of Lexi's crashed car two men were lifting her out of it and those two men greeted their arrival with gunfire. The gunmen sped off when backup arrived. In the backseat of Lexi's car they found an infant in a car seat. An ambulance appeared and Lexi and the baby were rushed to the hospital. Lexi was in a coma in critical condition. The baby was checked out and was fine. Why were the two men after Lexi? Who sent them? Kaitlyn was determined to get answers.
Nick Delaney is second in line to inherit the Delaney billions. He has a reputation as a carefree playboy. For some reason Nick felt attracted to Kaitlyn Lanz from the first moment he met her. He knew about her reputation of not dating but he couldn't help himself when he ran into her. He flirted outrageously with her. Things between them changed after they raced to the scene of his friend's crash. For one thing baby Rosie came into his life. For another Kaitlyn was assigned to protect him and Rosie from the thugs who had previously attacked them and Lexi which meant they spent a lot of time together. Much danger swirled around them but despite of that Nick got to know and love Kaitlyn. Now to change Kaitlyn's opinion of him…
The action was non-stop. Kaitlyn and Nick faced danger at every turn. The bad guys just weren't giving up. I liked the protectiveness Kaitlyn and Nick felt toward each other. I also enjoyed seeing how Nick reacted to baby Rosie and how he adapted so well to care for her. This book was an exciting read.
Book Info:

Publication: December 15th 2020 | Love Inspired Suspense |
He'll do anything to protect a baby in jeopardy…
When a call from a friend in trouble leads Nick Delaney and Deputy Kaitlyn Lanz to a car crash that killed a single mother, they become the baby's protectors. Now figuring out why someone is after the child is the only way to save her. But they must find answers soon…or this baby's first Christmas might just be Nick's and Kaitlyn's last.
From Harlequin Love Inspired Suspense: Courage. Danger. Faith.