Cinder-Nanny by Sariah Wilson: Diana Parker would do just about anything for her sister so when she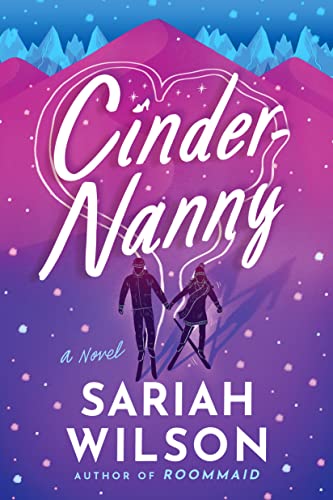 learns that Alice is in need of a kidney transplant Diana doesn't even think twice of offering up one of her own. The only problem being she needs forty thousand dollars to help pay for the surgery but with no real job Diana has no choice but to resort to one of her con artist mothers tricks and lie a bit about her qualifications. After all how hard could it be to play nanny to a five-year old. For all accounts this should be a pretty easy and pain free way to pull together the money that she needs, but the only thing Diana did not expect was to fall in love with the Crawford family or to find herself a real life prince charming… well he is a Earl but same difference right? The question now is can Diana get her happily ever after, save her sister and keep the guilt at bay or will all these white lies finally catch up and bite her in the butt?
"I'm not really the arrogant sort. I'm more like one of those animals who show off to land a potential mate."
"So you're peacocking me?"
The Cinder-nanny was absolutely amazing! Sariah Wilson has fast bacome one of my favourite authors and with books like this it is easy to see why I keep wanting more of her magical work! There is just something about the way her writing style captures you right from the very first chapter and has you hooked right until the very last word. One of the things that make her books such a winner for me is that you are always guaranteed loads of laugh out loud moments woven into a super cute romance.
I just loved Diana, she was such a hilariously cute character and I loved getting to follow her as she found her happily ever after with Griffin. I will say that my heart just broke for her and all that guilt and pain that she constantly carried around with her over what her mother had done and that these actions still shaped the way she looked at her life now. Even with all these things constantly hanging over her head I really liked that she was such a strong character and that she really only wanted to help the people that she cared about. I just loved getting to see Diana bonding with the Crawfords and helping Milo come out of his shell.
As for our dashing Earl, well how could you not just love Griffin? Not only was he working the entire hot uncle vibe but he was genuinely a really great guy. I really liked that he did not let his title make him this arrogant mean guy that looked down on the help, in fact I loved the way he handled Diana's entire secret even before she told him about it. I loved the bond that Griffin and Sophie had and that he put his entire life on hold to help protect his niece, also talk about having an evil all controlling grandmother! I was a bit worried about the way the grandmother situation was going to turn out but I have to say that Griff worked his way back to Diana perfectly.
As far as the romance went in this book it was a pretty slow burn read, but somehow this just seemed to work for Diana and Griffin. Normally such a slow build up wouldn't work for me but I liked that these two didn't just jump into bed together right at the beginning, instead they built this really cute friendship that helped both of them grow in their own ways. However once these two finally got together it was pretty perfect, they worked the entire hot honey sweet romance with one heck of a cute ending!
I really liked that family played such a big role throughout this novel and that both Griffin and Diana strengthened their bonds with their siblings. I loved the bond that Diana and Alice shared and that their sister bond held strong through such hardships. Also I just loved that Alice kind of unknowingly pushed Diana and Griffin together with her love for all things royal. I really liked that Griffin finally stood up for himself and stepped out of his grandmothers control and in a way helped give his brother the push to man up about the entire Sophie thing.
The Cinder-nanny is a definite must read this cute play on the age old fairytale will surely worm its way into you heart and leave you feeling all warm and fuzzy.
Book Info:

Publication: June 21, 2022 | Montlake |
With her sister's medical bills mounting, Diana Parker can't say no to a high-paying opportunity like this: accompany a wealthy couple to Aspen and nanny their precocious five-year-old son for three months. Necessary qualifications? She must know how to ski and teach math, speak fluent French, excel at social graces, and hold a master's degree in childhood development. Who'll be the wiser that Diana's only skill is packing for Colorado?
So far, so good—having a con woman for a mother has turned out to be a benefit, even if Diana has complicated feelings about telling lies. But she's doing this for her sister. And the perks—like a ticket to a lavish charity fundraiser, a new gown, and a Prince Charming–adjacent earl named Griffin Windsor—are pretty irresistible. Diana can't deny the Cinderella vibe.
Wary of gold diggers and scandal, England's most eligible bachelor is nevertheless falling for Diana, and sweeping the not-quite princess off her feet.
The warmer their relationship becomes, the slipperier the slopes are for Diana. Sooner or later, she'll have to come clean. When that happens, does an honest-to-goodness happy ending stand a chance?