Cold as Ice by Allison Brennan s Book #17 in her Lucy Kincaid series. Every Lucy Kincaid story written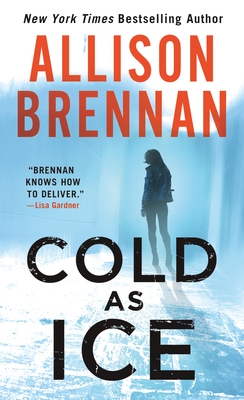 by Ms. Brennan is a thrill ride. This story is one for sure.
Lucy Kincaid made a big mistake when she was a teenager. This mistake has affected her in many ways: career, with her family, with the love of her life Sean Rogan. That mistake is rearing its ugly head in an oblique way once again. Lucy is very happy with Sean and his son Jesse. Things have been quiet. Then the dam bursts. Sean has been arrested for murder and many other close friends and family are put in positions where they can't help her prove Sean's innocence. Or have they been? Lucy knows Sean is innocent and has been framed but it going to be very difficult to prove it. The Rogan family business RCK steps up to provide the best lawyers and investigators. Lucy appreciates this but knows it is not going to be enough. Rogans and Kincaids race to the rescue. Many of them are either in law enforcement or have investigative jobs. This time it is going to take a major group effort to save the day.
Meanwhile Sean Rogan is not doing well as a prisoner. He has enemies in jail who mean him harm. He does not do well in confined spaces. This is not helping him think straight. Sean knows he didn't kill Mona Hill but the frame job is very good. When Sean is taken from his cell to be transferred to Beaumont Prison his fear factor is raised exponentially. Something is wrong, very wrong! He had been assured that he would remain in the Houston administrative jail until his arraignment. Someone is manipulating the system and that could result in his death. There's gotta be a way to escape. If only he could think straight.
Lucy and Sean have faced so many dangers together. This situation is really devastating to endure. I love how Lucy and Sean believe in each other and have determined attitudes to endure and succeed. As for Kane Rogan – wow! He always manages to amaze me in these stories and always manages to land on his feet. How Nate Dunning and Brad Donnelly contribute is fascinating. Both the Rogan and Kincaid families are always so supportive. Lucy and Sean are lucky to have such helpful and loving families and friends.
Good thing I set up my day so I could read this book in one sitting. I would never have been able to put it down for long. Allison Brennan writes suspense stories that get your heart beat up and your mind thinking and guessing just as fast.
Book Info:

Publication: October 27th 2020 | Minotaur Books | Lucy Kincaid #17
In New York Times bestseller Allison Brennan's Cold as Ice, FBI Agent Lucy Kincaid must get into the head of a psychopath to save her family, and herself
Two years ago, FBI Agent Lucy Kincaid put psychopath Elise Hansen Hunt in juvenile detention for her role in an organized crime syndicate. Now eighteen, Elise has been released with a clean slate, and plans to take her revenge by making Lucy's life hell. The plot begins with Lucy's husband Sean Rogan, who has been arrested for a murder he most certainly did not commit.
Lucy is determined to prove Sean's innocence, but is warned off the case by her boss. As she calls in reinforcements, she learns that Sean's brother Kane is missing in Mexico, her partner Nate Dunning has been arrested for possession of cocaine, and her friend Brad Donnelly has been kidnapped outside DEA headquarters. Lucy realizes that Elise doesn't have the resources or patience to execute such a devious plan. Did Elise's father orchestrate everything from prison? Or is there someone even more calculating seeking revenge on Lucy by hurting the people she loves?
One thing is certain: if Lucy doesn't find the answers fast, Sean will die.