Spoiler Alert by Olivia Dade: Marcus Caster Rupp has stolen the hearts of many fans while playing the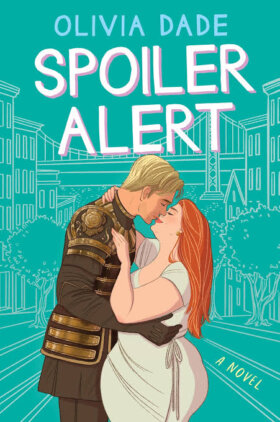 role of Aeneas. While most people just take him to be a pretty face and nothing much else, what they don't know is that Marcus is so much more. Turning to his online fan fiction persona to vent his frustrations and feeling about his tv character. Which is where Marcus comes across major Lavinia stan, April Whittier. April has hidden her love for fan fiction and cosplay from her in real life family and friends, but when a picture of her in her latest cosplay goes viral April is faced with a lot of backlash from haters and body shamers. What she did not expect was for star Marcus to ask her out on a date.
What started out as a date to shot down the critics and trolls soon turns into Marcus and April realising that they have a lot more in common than they had realised. With the two of them starting to date and build something real the trolls once again hit out claiming that this new couple could not possibly last, after all what would a super star hottie like Marcus want or see in a chubby geeky nobody like April.
I absolutely loved this novel! I didn't think I would enjoy it as much as I actually did, the thing that really stood out for me was that this novel touched on a number of issues that are very prevalent in the world that we live in everyday. I loved that even though this was a light hearted read Dade addressed hard themes and issues such as body shaming, internet trolls, dyslexia, the effects of social media on body image and self esteem issues. I really enjoyed that this book focused on fandoms and fanfiction the amount that it did and that it was in a positive light.
Now let's just take a moment to appreciate the beauty that was the romance and connection that April and Marcus shared! This couple was just perfect, I loved that April was sensitive plus sized girl but did not let this define her, she was a powerhouse all in her own right. As for our leading man, I loved how in touch with his feeling Marcus was and that he so fully shared his feelings and emotions. There was nothing not to love about this couple, not only did their witty banter keep me hooked but they were actually really good for each other.
Spoiler Alert was a brilliant read, one that I would encourage all readers to pick up, as this book not only delivers a beautiful story but also highlights and touches on a number of sensitive issue and insecurities that most people face in their everyday life.
Book Info:

Publication: October 6th 2020 | Avon |
Marcus Caster-Rupp has a secret. While the world knows him as Aeneas, the star of the biggest show on TV, Gods of the Gates, he's known to fanfiction readers as Book!AeneasWouldNever, an anonymous and popular poster.  Marcus is able to get out his own frustrations with his character through his stories, especially the ones that feature the internet's favorite couple to ship, Aeneas and Lavinia. But if anyone ever found out about his online persona, he'd be fired. Immediately.
April Whittier has secrets of her own. A hardcore Lavinia fan, she's hidden her fanfiction and cosplay hobby from her "real life" for years—but not anymore. When she decides to post her latest Lavinia creation on Twitter, her photo goes viral. Trolls and supporters alike are commenting on her plus-size take, but when Marcus, one half of her OTP, sees her pic and asks her out on a date to spite her critics, she realizes life is really stranger than fanfiction.
Even though their first date is a disaster, Marcus quickly realizes that he wants much more from April than a one-time publicity stunt. And when he discovers she's actually Unapologetic Lavinia Stan, his closest fandom friend, he has one more huge secret to hide from her.
With love and Marcus's career on the line, can the two of them stop hiding once and for all, or will a match made in fandom end up prematurely cancelled?